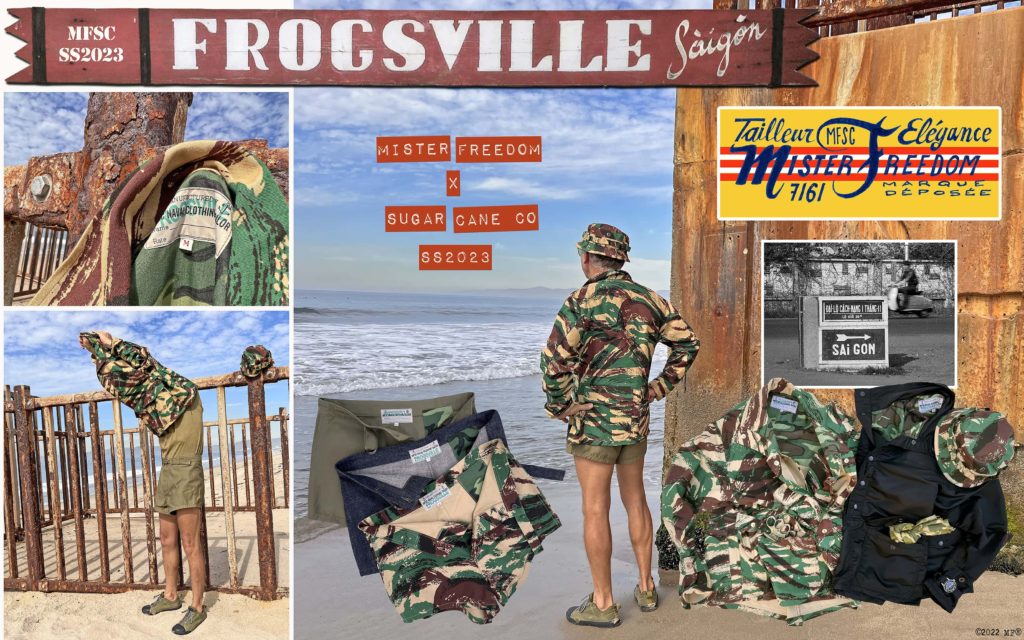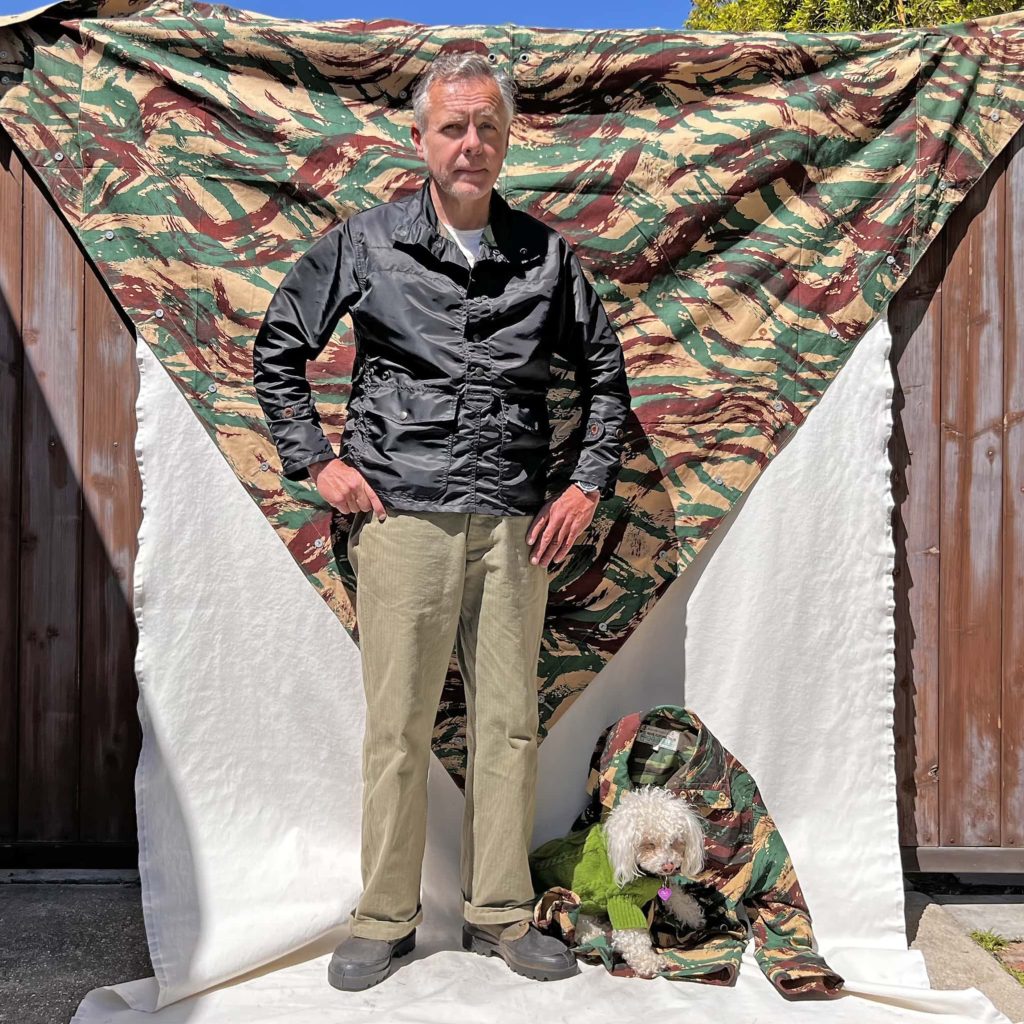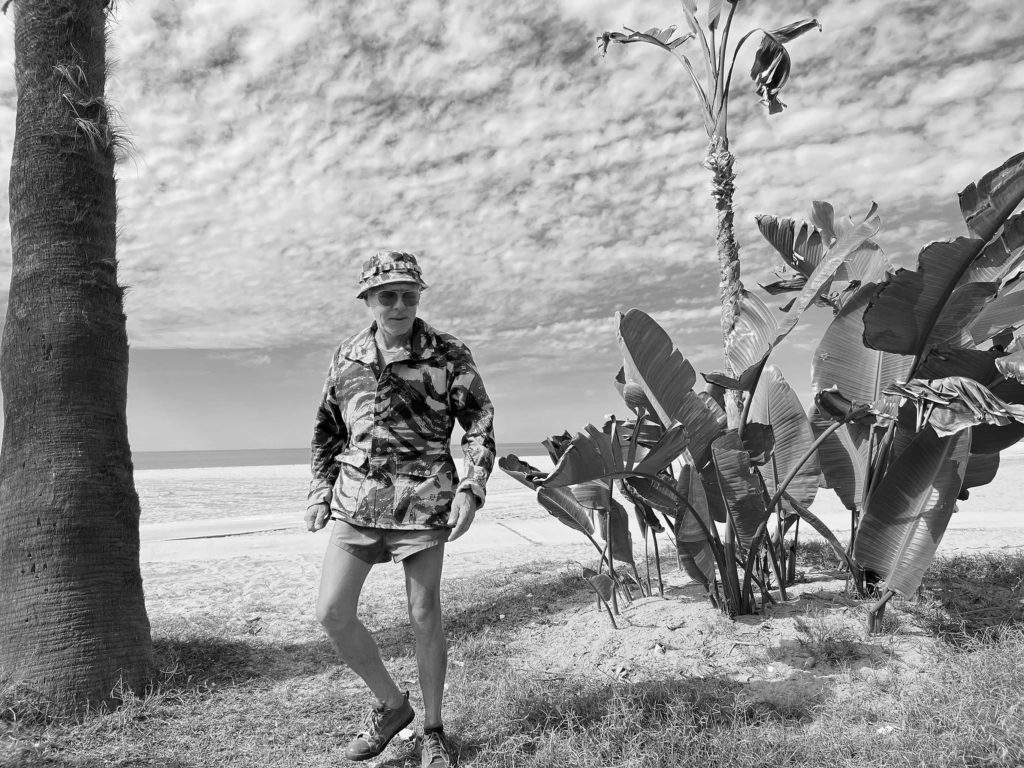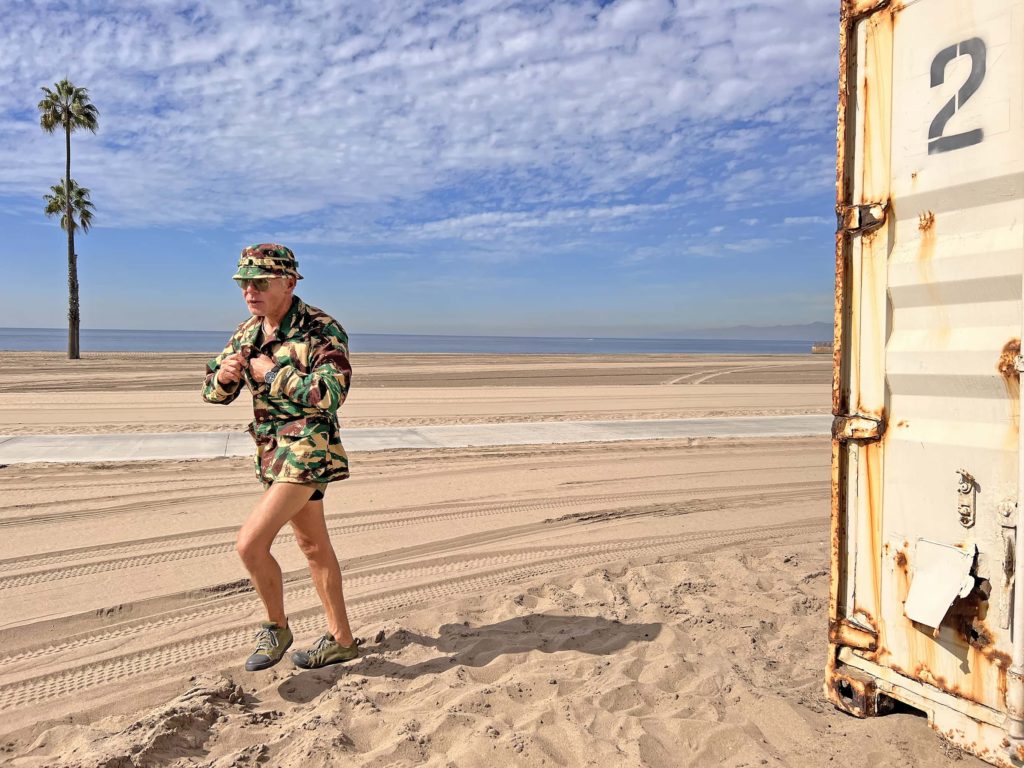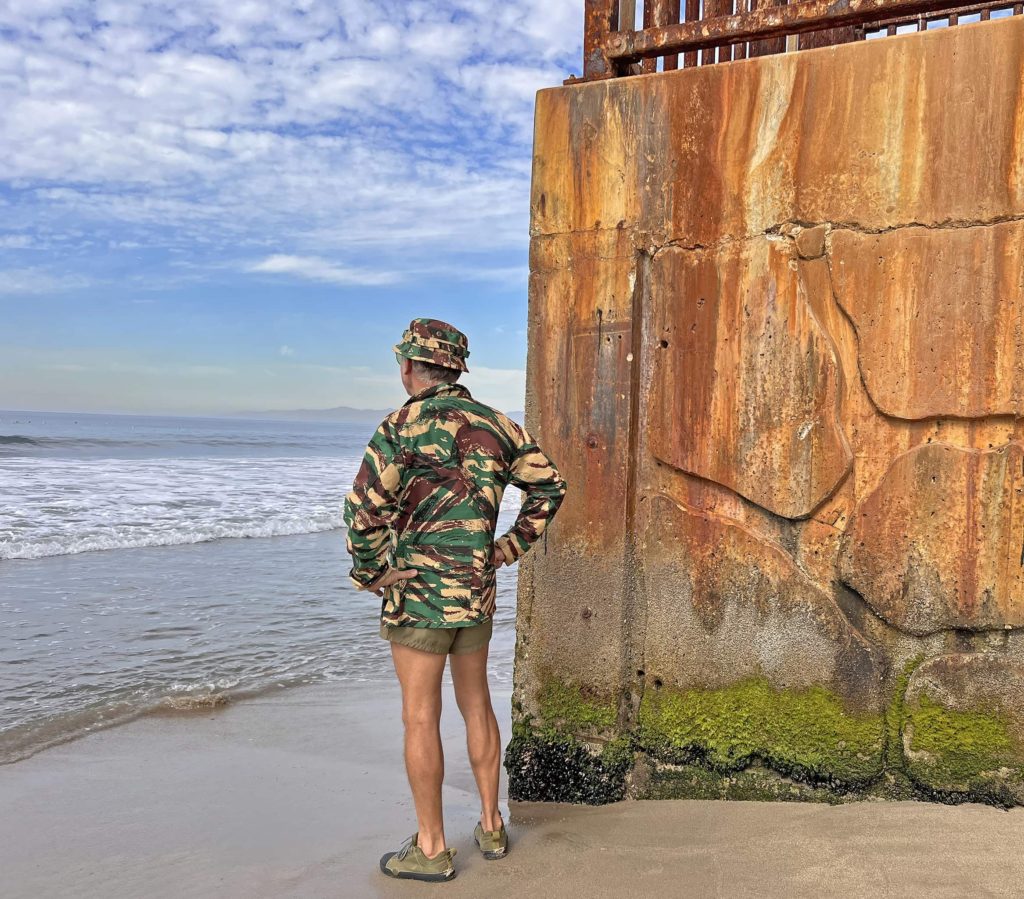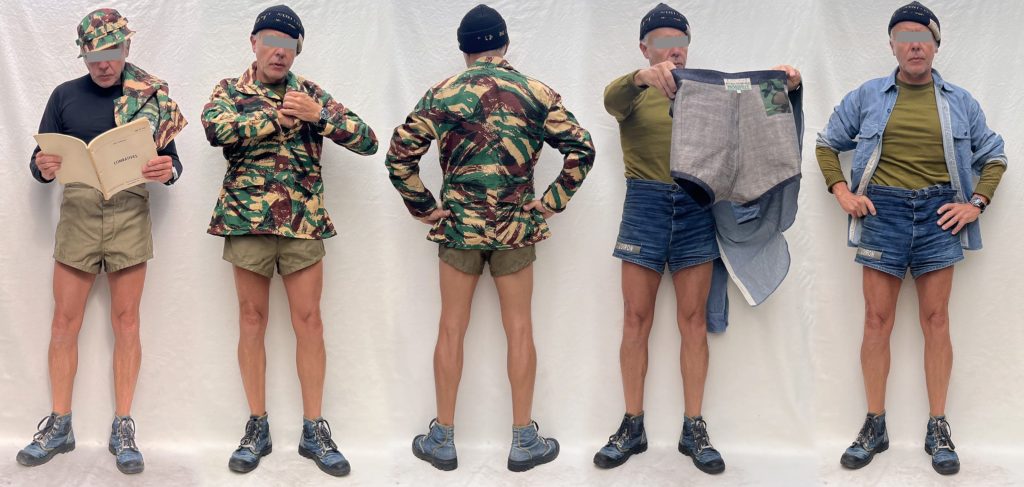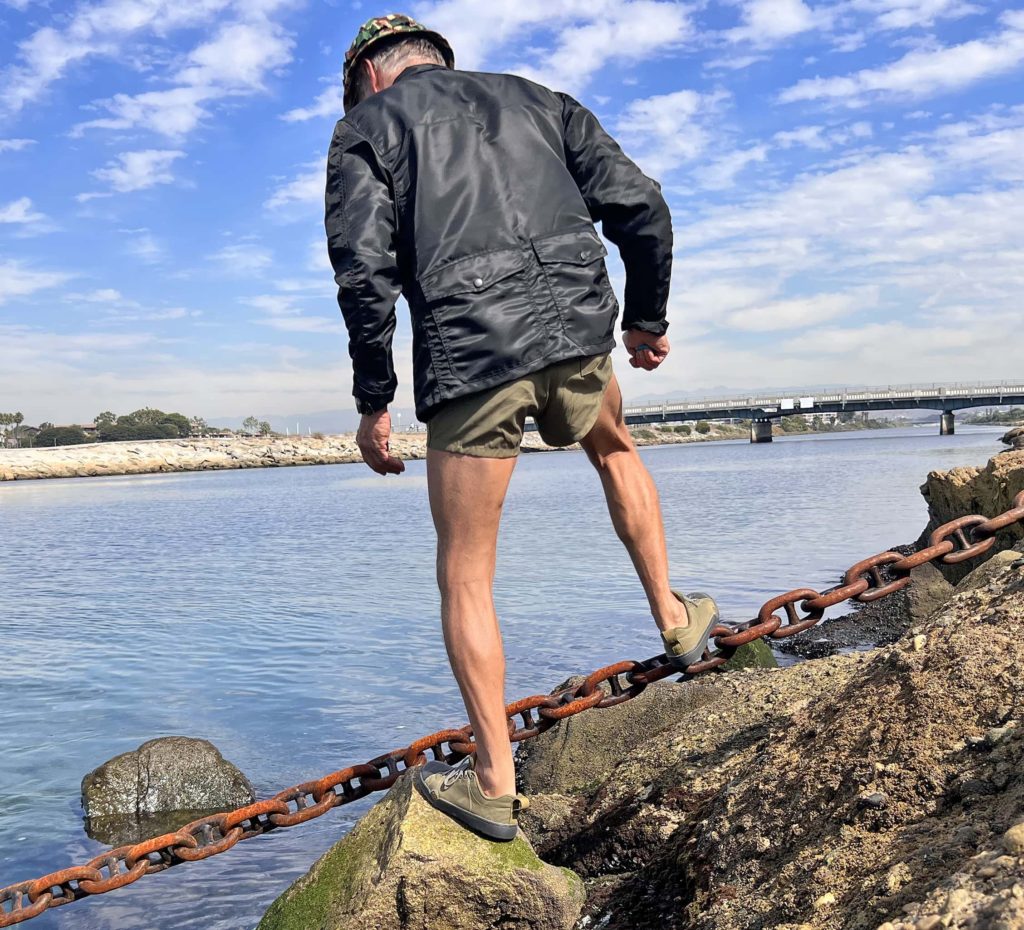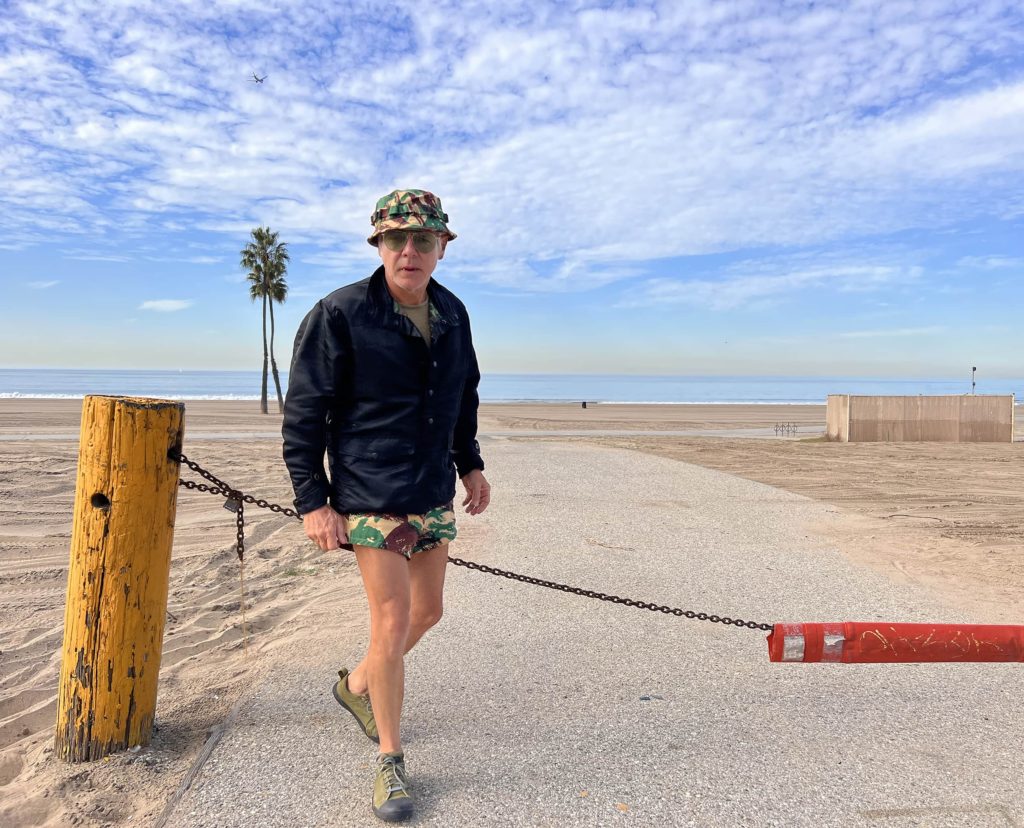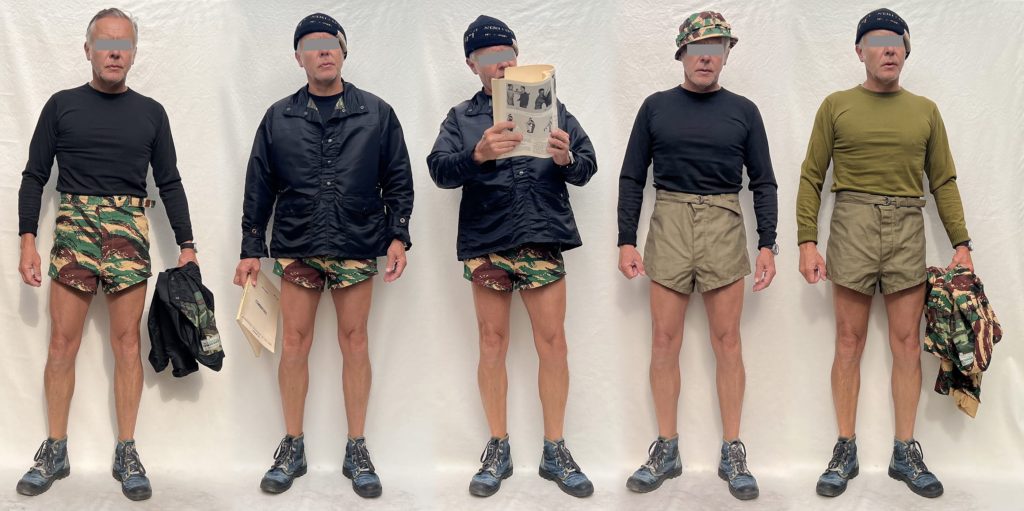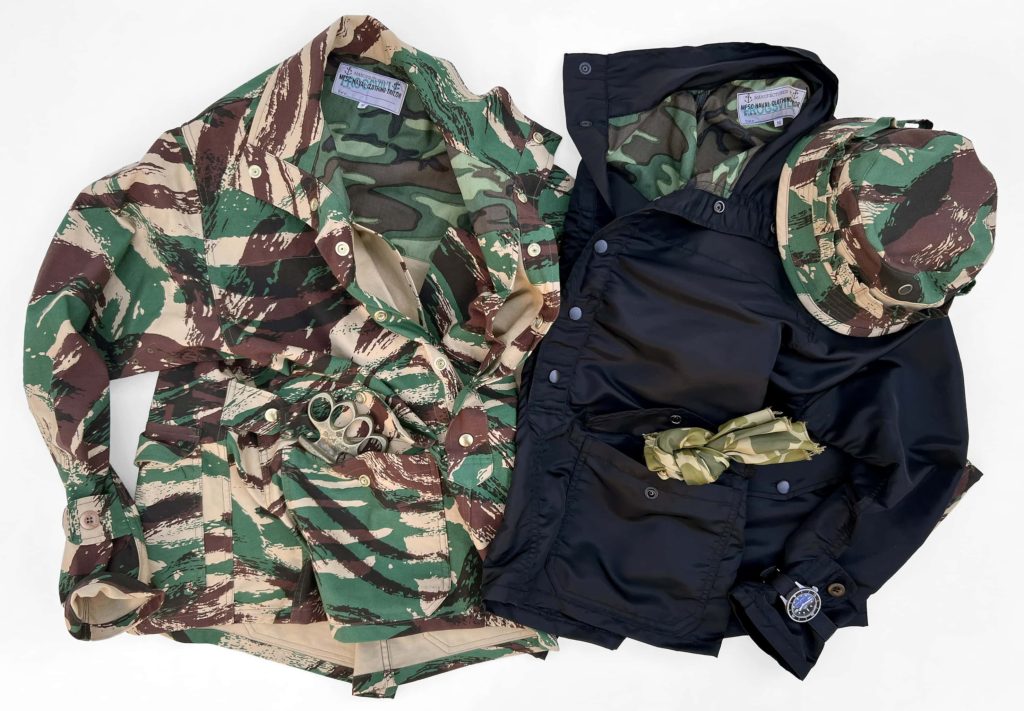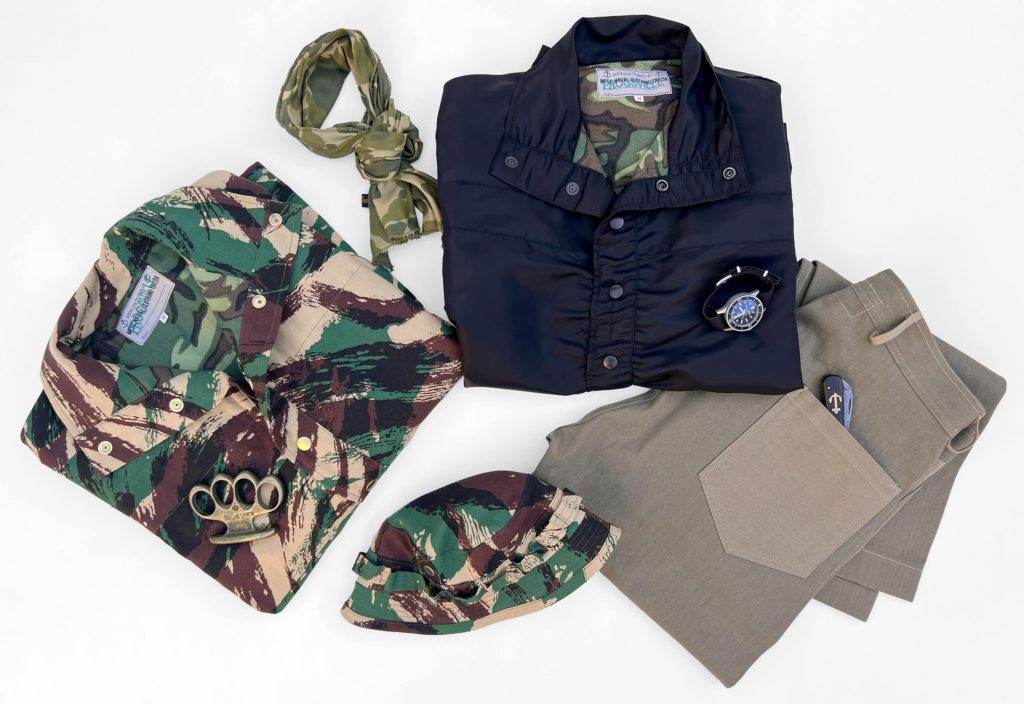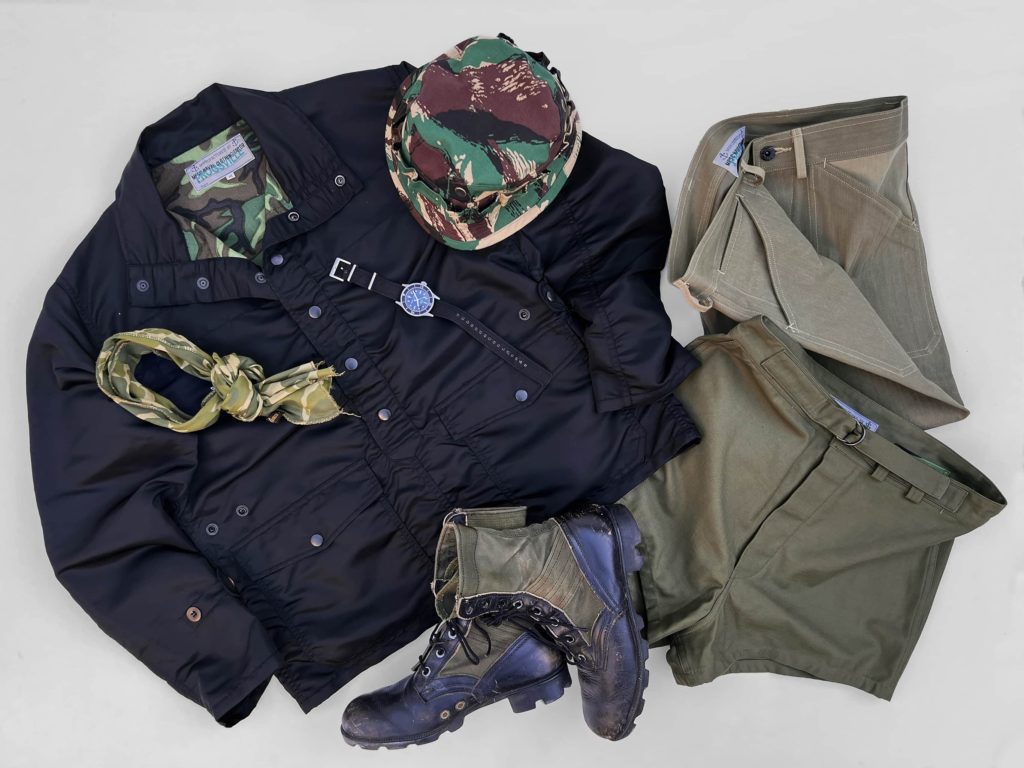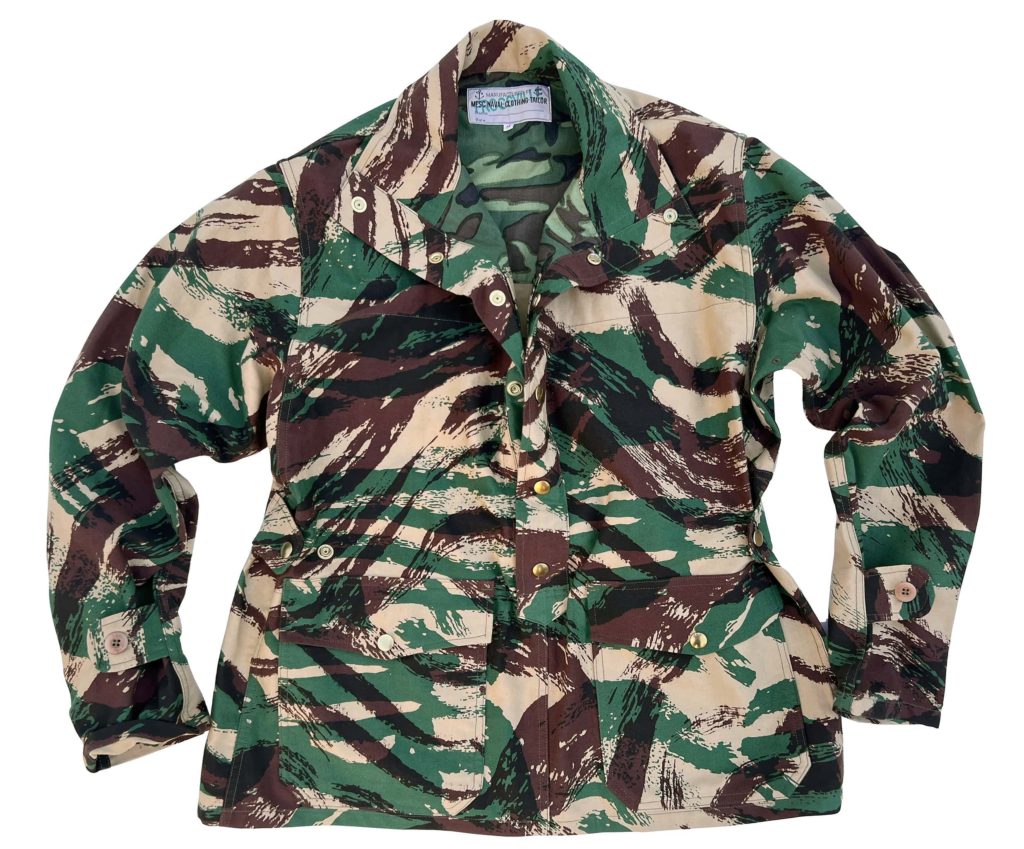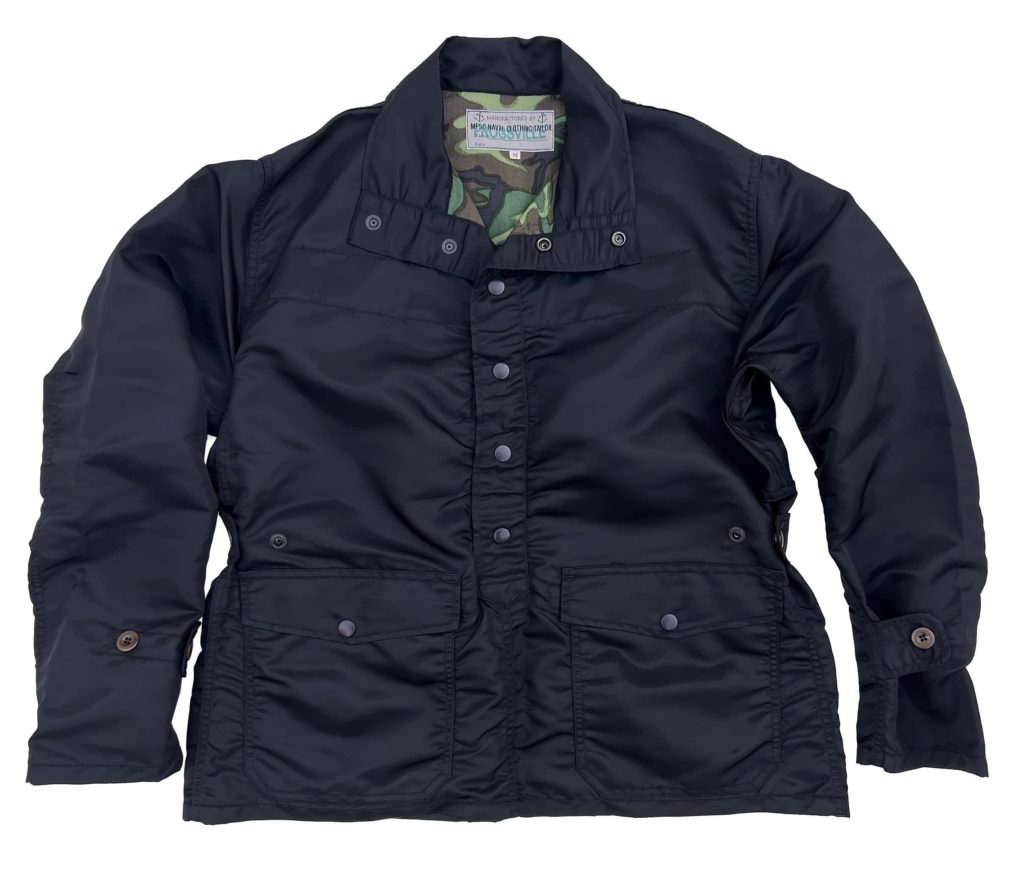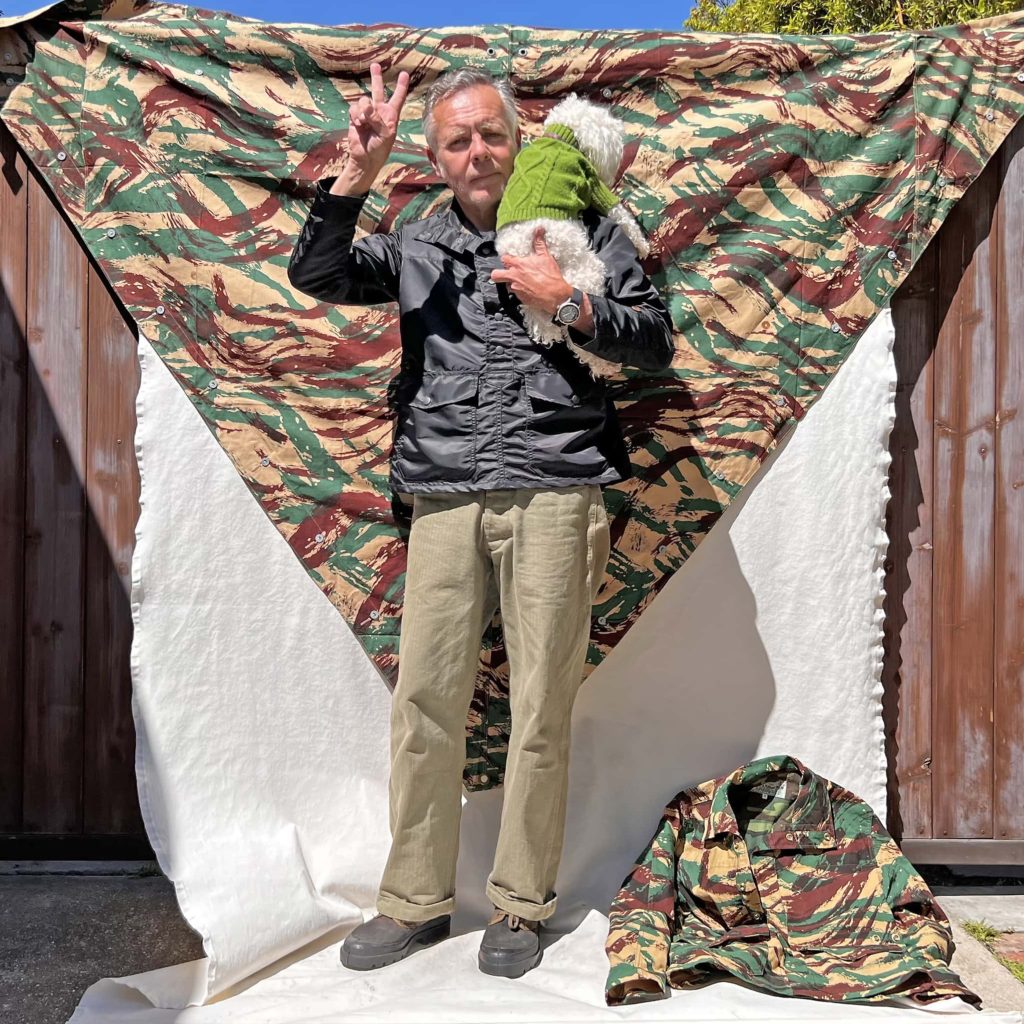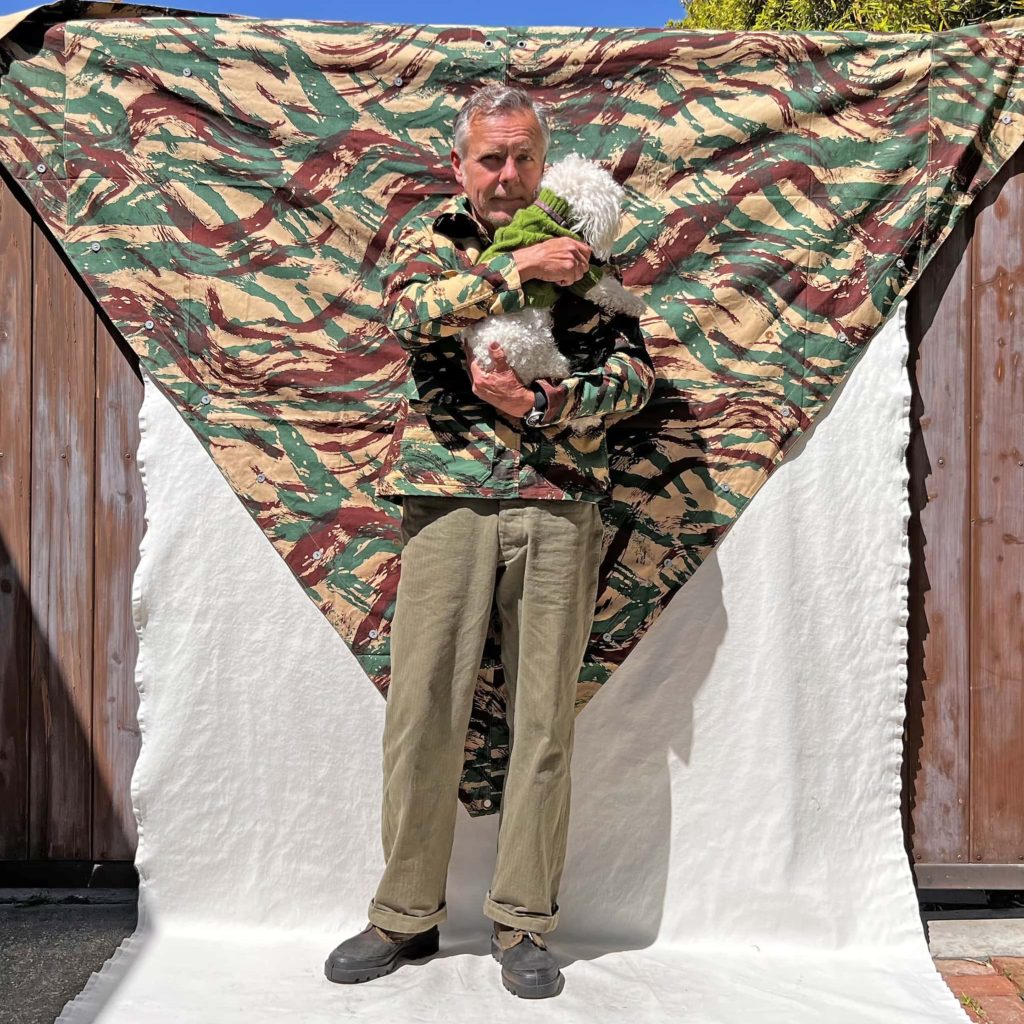 MF® 1-0 (One-Zero) Smock, black Mil-Specs BR nylon & French Lizard Camo cotton canvas.
SS2023 mfsc "Frogsville x Saigon CLASSIFIED" collection.
Made in Japan.
SS2023 "Frogsville x Saigon CLASSIFIED", the story:
This mfsc season blends two familiar original Mister Freedom® concepts, FROGSVILLE and an old flame, Saigon Cowboy.
Our FROGSVILLE saga is an original stylistic venture freely inspired by Vietnam-era US combat diver imagery, military rigger-made garments and period custom local tailor-made clothes, all thrown in the Mister Freedom® blender, where we translated 1940s-1970s references and vintage influences into modern day wearables.
This season, we are bringing in some 1950s French Indochina vibe to the Frogsville mix, and even adding a covert operation MACV-SOG twist!
For those into Military History, intel on that twist – i.e. the secret war happening "across the fence" in South East Asia (1964~1972) – was eventually declassified in the 1980s, and the existence and deeds of SOG unveiled. With the sworn-to-secrecy agreements signed by all SOG members lifted, testimonies of survivors (casualty rate was known to be "100%") and proper official acknowledgment of the heroic actions of those units were finally made possible. SOG stories even made it to the video game market… no comment on that.
So, grab the popcorn, click here, here (amazing writing skills!), or here, …, and enjoy the rabbit hole.
For facts and visuals, check out author John Plaster's books, and collector Jason Hardy's series of well-documented printed photo essays, in coffee table book format. Listen to John Stryker Meyer's Sogcast for real in the field stories, from the horses' mouthes. And, of course, Nick Brokhausen's mandatory and hysterical "We Few" and "Whispers In The Tall Grass".
As per MF® SOP, no replicas for us in this SS2023 line up, just (re)imagined garments that "might have been", with the usual grain of salt and design liberties we like to take with the past.
Each pieces is easily workable into any classic wardrobe.
MF® ONE-ZERO Smock, the inspiration:
On this garment, we are taking design cues and visuals from original One-Zero jackets, as sported by SOG (Studies and Observations Group) Recon Team leaders (1-0, pronounced one-zero) during the Vietnam conflict. On recon missions, a team leader would be assisted by a 1-1 (one-one, American radio operator), a 1-2 (one-two, the third American), and a highly-skilled and combat-seasoned selection of 9-10 indigenous troops (mostly of the Montagnards tribe, or "Yards", also affectionately referred to as "the little people" by their tall American counterparts.)
Back on point. Three basic types of these black nylon jackets apparently exist (two pull-over front styles, and one full-button style), all developed and designed by legendary Deputy Chief Ben Baker at his CISO (Counter-Insurgency Support Office) supply operation, based on the island of Okinawa, Japan (1963-?), where custom sterile (unmarked, unlabeled and untraceable) gear such as rucksacks, Jungle Boots (the Okinawa Boot that influenced our MF® Trooper design), black pajamas (Uncle Charles' favorite), sweaters, knives, …, were produced in total secrecy.
CISO 1-0 jackets were initially conceived as light rain jackets to be worn on ops, but were deemed too noisy in the bush and ended up being mostly worn around camp as "party jackets", with sewn-on unit patches, custom embroideries and morale patches. Needless to say, originals are ultra rare, and I've never seen one. To prevent a plethora of knock-offs from flooding the militaria market, collectors are reluctant – and rightfully so – to publish detailed photos of the front, back and inside of those garments. This helps keep fakes out of private collections.
The MF® 1-0 only borrows the name and vibe of CISO 1-0 jackets. Instead of an un-inspired attempt at replicating an original verbatim, or using a civilian sport windbreaker pattern (which the originals were based on), we decided to dissect a basic Belgium Paratrooper 1955 jump smock (a garment with roots in the British paratrooper Denison smocks of WW2), and then imagined the design of what a plausible fourth type 1-0 jacket could have looked like.
We heavily tweaked the smock pattern in order to make it work for our project. We removed the now-useless "beaver tail" (typical paratrooper jacket detail, only useful if you plan to jump off planes), re-adjusted pocket configuration for better functionality, substituted the half-zip with a six brass snaps closure, moved the cinch tabs to the natural waistline, adjusted the length to sit just below the natural waist, etc…
We left the jacket unlined, with all clean seams, another construction challenge. We opted for an inside shoulder yoke cut from contrasting ERDL camo, for that "use whatever fabric is at hand" local tailor or rigger vibe.
The resulting garment features a very intricate construction/design, another "tour de force" from pattern extraordinaire Fukutomi Sensei of Toyo Enterprises.
The MF® 1-0 jacket is available in two distinct fabric options:
The Black nylon version is obviously a direct nod at the vibe of the originals, without the unit patches, featuring a heavy 2×2 100% nylon twill, same shell fabric grade as BR's (Buzz Rickson's) vintage Mil-Specs USAF replica flight jackets.
This version is a functional pull-over style wind-proof jacket, for the outdoors, all kinds of sporting activities or just for looking ridiculously fabulous.
The Lizard (or Lezard) camo version, printed canvas fabric, 100% cotton, is a nod to 1950s French TAP (Troupes Aéroportées), previously mentioned with the 2015 release of the MF® TAP Lezard "Vanden" Jacket.
Note: This disruptive pattern is our mfsc interpretation of the classic French TAP47 "Lizard" camouflage (aka "Lézzard" or "Léopard" as the French call it), popular during the 1950s Algerian War as the fabric of choice for French Paratroopers (TAP).
Introduced in Sept. 1950 and inspired by WW2 field-tested British Denison smock camouflage (source: "Paras Français Algérie 1954-1962", Histoire & Collection ISBN: 978-2-35250-164-0), many different versions of the Lizard camo exist, not unlike its Tiger Stripes American successor. A lot of intel in this thread.
We opted for the TAP47 pattern (tan/khaki background with green and brown horizontal brush strokes, adapted for tropical theater as opposed to the darker/greener version of the European ETO), as used for M51-M56 tents.
Our source fabric is a genuine vintage NOS French M1956 canvas quarter-shelter tent. After much internal debating, we opted for a plain weave canvas base this time, as opposed to the HBT of our previously-released Lézard printed fabric from 2015.
This lizard camo version is a functional outdoor pull-over style jacket, for the outdoors, for standing out in urban jungles, and for looking equally ridiculously fabulous.
The MF® 1-0 (One-Zero) Jacket is designed in California by MisterFreedom®, and manufactured in Japan in collaboration with Sugar Cane Co.
SPECS:
FABRICS:
Two options:
1) Heavy 2×2 100% nylon twill, black, as featured on BR's (Buzz Rickson's) vintage Mil-Specs USAF replica flight jackets.
Inside shoulder yoke: 100% cotton ERDL camo ripstop.
2) French Lizard camo, 100% cotton canvas, about 10 Oz. Printed TAP47 pattern, tan/khaki background with minimal bleed-through (= the reverse of the fabric is solid tan)
Inside shoulder yoke: 100% cotton ERDL camo ripstop.
PATTERN:
* Style inspired by MACV-SOG 1-0 Recon Team leaders camp jackets.
* Garment pattern inspired by a vintage 1955 Belgium paratrooper jump smock, heavily edited.
* Re-fit "bat sleeve" arm pattern.
* Jacket length cut to sit just below the natural waist.
* Pull-over pattern, front snap closure.
* 6-snap front closure high neck rolls down for wind protection when fully snapped.
* Brass snaps for Lizard version, black-painted for nylon version.
* Six functional pockets: two front bottom patch pockets, two rear "map" patch pockets, two concealed chest pocket bags.
* Waist side cinch tabs, tripe snaps, with inside fabric reinforcement patches.
* Wrist cinch tabs, double buttons.
* Underarm ventilation stitched eyelets.
* Unlined, with ERDL camo shoulder yoke layering.
* OD HBT tape pocket opening inside reinforcements.
* All clean-seam "caballo" construction.
* Original mfsc Frogsville woven rayon label.
* Made in Japan.
SIZING/FIT:
Both fabric options of the MF® 1-0 (One-Zero) Jacket come unwashed and are true-to-size after a cold rinse/machine spin dry/line dry.
We recommend the following simple initial process.
Cold soak garment for about 30mn in bathtub or washing machine, with occasional hand agitation.

Spin dry (spinning cycle) if using a washing machine.

Line dry/drip dry. 
I'm about 5'7 / 145 Lbs and opted for a SMALL, for a comfortable and fit silhouette that matches my own subjective aesthetics.
CARE:
Machine wash (both canvas and nylon versions) on DELICATE, cold water, mild eco-friendly detergent. Hang dry.
Do not use the washer's heavy-duty cycle. Using a heat dryer is also not recommended and may result in excessive and irreversible shrinkage and damage.
Available from www.misterfreedom.com, our Los Angeles brick & mortar store, and fine retailers around the World.
Email sales@misterfreedom.com or call 323-653-2014 with any questions unanswered above.
Thank you for your support.
Christophe Loiron
Mister Freedom®
©2023