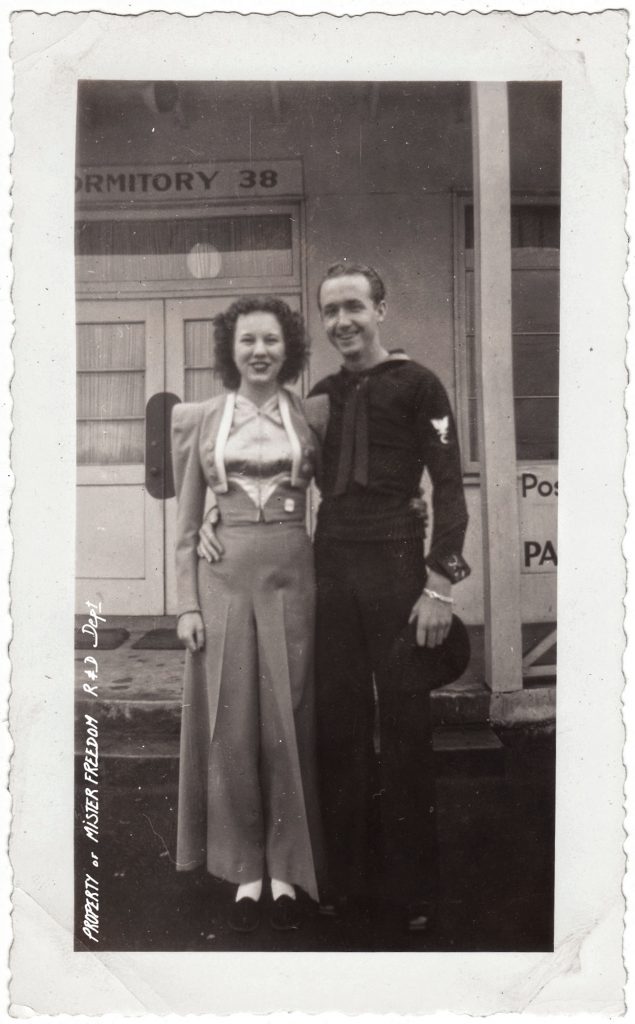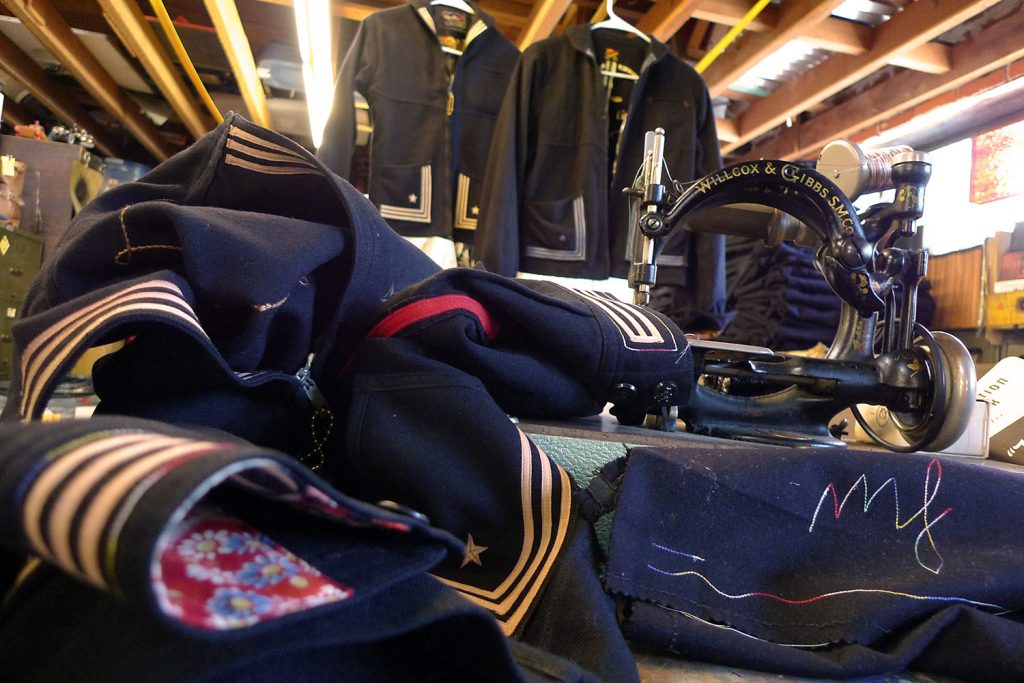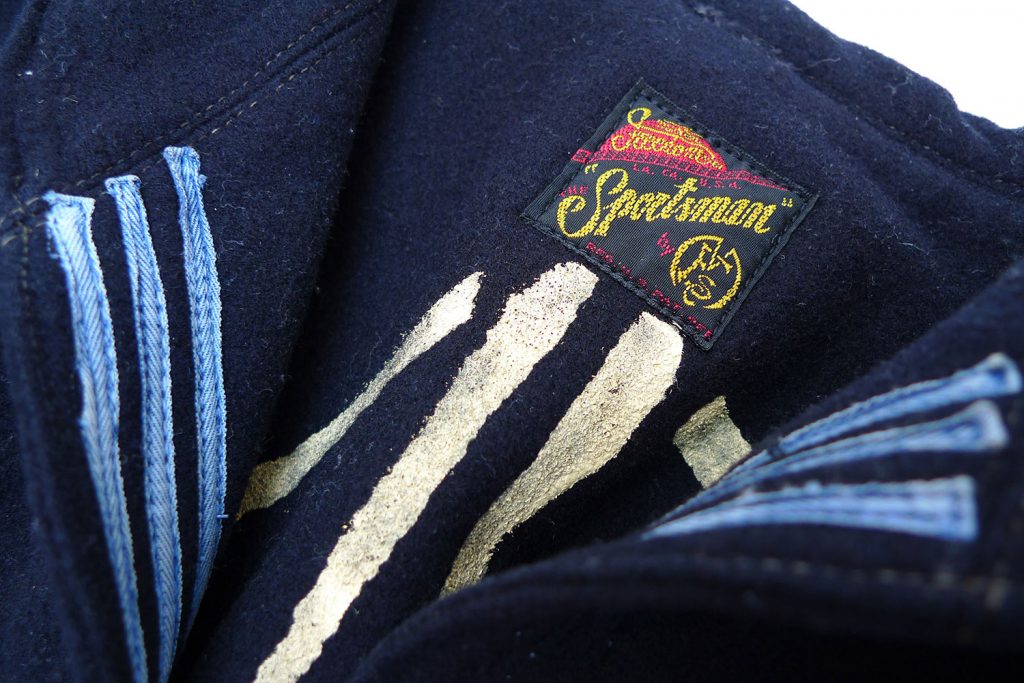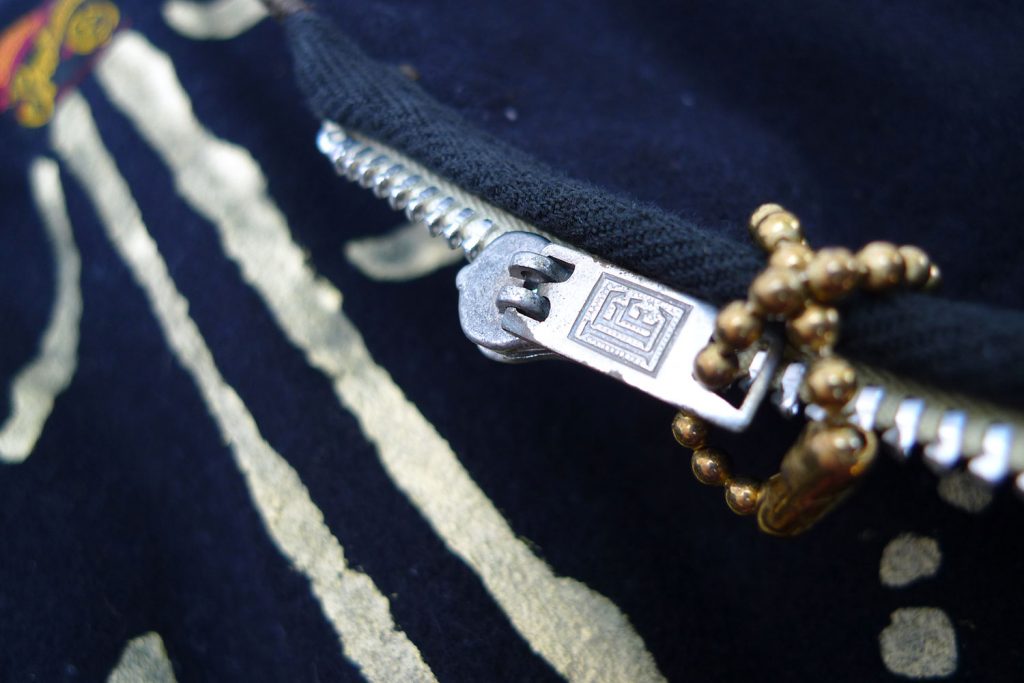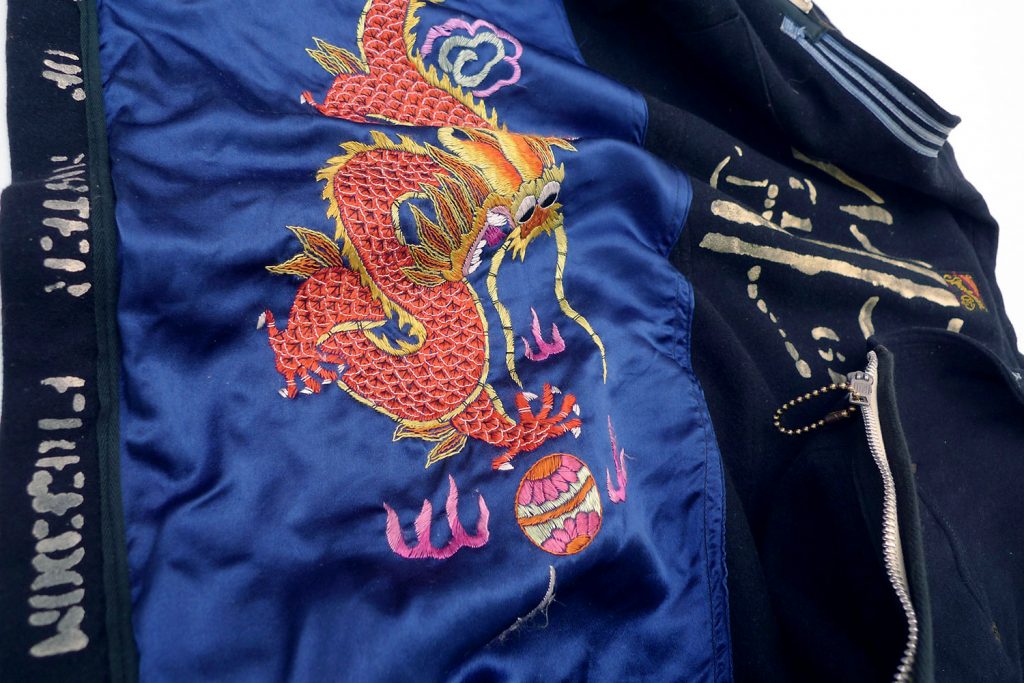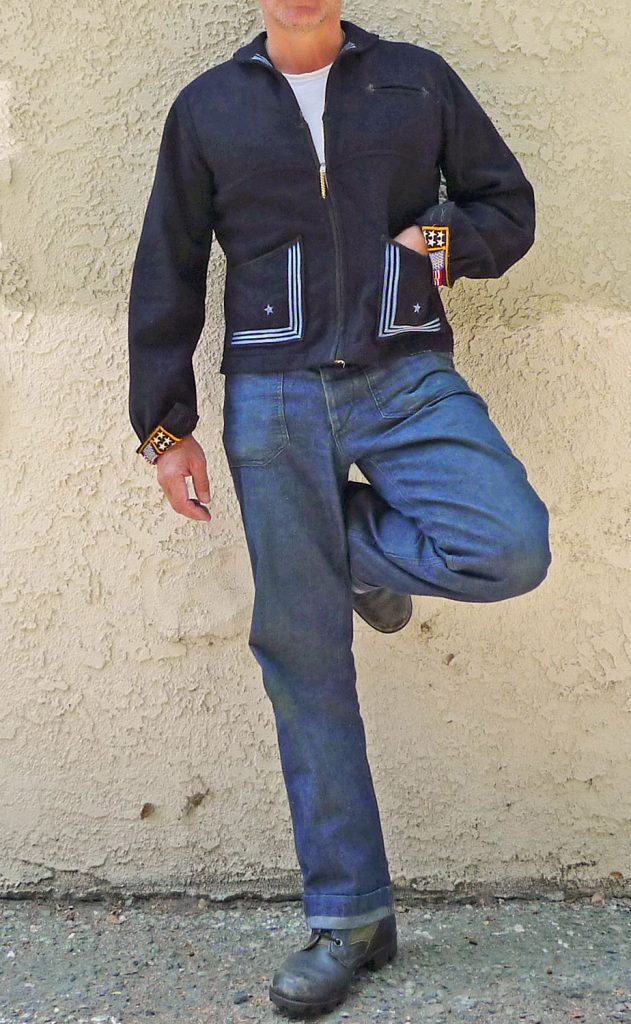 Mister Freedom® customized vintage Liberty Crackerjack.
2016 Limited Edition of 66 one-of-a-kind pieces.
Up-cycled in USA.
Involved with used and vintage clothing as a rag dealer for the past 25 years, I guess I have recycled my share of clothes. If early on I found the trade to be a pretty honest and independent way of making a living, only more recently have I come to realize that keeping textiles out of landfills is also a pretty worthy mission, especially in a world of fast and disposable fashion.
Purchasing previously-owned clothing from your local recycled shops, antique flea markets or vintage boutiques is definitely less of a waste of resources than an impulse buy at, say, H&M or Forever 21, a purchase probably bound to trash bins within a few months, where some 10 million tons of textiles are dumped every year in America.
During my days working at American Rag Cie in the early 1990's, I was handed the 'Remake Department' hot potato for a few seasons. A remake was basically an unsalable used item you could find tons of in the rags, transformed into a desirable and hip garment. Stadium jackets cropped into sexy boleros (it was the 90's…), sweatshirt hoods attached to flannel shirts, patched-up 501® hot pants, re-sized Arnold Palmer golf cardigans, etc… Imagination was the limit, not questionable taste. We participated in fancy international trade shows with these 'collections', orders from fashion boutiques flowed in. Remakes were big for a while.
Military surplus is always a good source for such projects. Due to our propensity, as Homo Sapiens Sapiens, for territoriality and self-righteousness, and following an ever-fluctuating geopolitical equilibrium, it is inevitable that obsolete military surplus piles up. And for everything from ingenious recycled coolness to fashion Frankensteins, just give Homo Sapiens Sapiens a threaded needle and scissors. We'll try to forget the few history-filled collectibles forced and tortured into awkward new beginnings that occasionally pop up on the racks of recycled clothing boutiques, such as 1950's US Navy white bellbottoms tie-dyed deadhead-style in more colors than a Guatemalan rug, M-65 field jackets silkscreened with bright pink plastisol skulls, 60's Vietnam ERDL jungle fatigue shirts adorned with assorted rhinestones and brass studs, or faux leopard, etc… Collateral damage.
Figuring out what to do with specific decommissioned military uniforms before moths or roof leaks get to them gets challenging at times. For the ragman, wool pull-over sailor tops are one of those recycling puzzling challenge.
Due to an inclination for things naval at Mister Freedom®, we have decided to tackle these buggers and go green on some blues. So our latest up-cycling venture is the vintage MF® Liberty Crackerjack, Uncle Sam-made gear turned wearable for the stylish city dweller.
This has been another one of those manufacturing journeys for us…
Hunting down salvageable specimen around flea markets and raghouses, we managed to collect sixty-six vintage US Navy blue dress jumpers. This limited selection is a mixture of vintage WW2 and Cold War period enlisted dress blues, aka crackerjacks.
Each wool pullover shirt underwent a lengthy make-over and re-tailoring process, each piece receiving a one-of artistic treatment. Our stylistic approach was that of period Asiatic Fleet custom tailor-made garments familiar to militaria collectors. The vibe of our MF® Liberty Crackerjack is inspired by Liberty cuff type sailor uniforms, military "party" suits and other 'local-made' souvenir garments favored by the enlisted man on tour, fighting for Freedom on exotic shores.
In the US Navy, liberty cuffs and fancy lining embroideries were tolerated on board. They were intended to be concealed, and usually only flashed to impress buddies and bar ladies. At 7161 Beverly, as bound to Bluejackets' regulations as Calico Jack's band of pyrates were, we took the old salty naval tradition of customizing one's uniform up a few notches. We respectfully altered the whole garment, in and out, definitely 'demilitarizing' it.
Actually, similar practice was not uncommon for US Navy personnel, for instance during a tour of duty in China in the late 40's. The works of skilled local naval base tailors, specimen of wool jackets or shirts cut from government-issued navy blue wool uniforms have today become sought-after collectibles. The reader might be familiar with the multi-colored embroidered dragons, "Shanghai 1945" and other Asian theater motifs adorning such custom-made vintage souvenir garments.
Although not replicas of authentic military personnel period souvenirs, our limited edition MF® Liberty Crackerjacks have a Sand Pebbles meets Sayonara vibe, relating to the presence of US Armed Forces in Asia throughout History, from Shanghai to Tokyo to Saigon to Okinawa…
Turning a plain crackerjack shirt into a Liberty jacket (we had to brace ourselves not to call it Liberty Crackerjacket) allowed us to put to some good use a limited stash of vintage parts from our archives we had been saving for some time. Each jacket features a rare original 1930's~40's NOS zipper of French manufacture. Stamped "LFE", these hard-to-find zippers were scored from a Paris flea market years ago, and probably originate from the original French fastener company Éclair Prym that started producing "La Fermeture Éclair®", the French household name for zipper, in 1924.
The 'tar flap' was re-cut into a round collar, leaving enough left over flap fabric to make two patch pockets, each featuring the traditional Navy white stripes and stars. We're quite proud of that MF® à la Coco Chanel touch, a little re-purpose spark of innovation we'll take the credit for, as I have honestly not seen it done on vintage pieces before. So, think of us when you see that at the Rosebowl flea market next time…
The patient type can also visually dull-out the rows of white tape by dyeing them with a small brush dipped in fabric dye or fabric paint. The Liberty Crackerjack 42 of 66 (that I am keeping for personal use) shows stripes hand-dyed in blue.
Aside from the general restructuring, each crackerjack was customized with a mixture of vintage parts. Each of the sixty-six MF® Liberty Crackerjack we made is unique and numbered (in a non-chronological sequence). Each features a combo of New Old Stock woven tape for cuffs, vintage embroidered silk textiles from China, antique kimonos or indigo discharge printed cotton from Japan, hand-cut stencil painted markings… We even used an antique 1900's Wilcox & Gibbs sewing machine to add custom rainbow stitching accents and patches.
The original ranks and insignia patches of each vintage jumper were left untouched. The original Navy cloth label previously covered by the tar flap, if still attached to the garment, now appears on the back of the jacket.
The sizing of the batch is all over the place, but tends to pull towards small/medium, not an uncommon size for fit and skinny 18 or-so year-old enlisted sailors of the times. Smaller sizes actually look pretty cool on ladies into mixing up a bit of vintage fashion in their outfits.
The MF® Liberty Crackerjack is re-designed and up-cycled or whateveryacallit in California by Mister Freedom® in a limited edition of sixty-six one-of-a-kind pieces. Each piece is unique and might contain imperfections, fading, repairs or permanent stains due to its vintage origin.
Please note that not all of the above pictured Liberty Crackerjacks are available for sale.
FABRIC:
Vintage US Navy mil-specs melton wool. A few pieces are period private purchase wool gabardine.
SPECS:
* An original Mister Freedom® up-cycled design.
* Made from vintage Government-issued enlisted sailors navy blue wool jumpers, Cold War era.
* Tar flap turned into round collar.
* Zip-front closure, featuring a 1930's-40's NOS French metal "LFE" zipper.
* Two recycled front patch pockets, one original slash chest pocket, one original inside chest flap pocket.
* Each jumper features a "Liberty cuffs" type customization, inspired by Asiatic Fleet custom naval tailor garments of the 20th Century: assorted vintage parts, NOS ornaments and bias tape, antique fabric decorative panels and/or multi colored chainstitch accents and/or liberty cuff patches…
* Painted markings from hand-cut stencils.
* Up-cycled in California, USA.
SIZING:
Assorted sizing, fits and silhouettes.
Approximate measurements of each MF® Liberty Crackerjacks are available upon request from sales@misterfreedom.com
CARE:
Each Liberty Crackerjack has been professionally dry-cleaned in an eco-friendly facility.
Dry clean only.
Please note that due to the age of the vintage New Old Stock zippers, they should be operated with care. As with vintage 1930's cotton tape metal zippers, move gently and do not pull hard or yank if you feel resistance. Candle wax can be applied periodically to the zipper teeth for maintenance.
RETAIL:
$ 329.95 (unless otherwise individually priced.)
Available from Mister Freedom® HQ, our brick & mortar store at 7161 beverly Blvd., Los Angeles, CA 90036.
Email sales@misterfreedom.com or call 323-653-2014 with any questions unanswered above.
Thank you for your support,
✌?
Christophe Loiron
Mister Freedom® 2016
Comments
comments