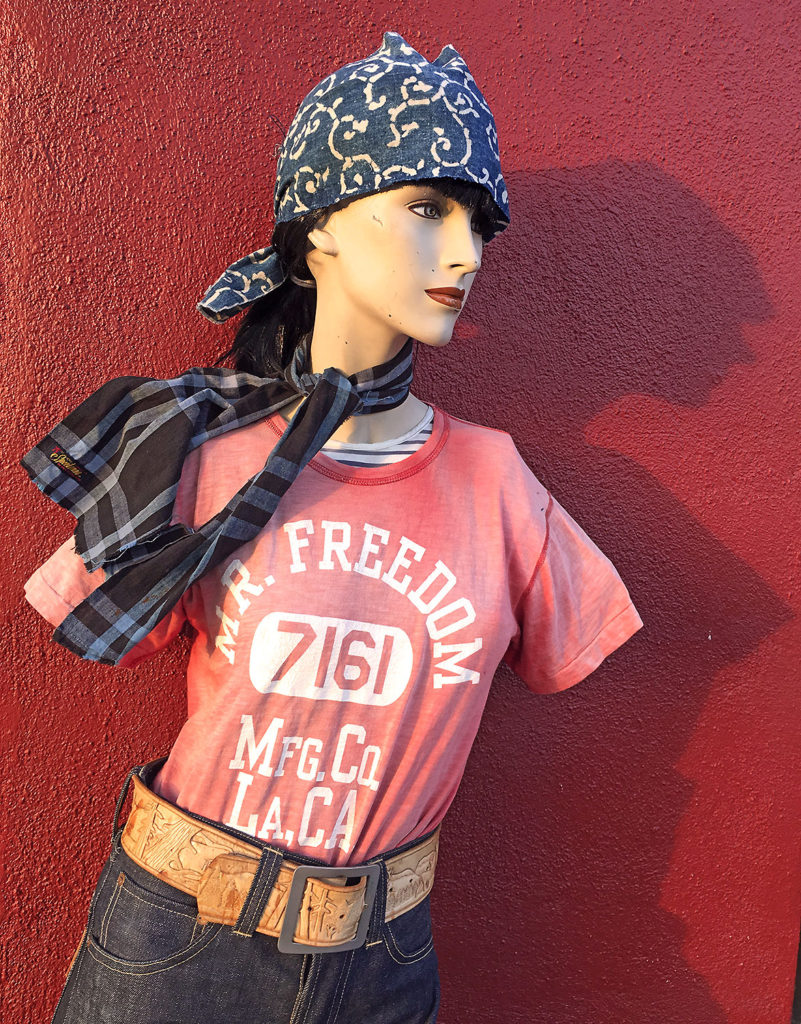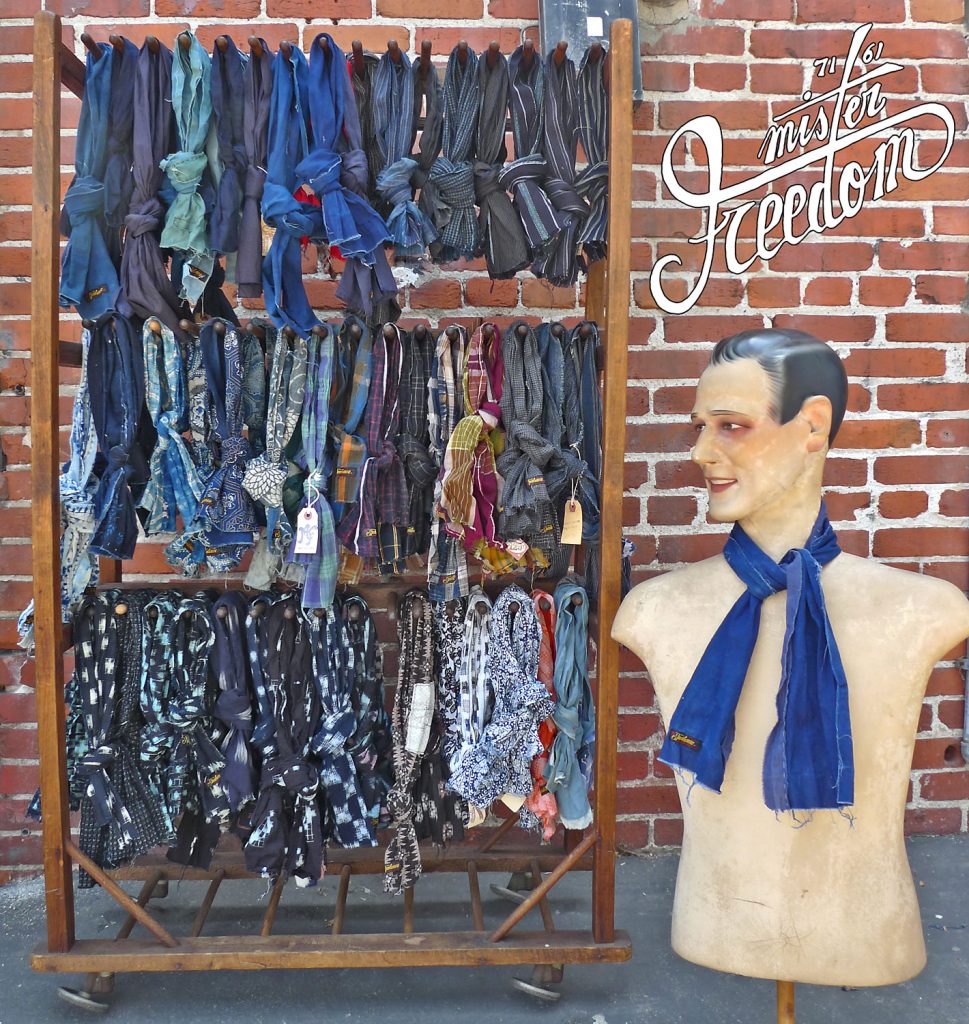 "Aizume" selection:
"Kasuri" selection:
"Katazome" selection:
"Nihon" selection:
"Stripes" selection:
"Checks" selection:
Mister Freedom® "BORO SHORTIES", assorted antique Japanese textiles.
Up-cycled in USA.
April 2020 inventory update.
Here is an overdue inventory update of the Mister Freedom® Boro Shorties. These are the shorter version of our Indigo Boro Ties, initially introduced in 2011, all made from antique textiles traditionally milled in Japan in the 20th Century. Their vintage ranges from early 1900's to the 1960′s. These narrow shuttle loom fabrics feature assorted patterns, textures and colors, all one side selvedge and the other side frayed. They are a mixture of home spun, cotton, hemp, natural indigo, katazome prints, kasuri weave, plaids, solids. Each scarf is unique and one of a kind.
The condition of some of these fabrics are beyond the wabi-sabi of a little imperfection, and feature fraying, occasional holes, repairs, fragile spots, etc…As the fabric continues to age with wear, your own hand-made repairs will add character.
Although the MF® Boro Shorties all vary from one another, with specific fade/condition/size/length/repairs/holes/yellowing due to age, we loosely classified them by textile family groups (there are obvious cross-references):
* Boro Shorties Aizume: mostly solid indigoes.
* Boro Shorties Kasuri: fiber-dyed woven patterns.
* Boro Shorties Katazome: resist-paste dyeing.
* Boro Shorties Nihon: Miscellaneous Japanese patterns. 
* Boro Shorties Stripes: striped patterns.
* Boro Shorties Checks: Check/plaid patterns.
Style: Wrapped once around the neck with a simple single knot, they'll work with different outfits, dressed up or down, worn out or tucked inside the shirt, ascot-style, bolo tie-style or á-la J. Depp. We do insist on the 'rough and rugged' nature of these scarves, as this is not Brooks Bros neckwear. Think "Salaire de la Peur" rather than "The Great Gatsby". For additional info and photos, please refer to the original release 2013 blog post, the June 2017 update and Dec 2017 update.
The Mister Freedom® "Boro Shorties" are up-cycled in USA, and made from antique textiles loomed in Japan.
This new selection is available from www.misterfreedom.com (inventory to be updated asap.)
Email sales@misterfreedom.com with any questions unanswered above.

Thank you for your support, and stay safe.
Christophe Loiron
Mister Freedom®
©2020
Comments
comments