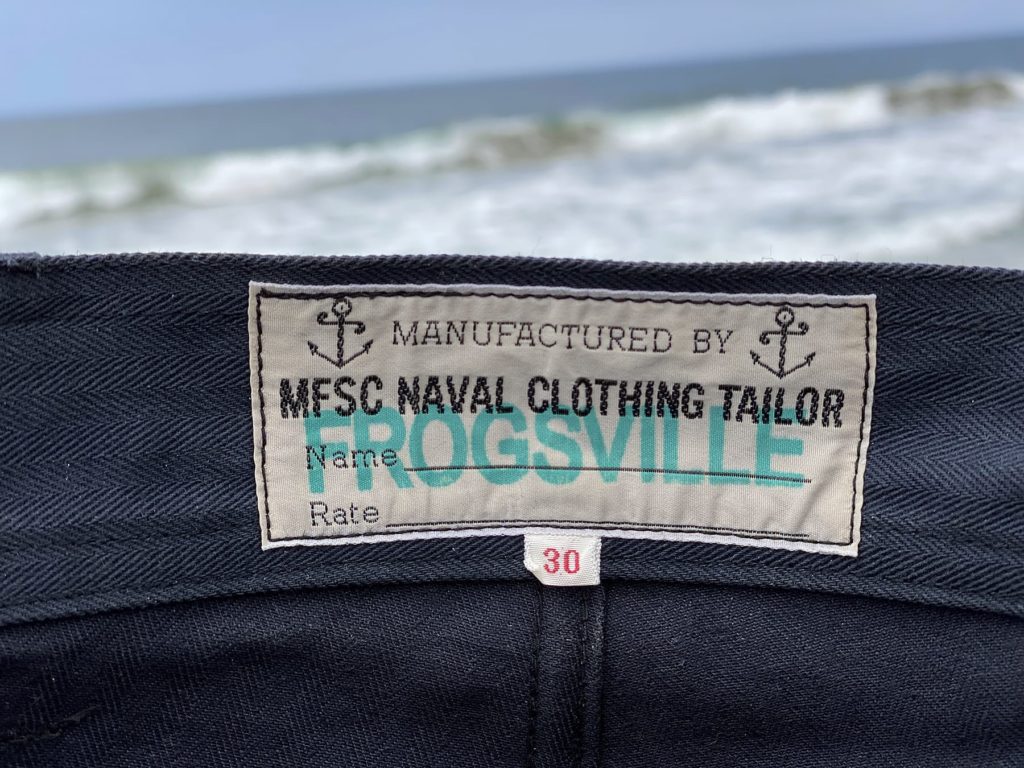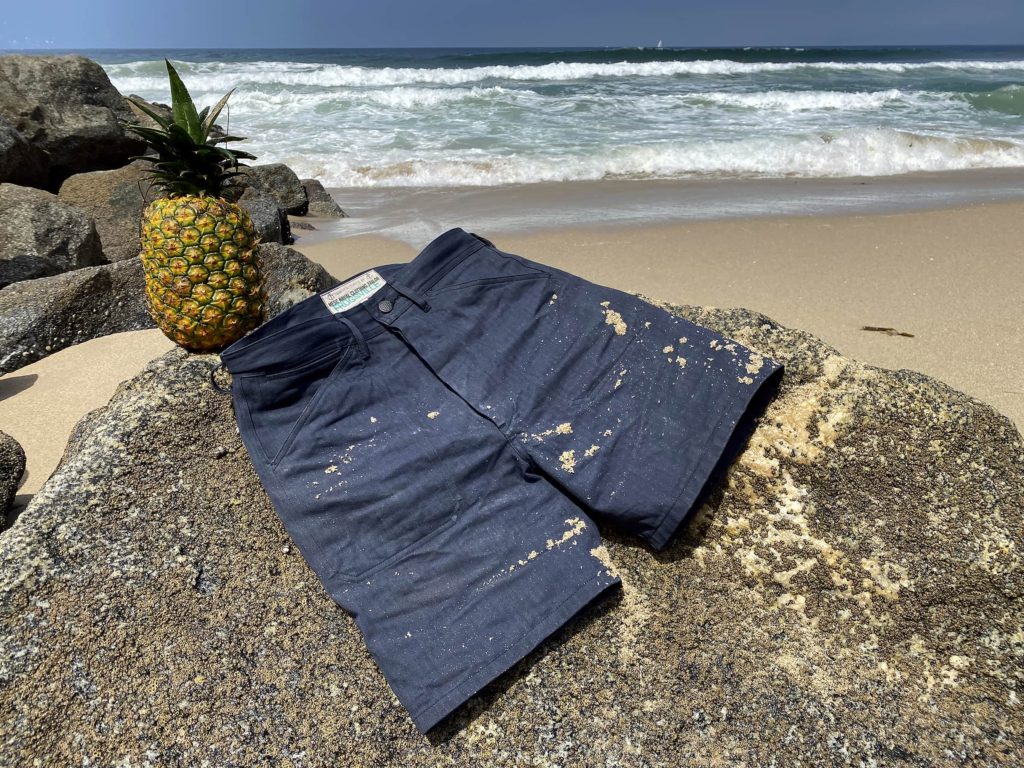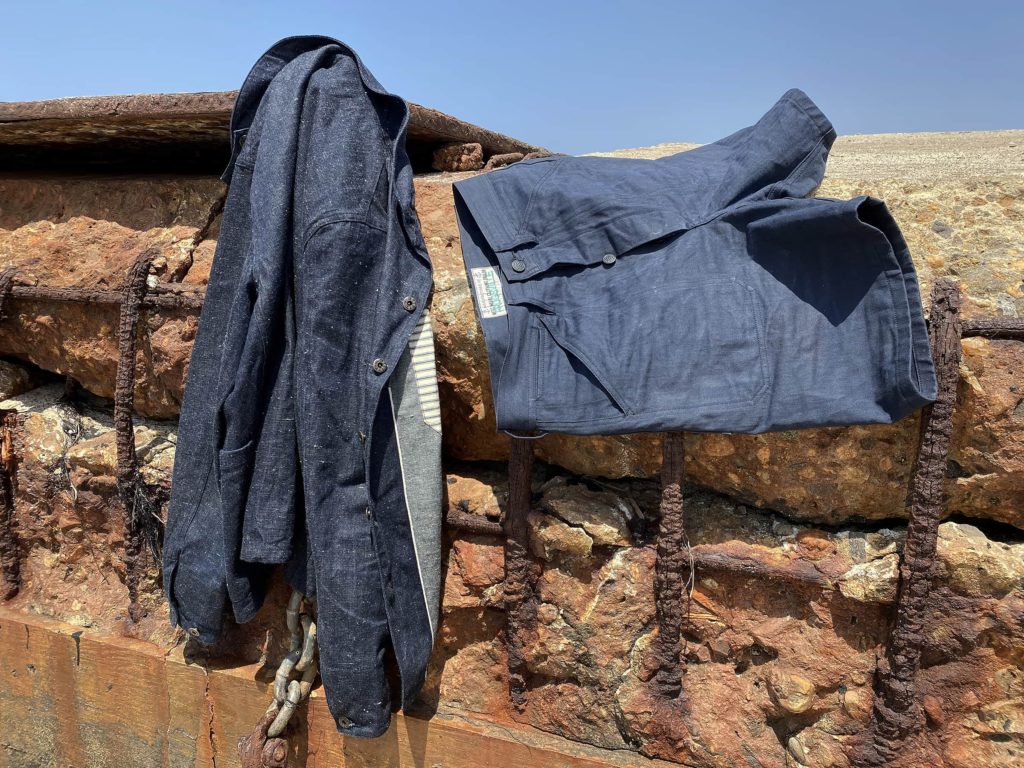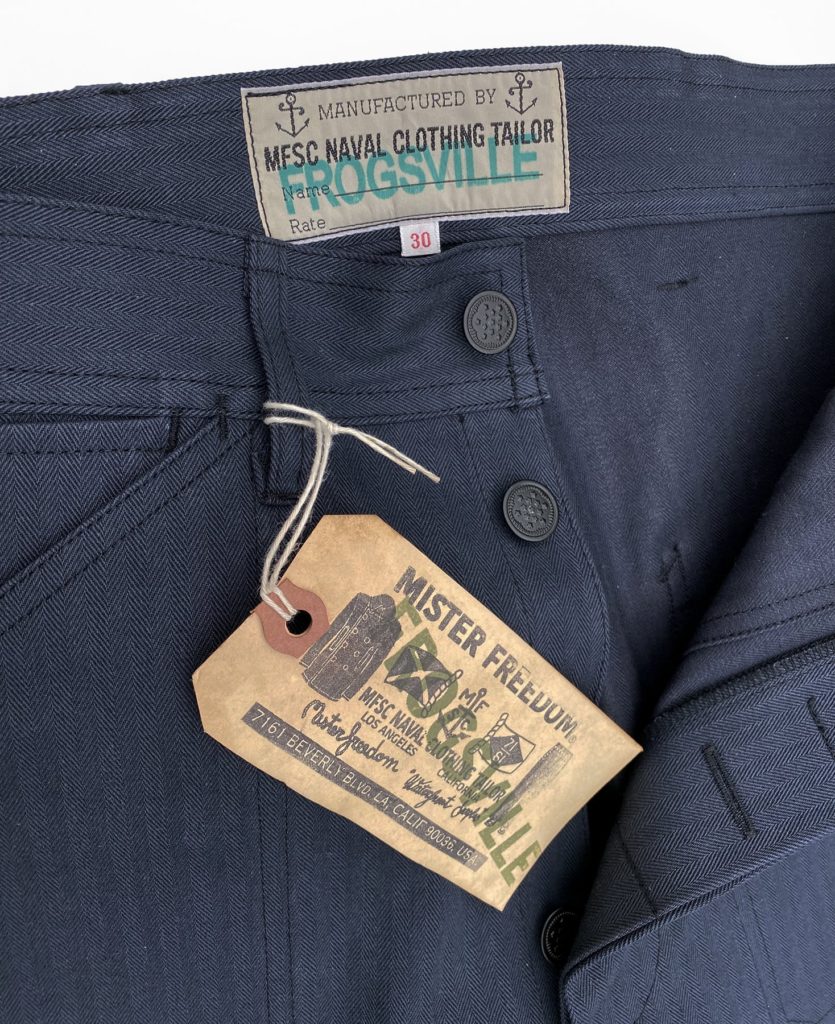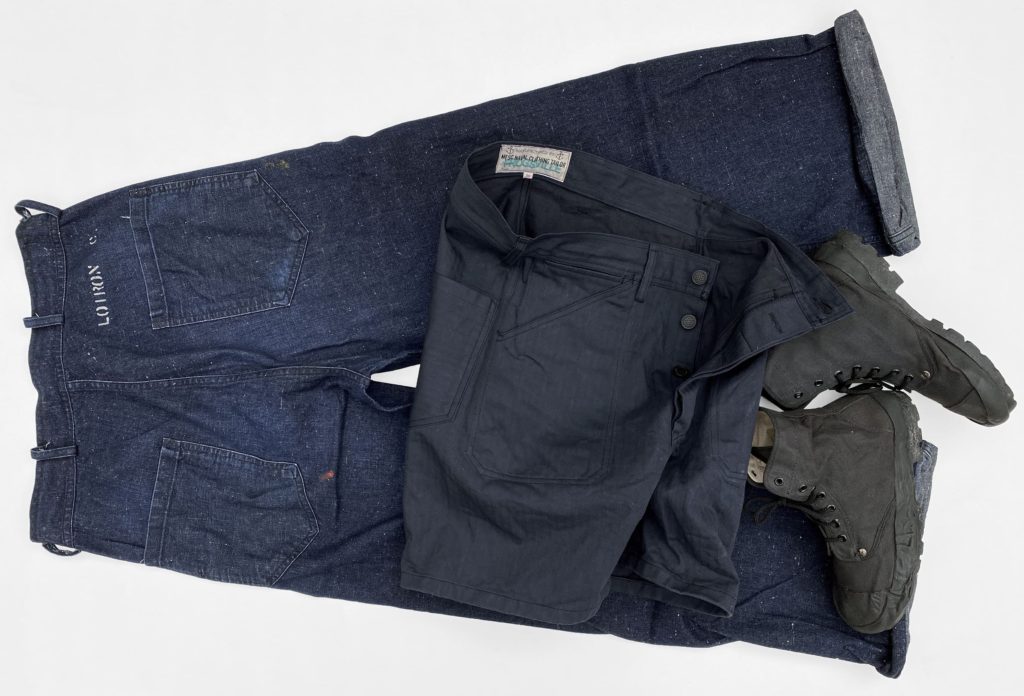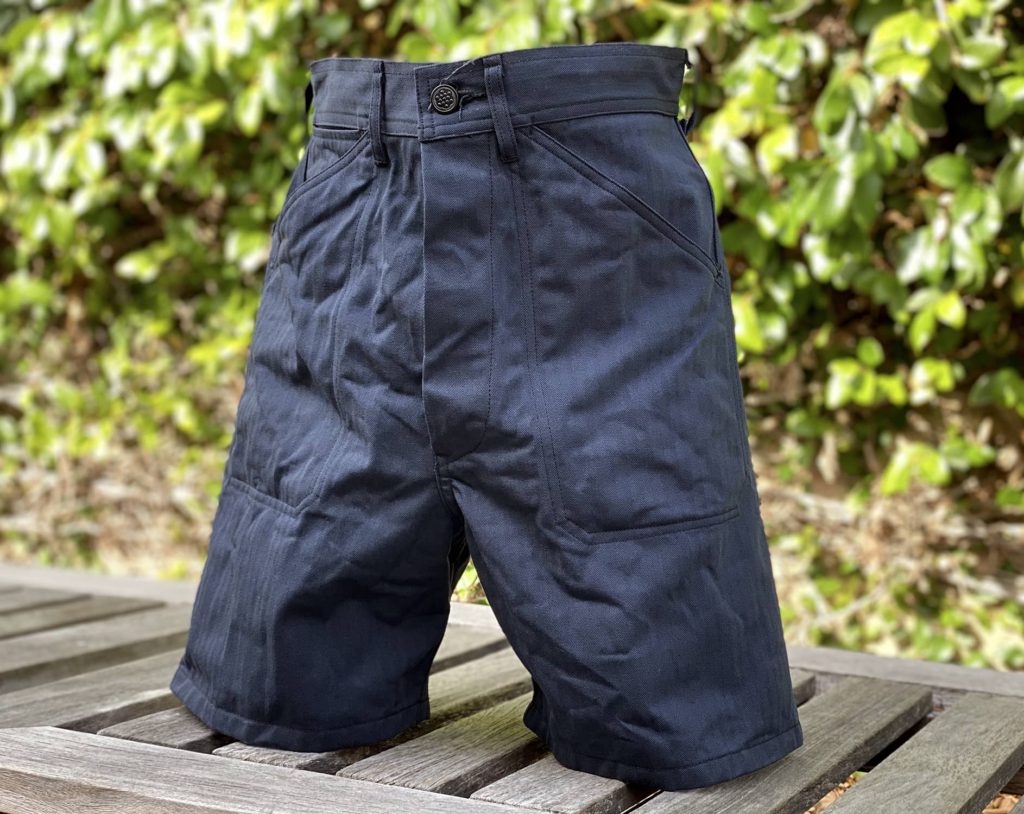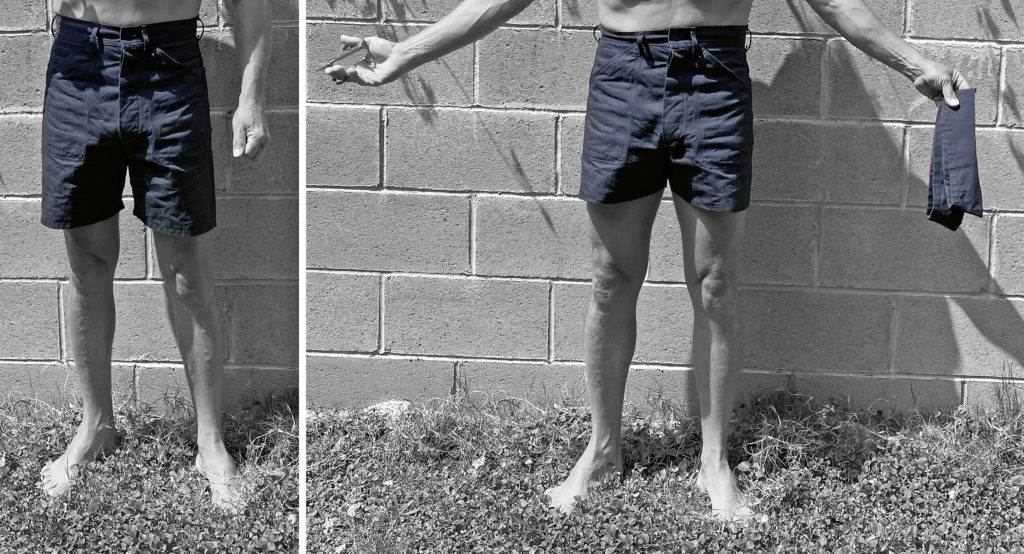 Mister Freedom® SWABBIES CUT-OFFS, 100% cotton navy blue HBT.
SS2021 mfsc "FROGSVILLE".
Made in Japan.
The Mister Freedom® SWABBIES were initially released sometime in 2020 as full-legged bell-bottom denim trousers.
The inspiration had come from a rare pair of 1940's-50's private-purchase naval dungarees from the "Portlite Uniform" maker. If these conformed to the general silhouette and specs of traditional US Navy-issued denim dungarees, they featured really fancy tailoring and intricate pattern work for a pair of work trousers. The apparently-inconspicuous two front pockets are actually a very clever combination of two types of pocket patterns, slash and patch, a construction tour-de-force on a wrap leg that only makes sense when studying the inside of the pants. Those original MF® SWABBIES featured authentic 1940's-style navy bells and a traditional high waist.
The SWABBIES CUT-OFFS are a cropped version of the same work pants pattern, bye-bye bells. A common practice in tropical Theater of Operations in the old days, salty Navy personnel would chop-off their faded dungarees and turn them into swim shorts or off-duty bermudas. Another common practice was to undo the top button, and wear the shorts with the waistband rolled-down, as was often the case with UDT Scuba Trunks.
We hemmed the inseam at about 6 inches, for a mid-thigh length. Cropping higher is a few DIY snips away for those inclined. Note that when left open (un-hemmed), the edge will fray and the fabric will roll, so, easy on the scissors!
We are releasing the Swabbies Cut-Offs in a crisp 100% cotton navy blue HBT, matching fabric to the Frogman Jacket.
The mfsc SWABBIES CUT-OFFS are designed in California by Mister Freedom®, and manufactured in Japan in collaboration with Sugar Cane Co.
SPECS:
FABRIC:
Sturdy and crisp 100% cotton HBT (herringbone twill), vintage mil-specs, navy blue color, sulfur-dyed. Milled in Japan.
DETAILS:
* An original mfsc pattern inspired by US Navy 1940's-50's private-purchase denim bell bottom trousers aka dungarees.
* Hemmed at mid-thigh, can be cropped to one's preferred length.
* Wrap leg (no outseam.)
* Black 1940s-style laurel leaf starburst metal donut waist & fly buttons.
* Front pockets combining complex patch-type and slash-type pattern due to the challenge of the wrap leg. No open seams.
* Rear patch pockets cut using horizontal warp.
* Flat lock chainstitch construction.
* Black tonal all-cotton stitching.
* Bar-tacked stress points.
* Woven rayon mfsc "FROGSVILLE" label on inside waistband.
* Made in Japan.
SIZING:
The SWABBIES CUT-OFFS come UN-WASHED and are cut so that the measurements match the labeling AFTER an initial cold soak/line dry.
We recommend the usual protocol before wearing:
Cold soak for about 30-40mn, with occasional hand agitation.

Spin dry and line dry.

Wear briefly before fully-dry to set creases, then hang until fully dry.
I had opted for a W31 in the Denim Swabbies, for a fitted top block, comfortable thighs and period bell-bottoms. I went with a W30 in the HBT Cut-Offs version.
The waist feels a bit tight after the cold soak, but stretches slightly with a bit of wear, although not as much as the denim model. Note that these are high-waisted shorts, and one might consider the old practice of undoing the top button and wearing the shorts with the waistband rolled-down to tone down the high rise.
CARE:
Launder when needed.
We recommend turning the shorts inside-out to avoid potential marbling of the fabric. Wash separately from light-colored garments.
Machine wash with cold water, gentle cycle, eco-friendly mild detergent and line dry.
DISCLAIMER: This sulfur-dyed HBT fabric has an intentional low colorfastness and will 'age' and look 'worn-in' rapidly with normal wear/machine wash routine.
Available from www.misterfreedom.com, our Los Angeles brick & mortar store, and fine retailers around the World.
Email sales@misterfreedom.com or call 323-653-2014 with any questions unanswered above.
Thank you for your support,
Christophe Loiron
Mister Freedom®
©2021
Comments
comments