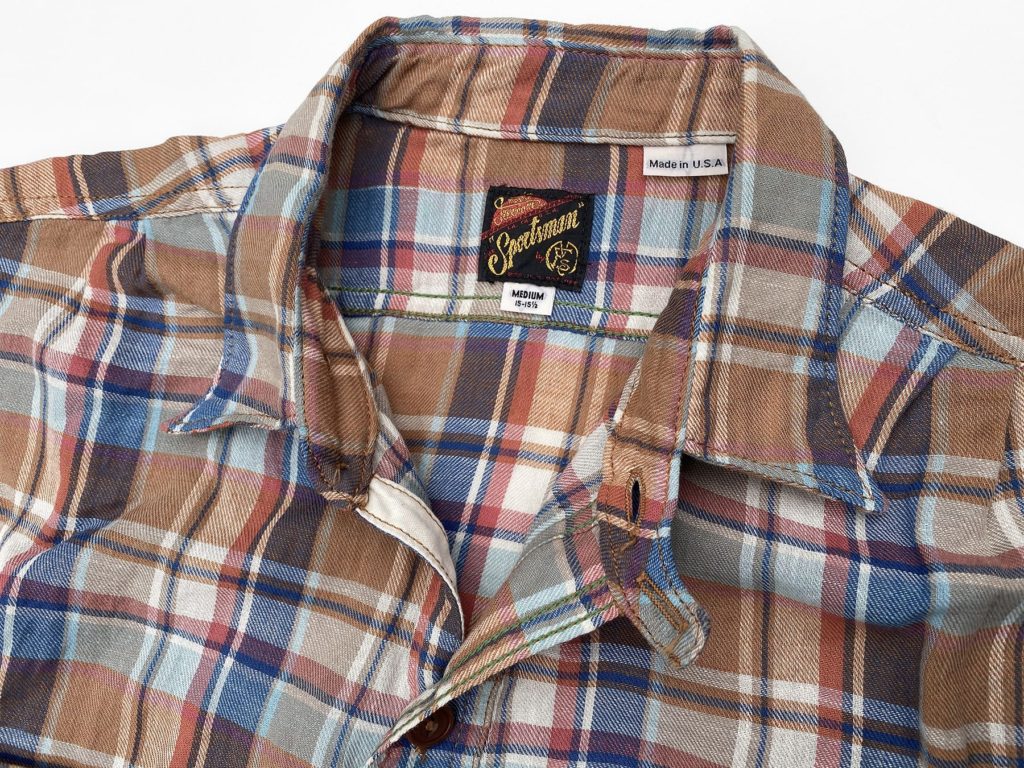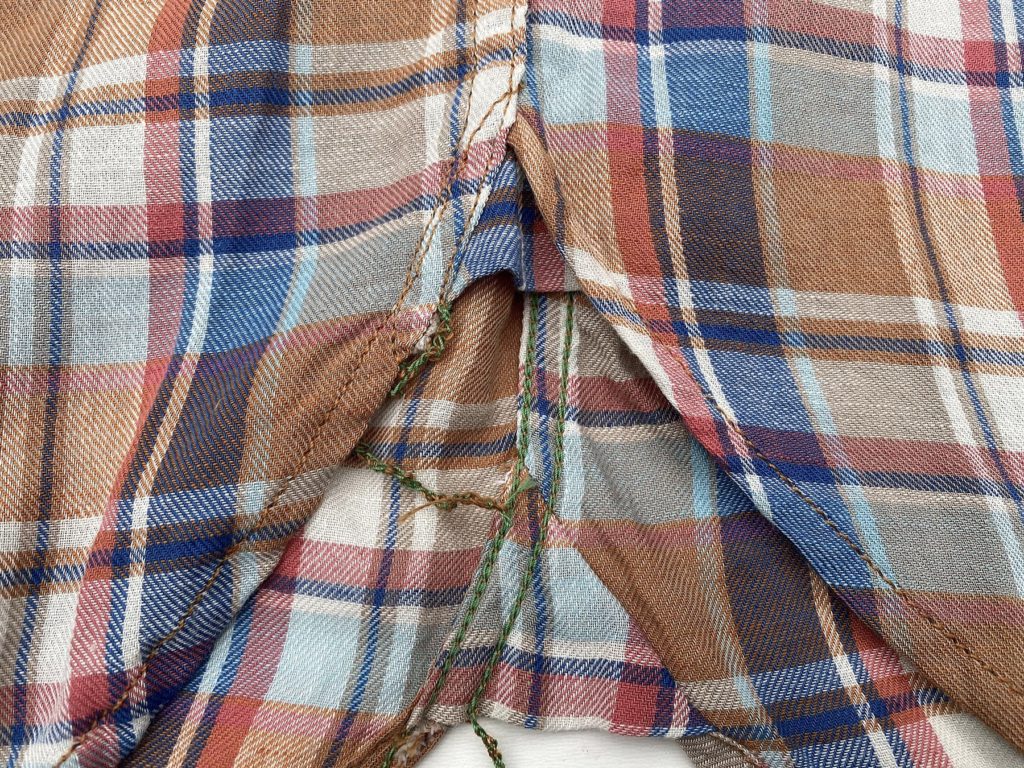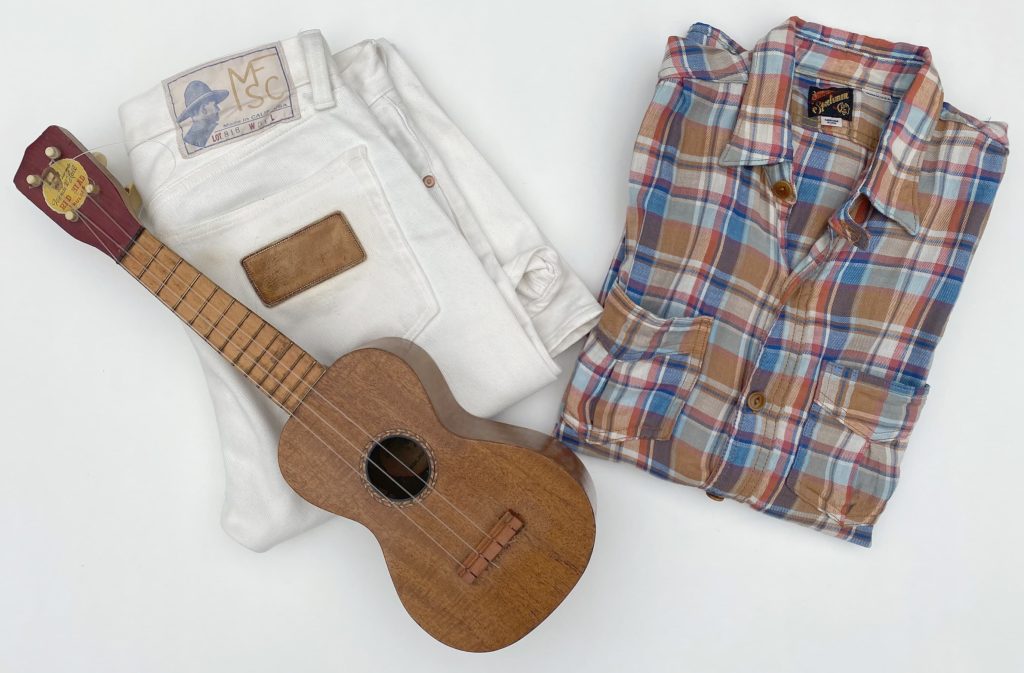 "Sportsman Shirt", NOS "Island" Woven Plaid Twill.
SS2021 mfsc Sportsman catalog
Made in USA
We introduced the MF® Sportsman Shirt pattern sometime in 2013, and have since released it in a wide range of new original or vintage NOS fabrics.
The simple style is our spin on classic 1930s-1950s work shirts, with the usual early workwear details such as chin strap and side gussets, and the less-commun shoulder yoke dart construction.
Having recently scored some limited NOS yardage of a very nice "Island" plaid milled in Japan, we decided it would be a great match for our Sportsman Shirt pattern.
The fabric is a very light weight and breezy 100% cotton twill, loose weave, featuring a classic plaid pattern blending warm earth tones and a palette of attractive blues. This fine fancy fabric is ideal for warm weather and makes this SS2021 edition of our Sportsman Shirt an elegant casual shirt rather than a rugged work shirt.
The Sportsman Shirt is designed and manufactured in California by Mister Freedom®, in collaboration with Sugar Cane Co.
SPECS:
PATTERN:
Original MFSC pattern, inspired by classic 1930s-50s workwear shirting.
FABRIC:
New Old Stock woven plaid twill, 100% cotton, light weight, loose weave, soft & breezy. Milled in Japan.
DETAILS:
* Relaxed silhouette and fit.
* Original inverted box-pleat double chest pockets.
* Slim chin strap.
* Corozo wood buttons, amber color.
* White cotton poplin button facing strip.
* Double front & back expansion pleats on shoulder yoke, for ease of movement.
* One piece cuff gussets.
* 100% cotton thread, high stitch count, tonal.
* Flat felled seams, with inside green chain-stitch MF® signature.
* Side gussets.
* Original "The SPORTSMAN" woven rayon label.
* Limited production.
* Made in USA.
SIZING/FIT:
The SPORTSMAN Shirt in NOS "Island" plaid twill comes unwashed and is cut so that the measurements match the labeling after an initial cold soak/line dry.
We recommend this protocol before wear:
Machine rinse, delicate settings, cold water, machine spin dry.

Line dry. (No heat dryer)
I opted for a Medium, my usual size in mfsc shirting (5'7 ~150 lbs), for a relaxed fit. We recommend getting your usual size in MF® shirts. The yoke darting feature (expansion pleats) of the Sportsman Shirt adds room to the shoulder area. 
CARE:
This garment should be handled with proper care to avoid damage, as the loose weave of this specific woven plaid twill may be subject to snagging.
Machine wash on DELICATE, cold water, mild eco-friendly detergent. Hang dry.
Do not use the washer's heavy-duty cycle or boil this garment. Heat dryer is also not recommended and may result in excessive and irreversible shrinkage.
Available from www.misterfreedom.com, our Los Angeles brick & mortar store, and fine retailers around the World.
Email sales@misterfreedom.com or call 323-653-2014 with any questions unanswered above.
Thank you for your support.
Christophe Loiron
Mister Freedom®
©2021
Comments
comments