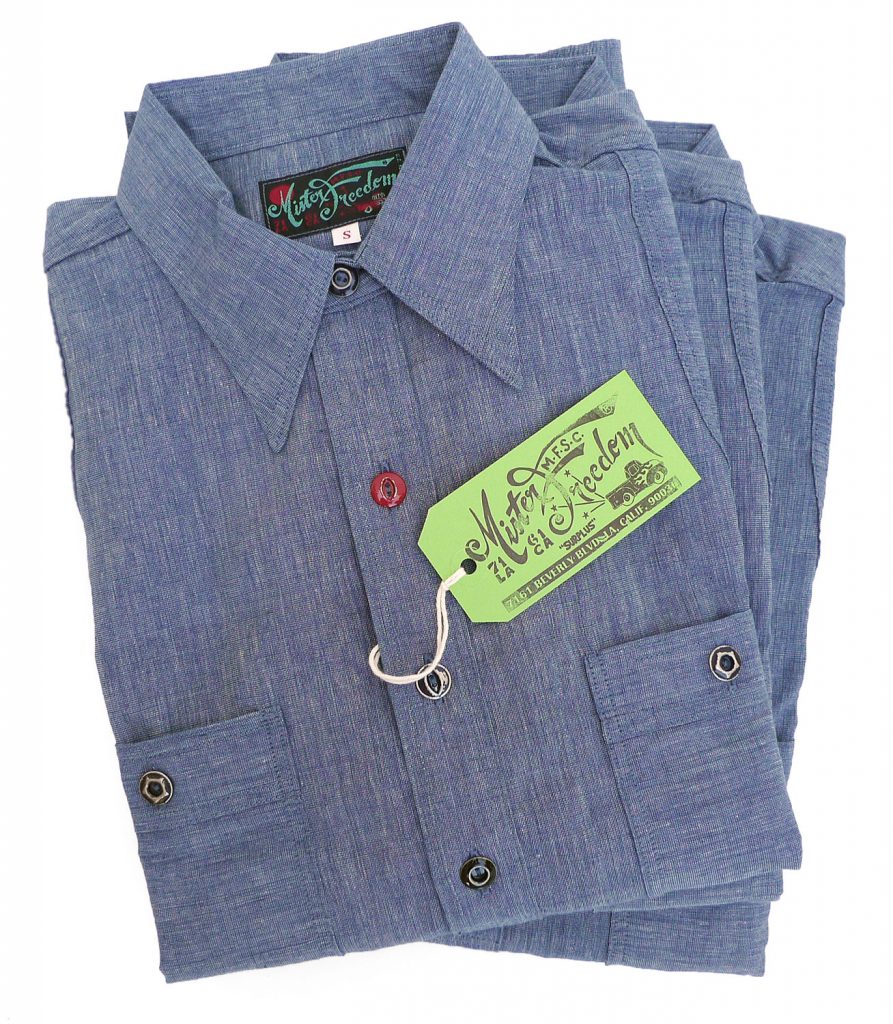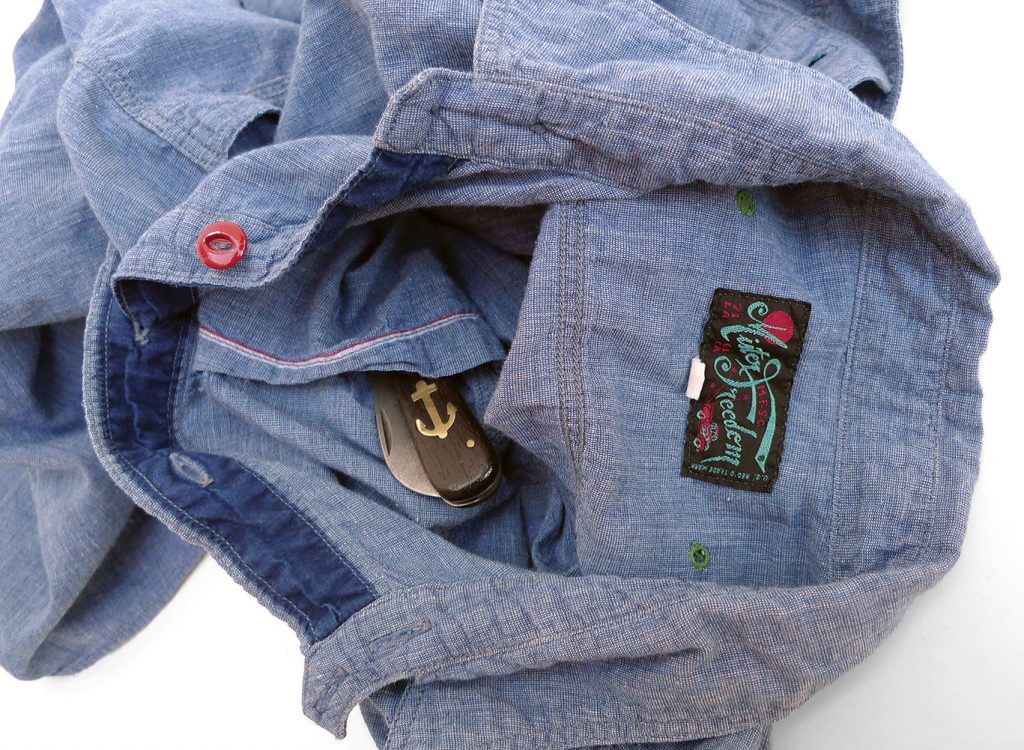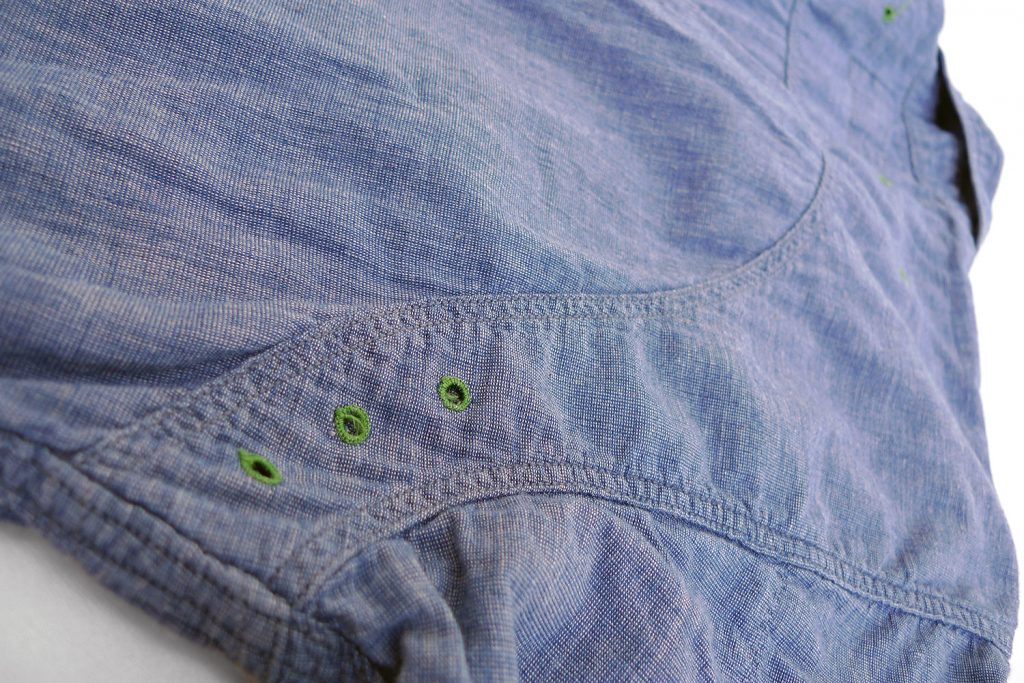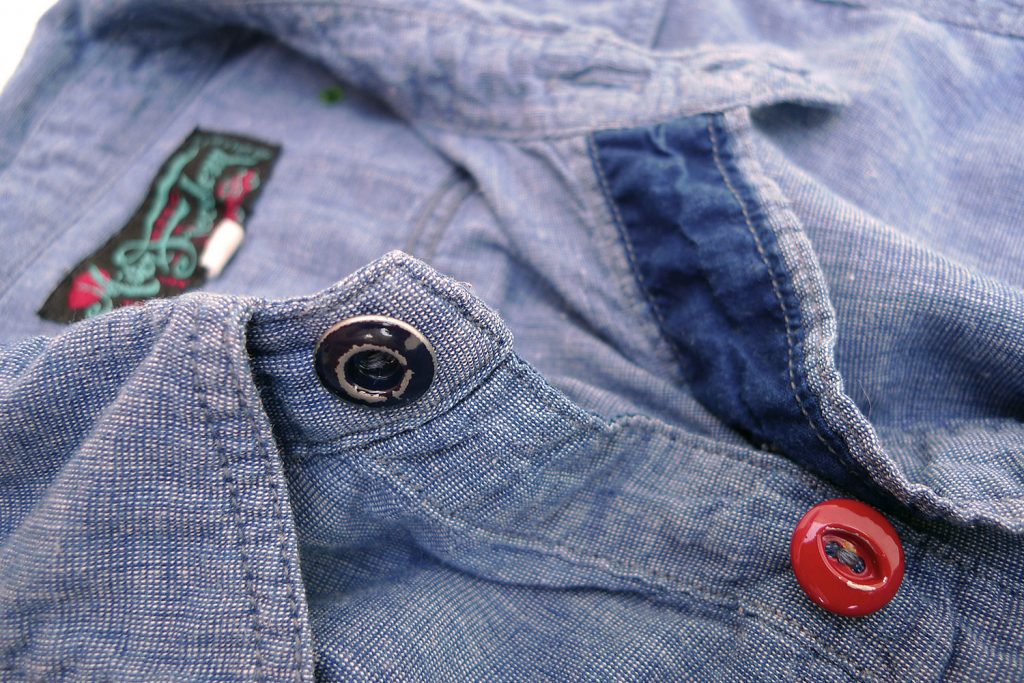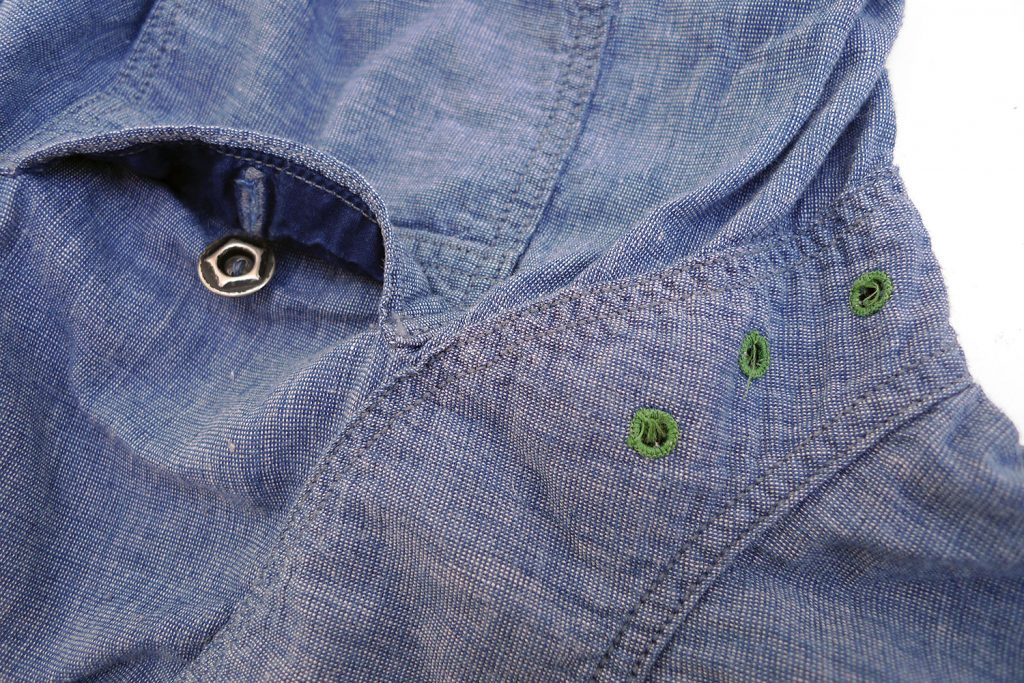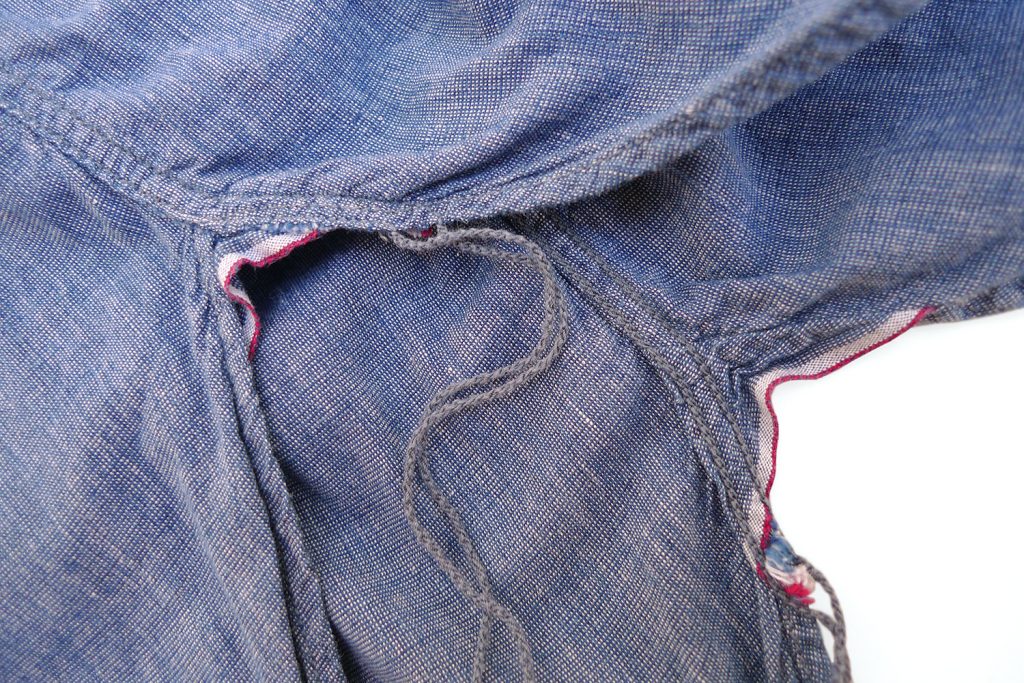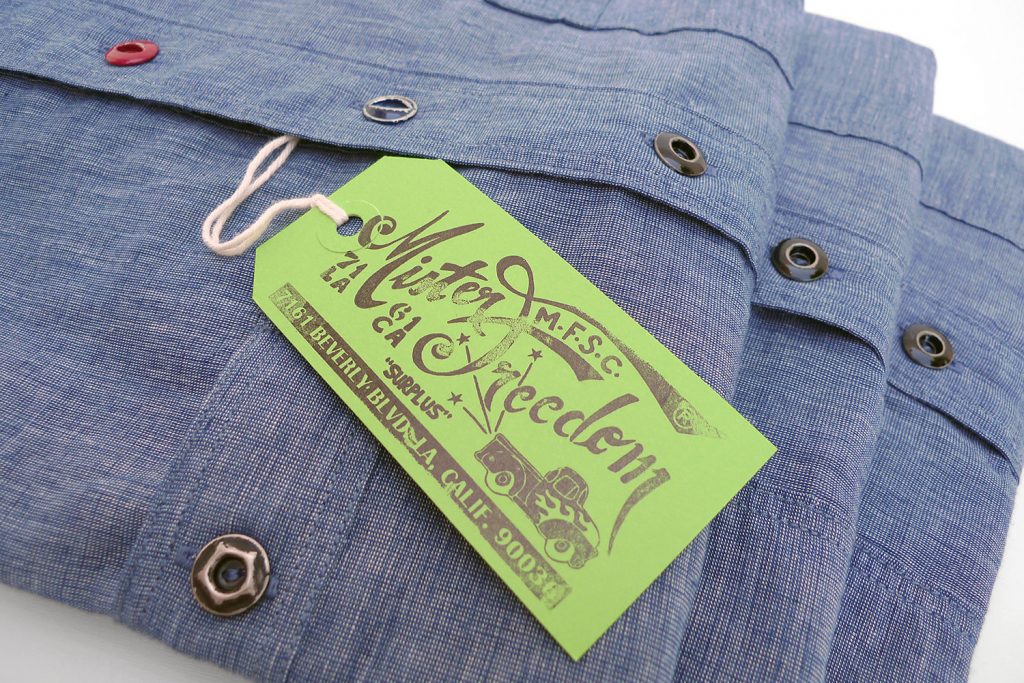 Mister Freedom® "SECOYA" Double-Panel Ventilated Work Shirt, selvedge "NTC" Chambray.
SS2019 mfsc Surplus Collection.
Made in Japan.
For this mouthful of a shirt, the "SECOYA" Double-Back Ventilated Work Shirt in selvedge "NTC" Chambray, we basically combined two classic vintage work shirt patterns lifted-off two specimen of the MF® archives, located at 7161 Beverly Blvd., Los Angeles, CA 90036, USA, and open daily from 11:00PM to 06:00PM, unless we're gone fishing, or getting our nails done next door.
Design-wise, we simply merged one rare and plain 1930's pull-over chin-strapped no-name work chambray, with the tricked-out "Double-Panel" pattern of a vintage 1940's STURDY OAK work chambray.
If the workwear division of Sears, Roebuck & Co under the STURDY OAK label produced the famous "Double-Back / Double-Shoulder Yoke / Double-Underarm" pattern, often complimented with "Ventilation Eyelets", other mail-order catalog companies such as Montgomery Ward & Co, Spiegel or JCPenney also offered a version in the 1940's -50's. We have yet to see one in a pull-over pattern, but it probably existed.
For the moniker, secoya is Spanish for sequoia, an obvious woodsy reference to the rugged and manly "STURDY OAK" label. Other innocent candidates thrown about around the office at the time, such as "The Woody", didn't pass the MF® Censoring Dept.
So, SECOYA it is, a hard choice.
As a design anecdote, the aforementioned vintage STURDY OAK chambray shirt from our archives was initially scored without buttons. We opted to attach a mixed bag of vintage tin-pressed type buttons on it, before sending the shirt to Sugar Cane Co for the next R&D stage. Mr. Fukutomi, Toyo's one-and-only talented pattern maker, sourced-out replica of these exact same buttons, and managed to re-create the same effect on his first prototype. We decided to keep that 'random' miss-matched look for production. On period workwear pieces, with buttons falling-off and garments getting repaired instead of being discarded, finding a combination of contrasting buttons on one single garment is not uncommon.
For the fabric of the 'SECOYA", another stroll down Memory Lane brought us to our earliest collaboration with Sugar Cane Co: the 2008 mfsc "Naval Clothing Tailor" collection. We decided to have another fresh batch of "NCT selvedge chambray" milled in Japan, to the exact same specs as our original 2008 "mfsc Nº645 Utility Chambray", a shirt familiar to the MF® OG's, back when exposing the selvedge on a garment sounded like a good idea.
For a conspicuous texture and color contrast irresistible touch, the facing of the button plackets/cuffs/chest pockets is cut from another mfsc old salt favorite, a fine indigo-dyed and tightly-woven cotton poplin with promising fading properties.
Due to the double layers, multiple stitched seams, contrasting poplin facing and overall high-count cotton stitching, subtle variation of shrinkage will result in attractive puckering and roping, giving the "SECOYA" a vintage garment look after just a few normal laundry cycles.
The "SECOYA" Double-Panel Ventilated Work Shirt is designed in California by Mister Freedom® and manufactured in Japan by Sugar Cane Co.
SPECS:
FABRIC:
Fine and lightweight 3 Oz. indigo yarn chambray with a white/red selvedge ID, milled in Japan.
DETAILS:
* An original mfsc pattern, inspired by vintage 1930's-1940's classic American fancy chambray work shirts.
* Pull-over style.
* "Double-Back / Double-Shoulder Yoke / Double-Underarm" pattern.
* Ventilation Eyelets on underarm and back panels.
* Selvedge side gussets.
* Chin-strap.
* Indigo poplin facing of the front button plackets/cuffs/chest pockets.
* Mismatch combination of vintage-style tin-pressed metal painted buttons.
* Double chest pocketing, buttoned pockets.
* High-count 100% cotton tonal stitching, chainstitch construction.
* Original MF® mfsc "Surplus" woven rayon label.
SIZING/FIT:
The "SECOYA" chambray Work Shirt comes raw/unwashed.
We recommend the usual initial 30mn cold soak/occasional hand agitation/spin dry/hang dry process. The tagged size reflects the size of the garment after going through this process.
The "SECOYA" is true-to-size. I opted for a MEDIUM, my usual size in mfsc shirting. The fit is quite trim, well-balanced between enough room to pull the shirt on and off without too much struggle, and a flattering a slim silhouette.
Please refer to chart for approximate raw/soaked measurements. This explains how we size our garments.
Soaked = 30mn cold soak, spin dry and line dry.

CARE:
Wash when necessary.
Machine wash with cold water, gentle cycle, eco-friendly mild detergent and line dry.
Available RAW/un-washed.
Sizes
Small
Medium
Large
X-Large
XX-Large
Available from www.misterfreedom.com, our Los Angeles brick & mortar store, and fine retailers around the World.
Email sales@misterfreedom.com or call 323-653-2014 with any questions unanswered above.
Thank you for your support.
Christophe Loiron
Mister Freedom®
©2019
Comments
comments