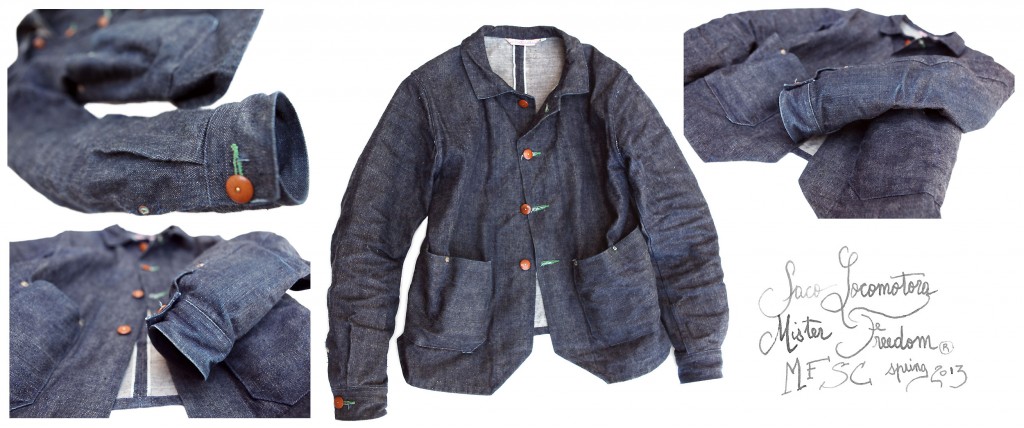 Mister Freedom® MFSC "Saco LOCOMOTORA", made in USA.
'Viva la Revolución' Collection, Spring 2013
Hinting at an instrumental tool of the Mexican Revolution here is our SACO LOCOMOTORA, aka El Loco as we call it around here.
The railroad system in Mexico played a major part in the unfolding of the Revolution. Many folk songs (Máchina 501 for instance, or many other tunes played by la Banda Tlayacapan who accompanied General Zapata during the war) celebrate the key role of that modern mean of transportation. Trains allowed the speedy transport of troops to the front lines, turned hospitals on wheels with families tagging along, or were used as plain torpedoes loaded with explosives.
In 1911, Emiliano 'El incorruptible' Zapata met with Francisco Madero, freshly cheated of the National election by Porfirio Diaz, to discuss strategy for the fight to regain power.
The meeting place? Colonia railroad station, aboard Zapata's famous steam locomotive No. 279, his headquarter since 1909. That historical steam Engine has survived and a restored version can still be seen if you take a trip down Cuautla way, State of Morelos, southern Mexico.
For our first 'iron horse' related garment, we designed a type of denim railroad jacket 'from scratch', keeping a 'local artisan made' feel to it. We combined elements of twill work-wear jackets, both from the Old and New World, resulting in a cross-breed between a European work coat and a classic American denim Railroad jacket.
We kept a shorter silhouette for El Loco, somewhat typical of period Charro suit jackets.
The deep side wrap copper-riveted pockets were designed to hold wrenches, rags, log books and various mechanic's tools. They will also hold a wallet or an iPhone, should these prove more useful to you during the day 😉
The split back panel pattern displays the denim selvedge on the inside, which will result in 'tracks' (bada bing), naturally showing after repeat wear and sofa staining.
As with our Vaquero Blue Jeans, we are using an original indigo dyed left hand twill denim developed by Sugar Cane Co in Japan, referred to as "Okinawa 301". It blends cotton yarn with recycled sugar cane fibers (50/50) in a strong, slubby, hairy, coarse denim twill, guaranteed to age beautifully.
The green accents of the button holes/eyelets are reminiscent of older American work-wear details, green also being a color not foreign to the Mexican National Flag.
We opted for corozo wood detachable buttons (aka ring buttons), a typical feature of early work and military coats, that allowed washing the garment without its hardware.
The collar shape and angle is a nod to turn of the Century patterns.
Using flat felled seams and single machine construction we had el Loco made in Los Angeles, California, as a collaboration with partner in crime Sugar Cane Co.
SPECS:
PATTERN: An original MFSC pattern. Designed by Mister Freedom® and combining elements of early work coats from Europe and USA.
FABRIC: Raw 14 Oz. indigo dyed selvedge denim, left hand twill. 50% cotton blended with 50% recycled sugar cane fibers. White selvedge with green ID line. Milled in Japan.
Note: For detail orientated folks, the collar facing is made of NOS 12 Oz. selvedge Cone denim, same fabric as the Californian Lot.54
DETAILS:
* Shorter silhouette.
* Six high button front style, allowing easy access to higher waist style trousers pockets. Detail also typical of horseback riding coats, allowing the jacket to 'break' at the proper place when fully buttoned.
* Single piece front panels, no shoulder yoke.
* Adjustable side cinch straps, with vintage NOS metal buckles.
* Corozo wood detachable 'ring' buttons.
* Green color button holes and eyelets.
* Deep wrap pockets, double compartment.
* Concealed left chest pocket, made of NOS stripe cotton twill.
* Selvedge used in split back, button front panel/pockets/cuffs facing.
* Single needle and chain stitch flat felled seams, with 100% cotton tonal thread stitching.
* Designed and Made in the USA.
PACKAGING: An original MF® denim bag, made in our studio, to sling around for your next trip to the local organic Farmer's market.
SIZING/SHRINKAGE:
The "Okinawa 301" denim is RAW and unsanforized. Overall shrinkage from rinsing/washing should be about 5% to 8%, according to water temperature. This fiber denim will shrink with an original cold soak and line dry. It will expand a bit again with wear, then shrink again with subsequent rinsing. This normal evolution should settle after a while.
El Loco will shrink to TAGGED size.
We recommend an original cold soak (about 30mn, no agitation), spin cycle and line dry. This will get you minimal shrinkage and retain ~100% of the indigo color. Some bleeding is expected with normal wear (from blue hands to blue armpits. Indigo bleeding will wash off.)
As always, boiling is not recommended (too much color loss), just get your size.
Remember that you will not get beautiful patina from extensive unneeded washing, but rather from repeat wear.
I usual wear a 38 (Medium) in all mfsc jackets, and I wear a 38 in this denim coat.
Note: The photos above are from a slightly worn jacket, showing very minimal wear after an original cold soak. Production is UNWORN and raw.
Please refer to sizing chart below for approximate raw/cold soak measurements:
Available RAW/Unwashed.
SIZES
36 (small)
38 (Medium)
40 (Large)
42 (X-Large)
44 (XX-Large)
Retail $439.95
Call or mail sales@misterfreedom.com at 323-653-2014 to get yours while they last. We ship internationally to select Countries. Thank you for the support, Señoras y Caballeros.
Comments
comments