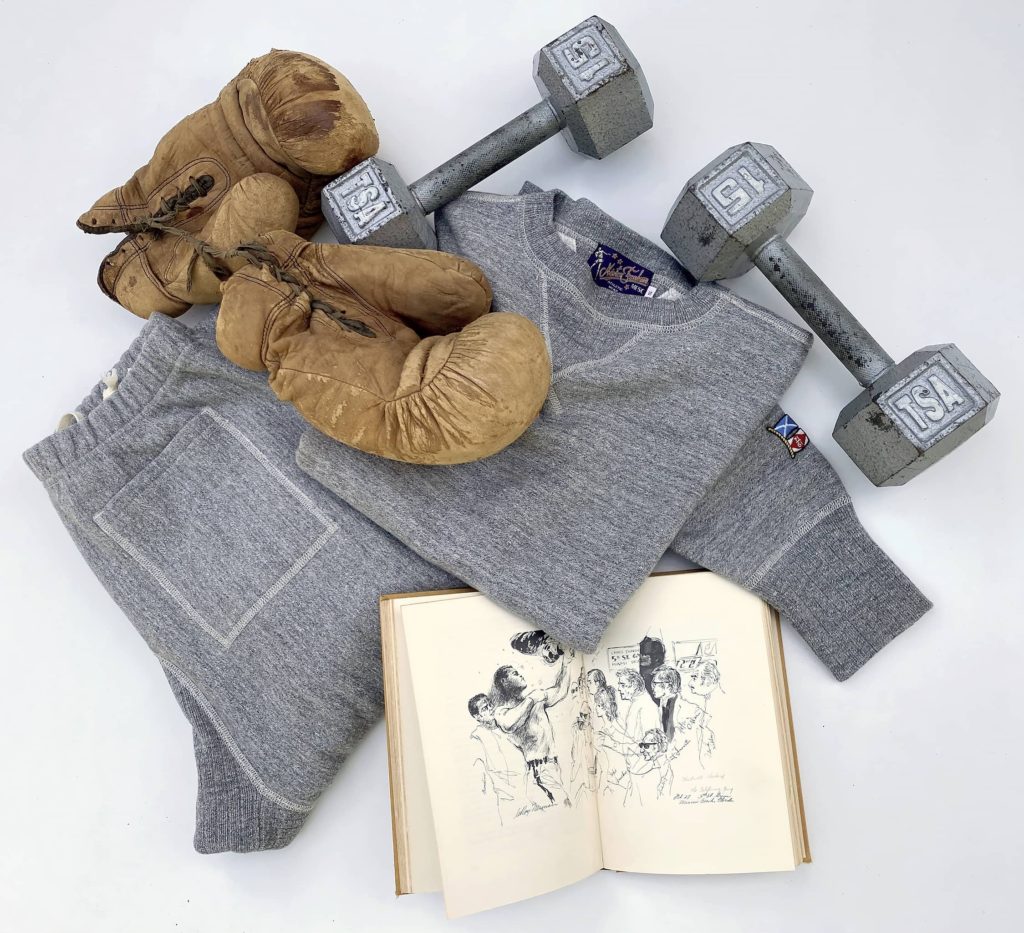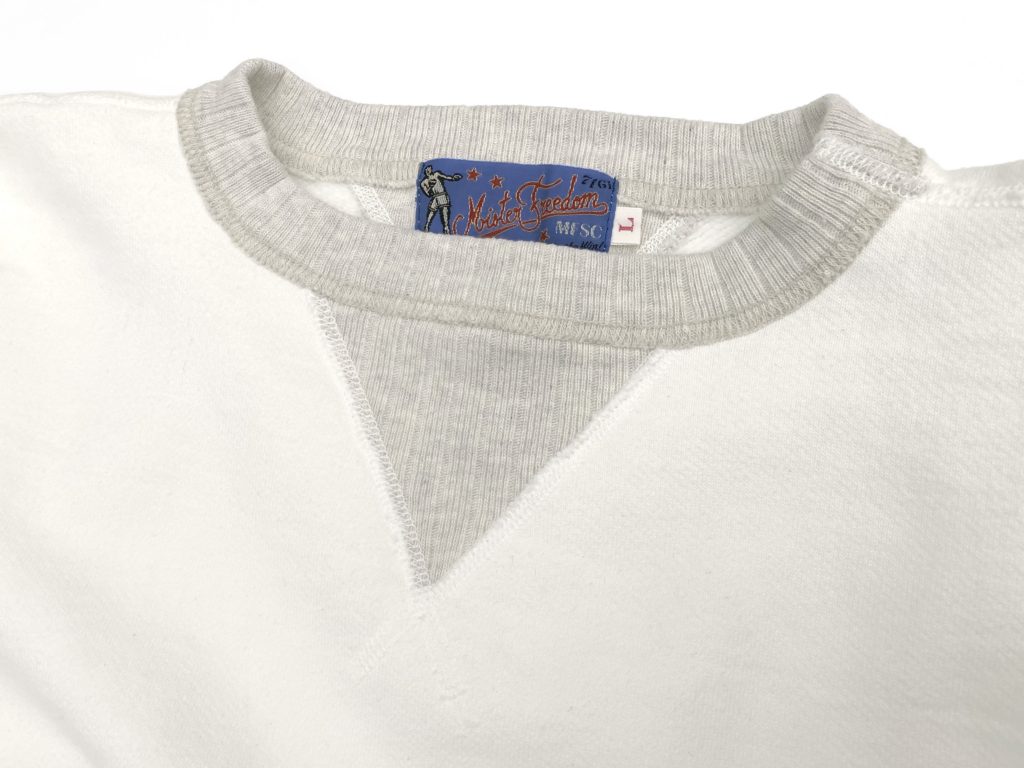 Mister Freedom® MEDALIST Crew Sweatshirt, all-cotton tubular fleeced jersey
FW2021 mfsc PODIUM collection.
Made in Japan.
The Mister Freedom® MEDALIST is our take on the iconic American SWEATSHIRT (or "sweat shirt", "sweat-shirt", the top part of a "sweat suit" or "training suit"… just don't call them "sweaters"). We've been working on this one for a while, as plenty of contemporary options already exist and we wanted to make sure that our version be classic yet special. 
First, if you get asked on Jeopardy and your friend Bob can't get to the phone, sweatshirt material consists of a single knit fabric, with a flat texture jersey on the face (outside), and a French Terry reverse with loops mechanically shredded/brushed into a soft fleece pile (inside). It has been the fabric of choice for warm-up athletic gear for about a century.
Classic vintage sweatshirts (~ pre-1970s) are usually cut from tubular fleeced jersey, meaning the sock-like cylinder body has no side seams.
With roots in the 1920s, modern tubular fleece has been produced since the 1950s on elaborate single-jersey circular knitting machines, puzzling pieces of engineering resembling the 1969 Apollo LEM, and, I suppose, about as equally easy to operate and maintain.
Using this knitting technology, and due to the cylinder shape and fixed circumference of the finished material, several machines and tedious set-ups are required to produce different sizes of the same tubular sweatshirt fabric. Meaning, the body of a size Small tubular sweatshirt is knitted on a different machine than the Medium. This doesn't help with cost of production, but vintage clothing purists will appreciate the seamless tube body.
To add to the challenge of milling this special fleece fabric, we also insisted that our waistband ribbing be tubular, without the joining side seam typical of modern fashion sweatshirts. We also were set on a special "5×1 needle-out" type of ribbing, a cool feature of certain rare and desirable vintage 1940s-50s specimen. With this tall order, we sent our friends at Toyo Enterprise on a double wild-goose chase, and, as always, they sourced-out not only the perfect tubular fleece, but managed to mill the special needle-out tubular ribbing.
For the design and construction of our MEDALIST, we wanted to stay away from anything contemporary. So we scrutinized and dissected several vintage specimen collected over the years, studied classic proportions and cuts, found inspiration in period silhouettes from old photos and athletic goods 1930s-1960s catalogs, tested prototypes with traditional stitching options… and basically came up with a very old-school looking winner, the MF® MEDALIST!
Pattern-wise, one of the key point for us was the "drop shoulder" look. Modern sweatshirts and even contemporary vintage replicas tend to prefer an updated non-slouching shoulder seam, for a "more tailored" look. The drop shoulder cut may be an acquired taste, like the leg twist on a pair of old Levi's for instance, but we went for the "anti-fit" cut of authentic 1940s-50s vintage sweatshirts.
Regarding the double neck insert detail, scoring a "double V" sweatshirts in my 1990s rag-picking days always meant bingo! Double Vs were to vintage sweats what XXs were to vintage Levi's, an extra $500+ at the flea market.
Initially intended as a stretch gusset on the neck band so that the pull-over warm-up shirt (made of wool in the early days) would fit over, say, a football helmet, the "V" was a good substitute to a ½ zipper. Our MEDALIST 40s-style double Vs are of the "functioning" type, as they actually are double-layer stretchy ribbing inserts, and not just the decorative V-shaped flat lock stitching typical of later productions of sweatshirts. Many "V"s on contemporary sweats are also purely decorative.
On that note, some of you may remember that, during a 2010 interview with Valet Magazine, yours truly asserted that the "V"s on sweatshirts were originally designed to, wait for it, sponge-up sweat. An opinion, as they say, is the perfect compromise between knowledge and ignorance.
Another feature of our MEDALIST is the underarm expansion gusset, a detail and intricate construction challenge lifted from a rare 1950s vintage sweat from our archives. Like the double Vs, these arms gussets are also double-layer inserts of needle-out rib.
Anyone familiar with vintage sweats knows of the common sleeves-are-too-short issue, the result of excessive shrinkage and improper shrink tests from the maker. McQueen was a specialist at quickly solving that problem, on and off screen, and is probably responsible for a few chopped-off vintage sweats out there!
This is one of the liberties we took with "authenticity", as we carefully balanced the drop of the shoulder seam, calculated optimal sleeve length while considering the extra-long (foldable) ribbed cuffs, factored-in fabric shrinkage, adjusted sleeve width… to achieve a proper post-wash fit that will work for most.
As a touch of modern practicability, we mounted a back pocket to the MEDALIST rear panel, with an original flat-lock construction "sandwiched" in the waistband. This discreet storage will come handy when cycling, to carry a smart phone or small bidon without obstructing the front of the shirt. Just avoid using it for your phone or wallet while riding the metro in Paris…
We are introducing the MEDALIST in six original yet classic color options. The heather grey is yarn-dyed, a much darker shade than the traditional "silver" heather grey of Champion® sweats, a fleece color characteristic of some older athletic collectibles. The Arctic White model features contrasting oatmeal heather grey ribbing trims, for an attractive subtle two-tone effect.
The Scarlet Red, "UCLA" Blue, Gold Yellow and "Nam" Olive Green MEDALISTS will fade over time with normal wash/wear routine and sun exposure, just like your favorite butter-soft sun-bleached vintage sweatshirt. For reference, we included some naturally-faded prototypes in the photos above.
Pair it with blue jeans, khaki chinos, piques… for the gym, the beach or to lounge around at home, our MEDALIST is versatile, comfortable, functional, ethically-produced… and just ridiculously good looking!
The MF® MEDALIST Crewneck Sweatshirt, in all-cotton tubular fleeced jersey, is designed by Mister Freedom® in California, USA, and produced in Japan in collaboration with Sugar Cane Co.
SPECS:
FABRIC:
Heavy weight 12 Oz. 100% cotton tubular fleeced jersey knit, soft brushed pile back for warmth and absorbency. Milled in Japan.
Color options:
a) Yarn-dyed Heather Grey.
b) Arctic White with contrast oatmeal needle-out ribbing.
c) UCLA Blue.
d) Scarlet Red.
e) Gold Yellow.
f) "Nam" Olive Green.
DETAILS:
* An original mfsc pattern inspired by vintage 1940s-50s classic American sweatshirts and period athletic wear.
* Tubular body (no side seams).
* "Drop shoulder" pattern.
* Fancy all-cotton 1×5 needle-out ribbing waistband, cuffs, neckband and gussets.
* Double "V" neck inserts, dual layers of stretchy ribbed knit.
* Vintage-style extra-long waistband and cuffs.
* Underarm expansion gussets.
* Rear panel smartphone or bidon pocket.
* Four-needle flat lock stitching construction.
* Original mfsc "PODIUM" rayon woven label.
* Made in Japan
SIZING/FIT:
The MF® MEDALIST Sweatshirt comes pre-rinsed (i.e. pre-shrunk), and is ready-to-wear. No need for any initial soaking process.
All different color options fit the same.
Depending on your own personal style, preference of silhouette, body type, and whether you're going old-school vintage or contemporary streetwear, the size that will work for you is subjective.
I opted for a size SMALL in all color options, for a shorter "period" look, matching one's natural waist rather than covering the back pockets of jeans. Just a personal preference for the vintage vibe. I am 5'7 / 145 lbs.
CARE:
Low maintenance garment. Launder when needed.
Machine wash, normal cycle, cold water, mild eco-friendly detergent. Tumble dry or lay flat to dry on clean towel.
Available from www.misterfreedom.com, our Los Angeles brick & mortar store, and fine retailers around the World.
Email sales@misterfreedom.com or call 323-653-2014 with any questions unanswered above.
Thank you for your support.
Christophe Loiron
Mister Freedom®
©2021
Comments
comments