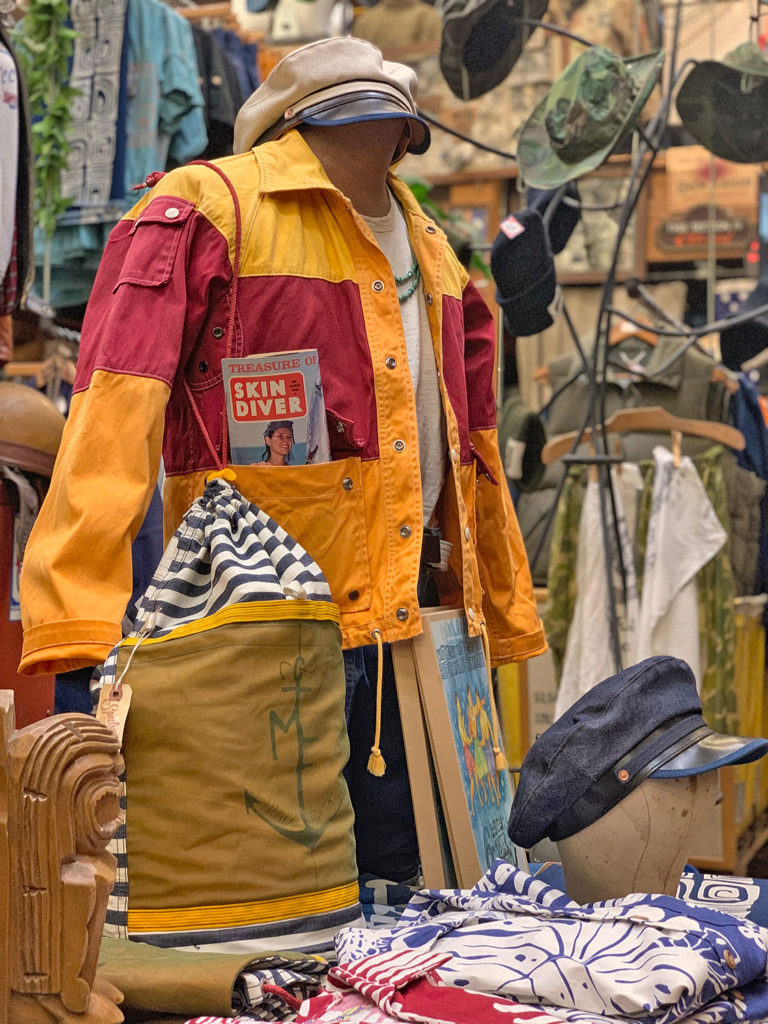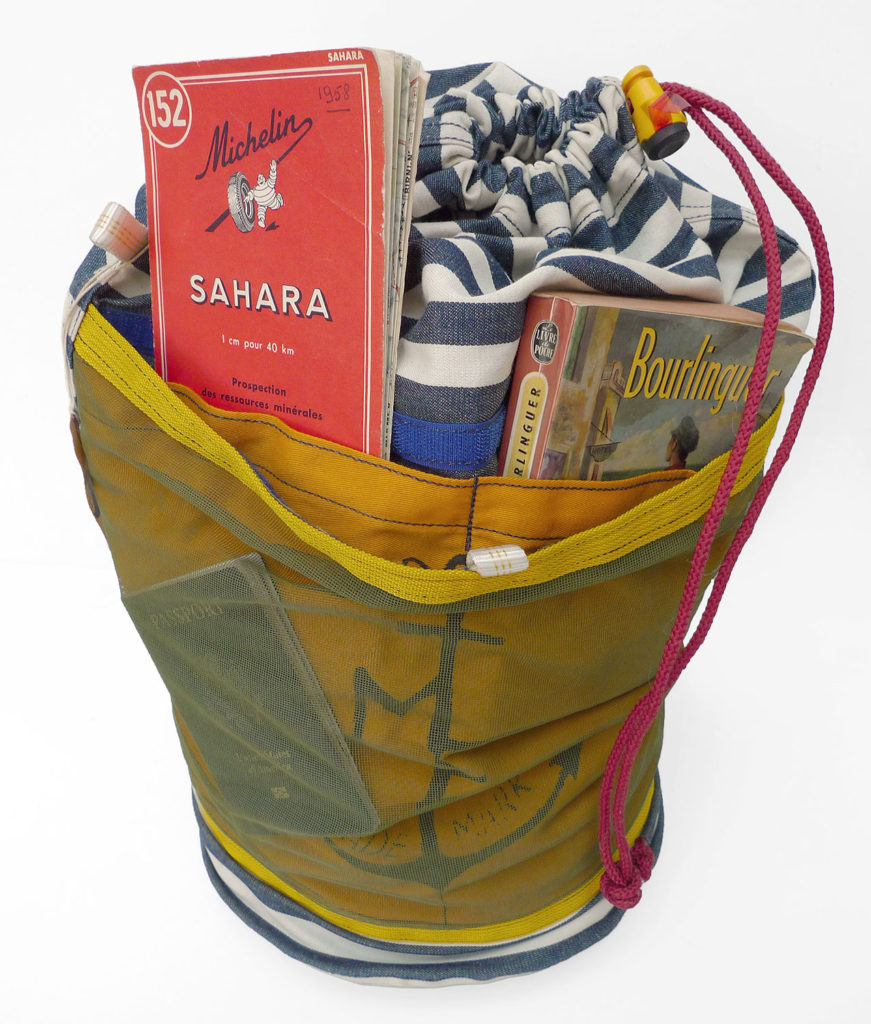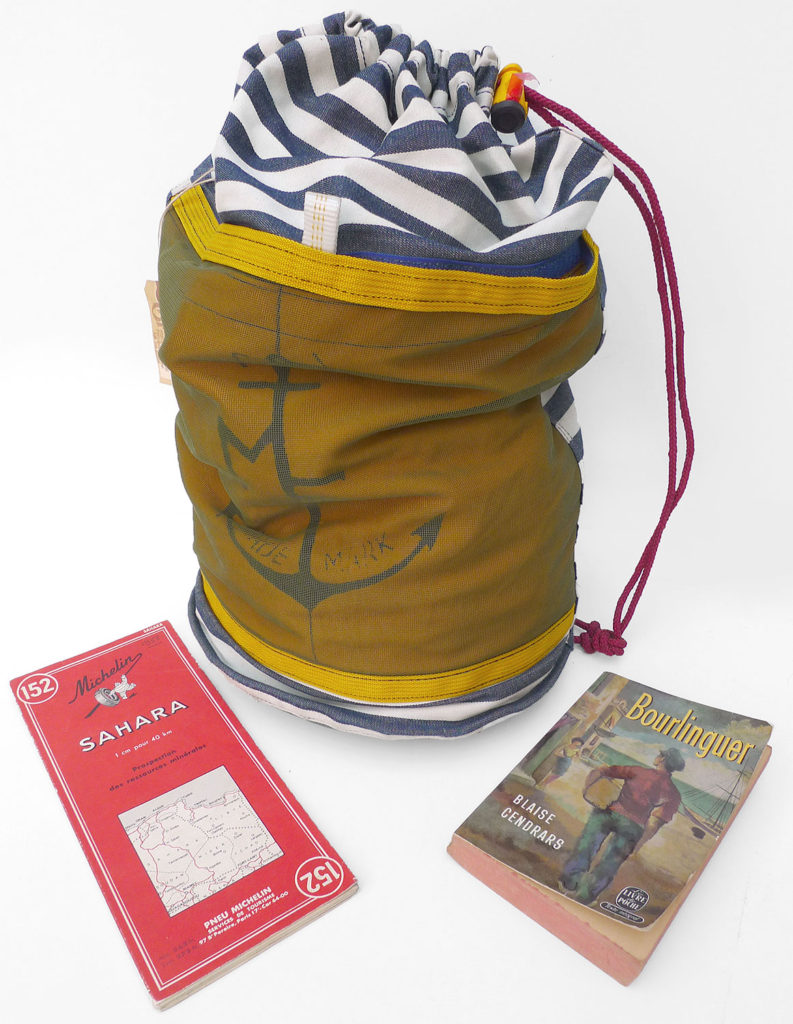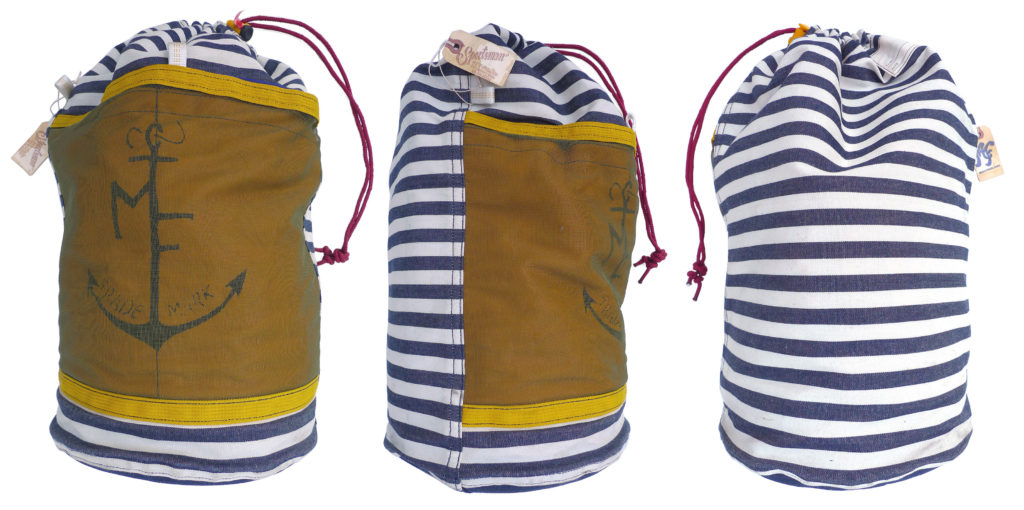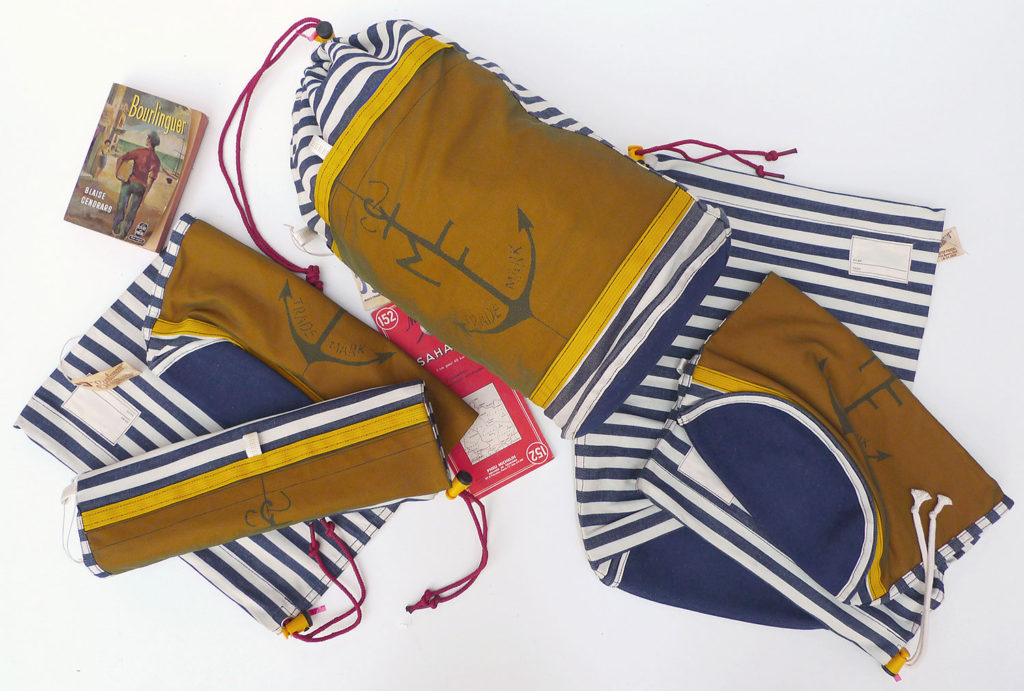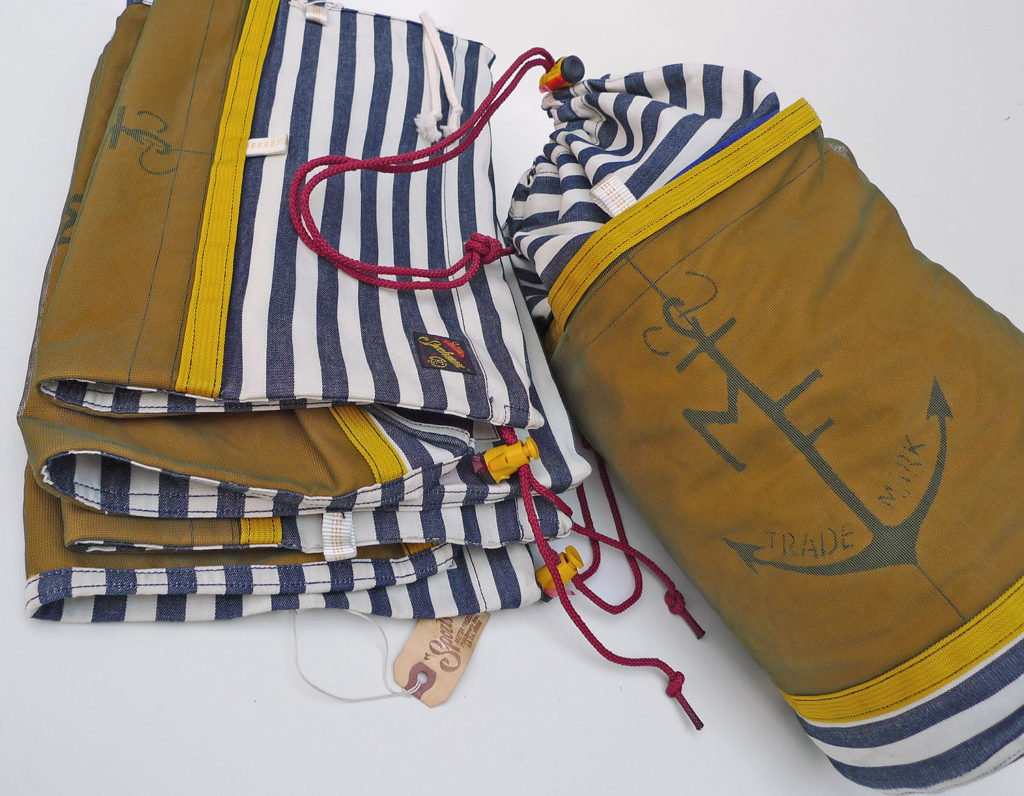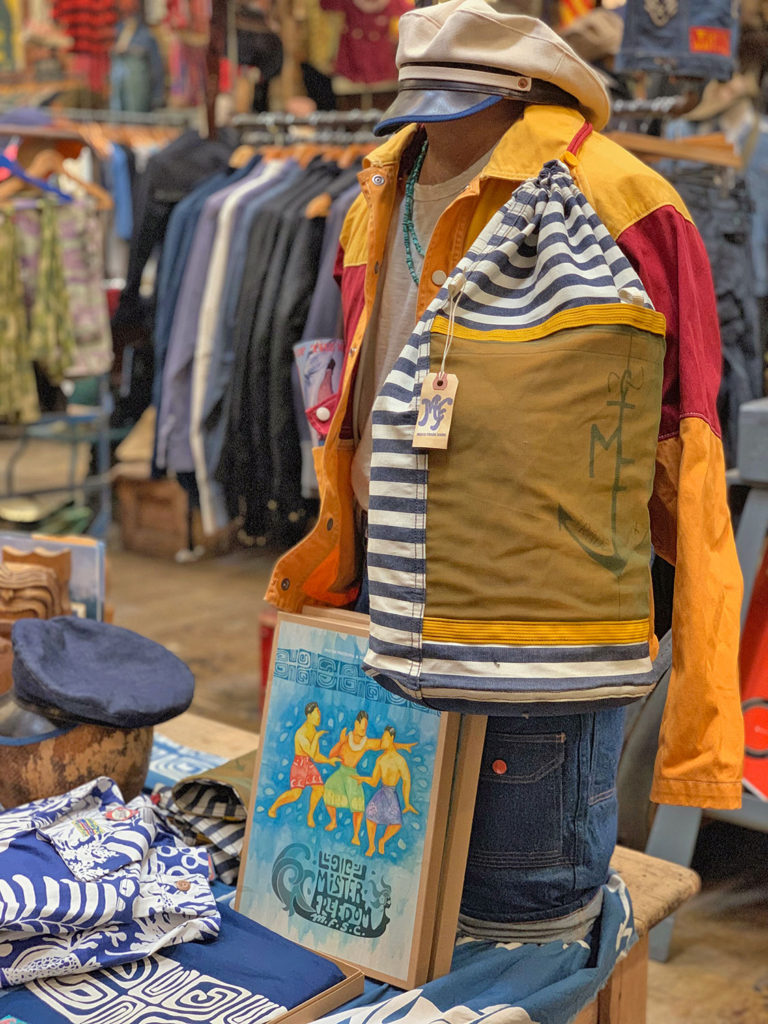 Mister Freedom® HICKORY SAIL BAG
The Sportsman catalog.
Made in USA
This MF® pattern was initially released as the "Denim Fly Bag" (Fall 2015), a handy carry-on travelling companion for frequent-flyers. The "Hickory Sail Bag" is an updated version of that original pattern.
Mixing old and new school, low and hi tech, this unassuming storage device is reminiscent of a mini US Army denim barrack bag, with improved practicality and versatility. It is actually travel-friendly.
The perks and features of this storage device have been previously discussed here, prefaced by a brief ode to contemporary air travel. Besides its updated nautical feel, this new edition is larger in size than its denim predecessor. The cylinder dimensions are approximately 20'' tall x 11'' diameter (about 15'' flat across the body.)
The original Denim Fly Bag was devised to store personal effects needed on long flights: ear plugs, a copy of Annie Jacobsen's "Surprise, Kill, Vanish", pen & paper, phone, eye drops, toothbrush, hand sanitizer, inflatable neck pillow, sleep mask, surgical mask, headphones, slippers, etc… While your carry-on would go in the overhead bin, the Fly Bag could stay close at hand.
The Hickory Sail Bag can still be used as an unstructured lightweight grab-and-go compartment of your main carry-on bag, but its larger size also makes it a handy beach bag, daypack, or light camping gear container.
It is made of NOS selvedge indigo/white hickory stripe twill, with a vintage hi-tek water-resistant rubber-coated blue denim bottom panel.
The bag features a Velcro® closure side pocket made of olive green mil-specs nylon mesh, recycled from authentic New Old Stock US Army field insect bar netting. This pocket features two layers. The first layer stores what you need to have visual access to. The second compartment is made of NOS signal yellow twill, and can store flat items such as passport/currency/travelers checks, still easy access but out of sight.
The bag top opening closes with a cinch-cord. The fancy yellow sliding cord lock also serves as a lithium battery-operated LED light. Familiar to the outdoor enthusiast, this smart little Cord Lock Light (sold out everywhere!) will help you search the bag's content in the dark, and potentially fend-off grizzly bear attacks while camping.
Note: Remove red plastic protective tab before using the light for the first time.
The MF® HICKORY SAIL BAG is designed and manufactured in the USA by Mister Freedom®.
Note: This item has been available for some time from the MF® HQ, but never published on the blog.
SPECS
FABRIC:
Shell: NOS selvedge indigo/white hickory stripe twill, about 6. Oz.
Side pocket: Nylon Mil-specs insect bar netting, authentic US military NOS part.
Concealed side pocket: NOS signal yellow 100% cotton twill.
Bottom panel: Water-resistant rubber-coated blue denim.
DETAILS:
* An original Mister Freedom® pattern, inspired by vintage US Army barrack bags and old-school hi-tek outdoor gear.
* Approx. flat size: 20" tall x 15" wide (cylinder shape 11" diameter.)
* Double layer side pocket with mesh section for easy visual access.
* Signal yellow concealed pocket side compartment, stenciled with MF® anchor graphic.
* Red braided cotton-nylon cord cinch top closure.
* Yellow cord lock featuring Hyper Bright® LED Light, powered by two replaceable CR1220 lithium watch batteries.
* Cloth name tag.
* Sturdy poly-cotton stitching.
* Single needle machine construction, flat-felled seams, no overlock on the inside.
* Made in USA.
The MF® HICKORY SAIL BAG is issued unwashed, raw condition. It is ready for its first inaugural flight, cruise or beach trip.
CARE:
When laundry is required, untie the red cord ends, remove the yellow cord lock, turn the bag inside out and machine wash on delicate cycle, eco-friendly detergent, cold water. Line dry. Minimal shrinkage is to be expected.
Available raw/unwashed
One Size
Available from www.misterfreedom.com, and our Los Angeles brick & mortar store.
Email sales@misterfreedom.com or call 323-653-2014 with any questions unanswered above.
Thank you for your support.
Christophe Loiron
Mister Freedom®
©2019
Comments
comments