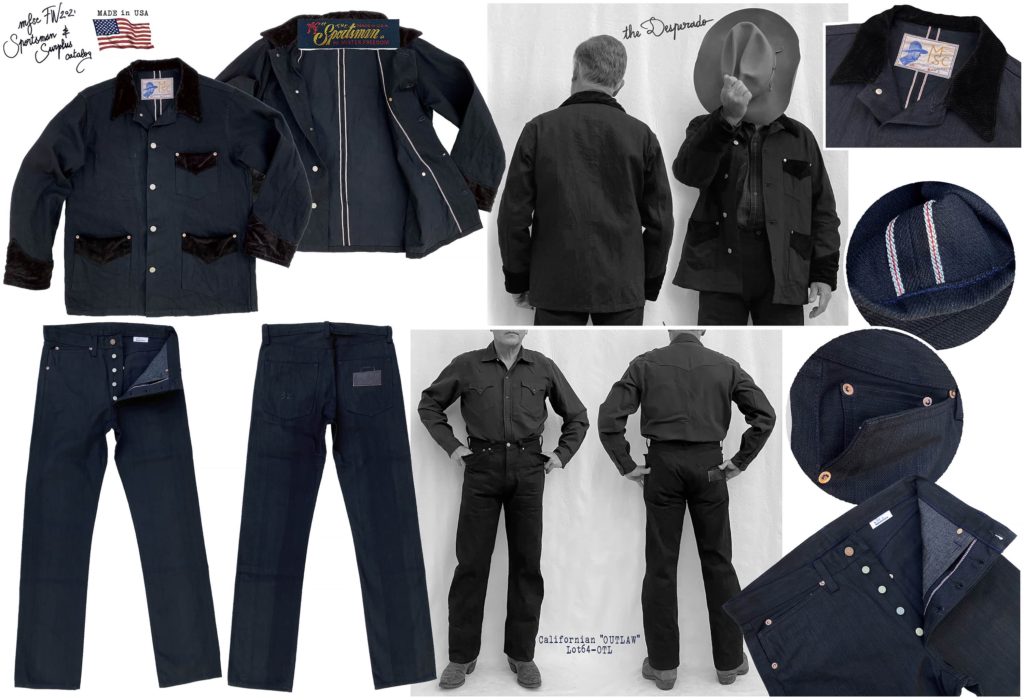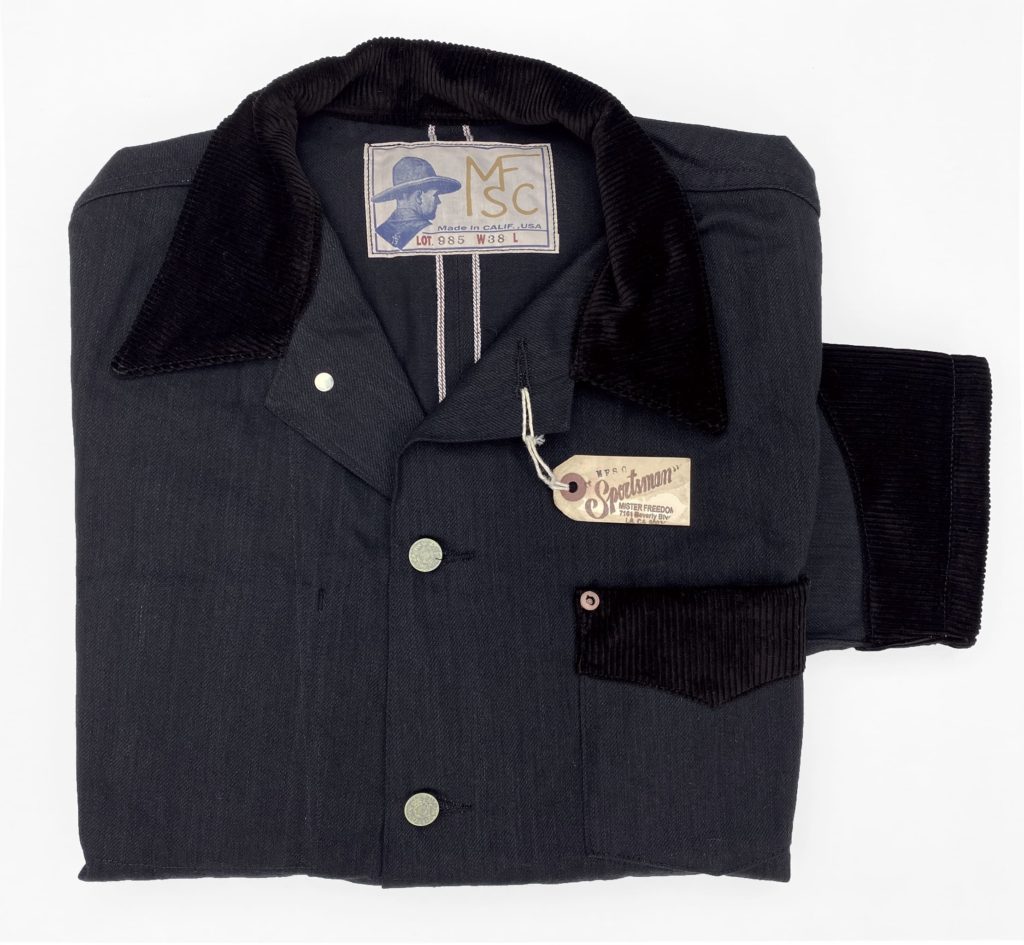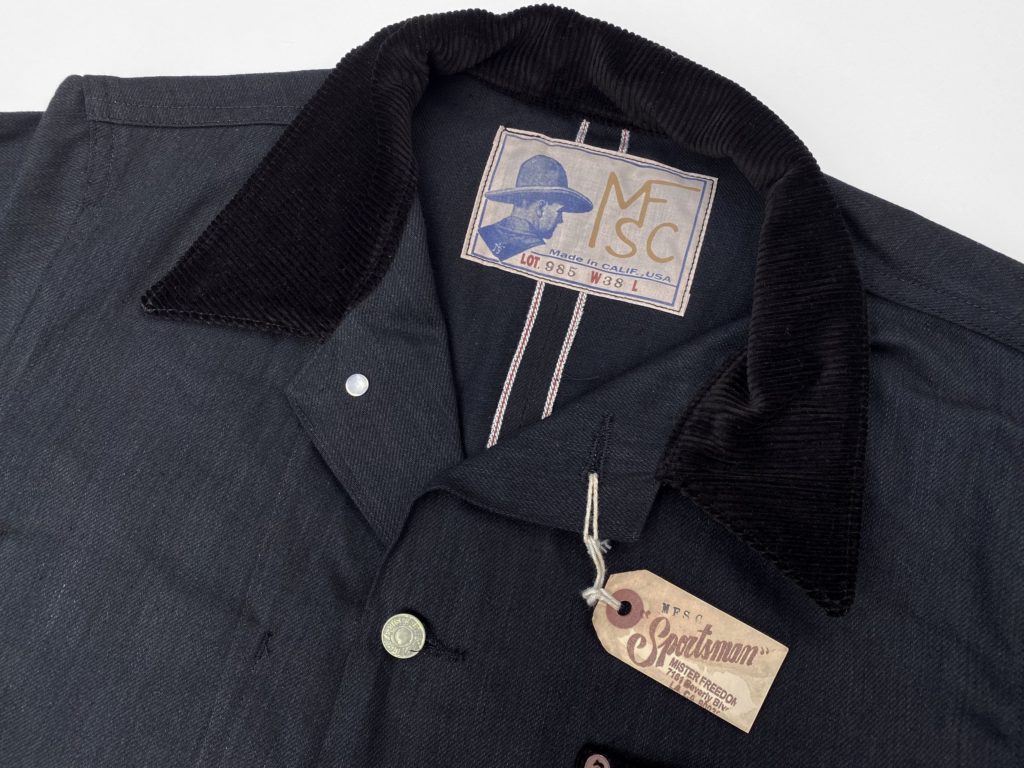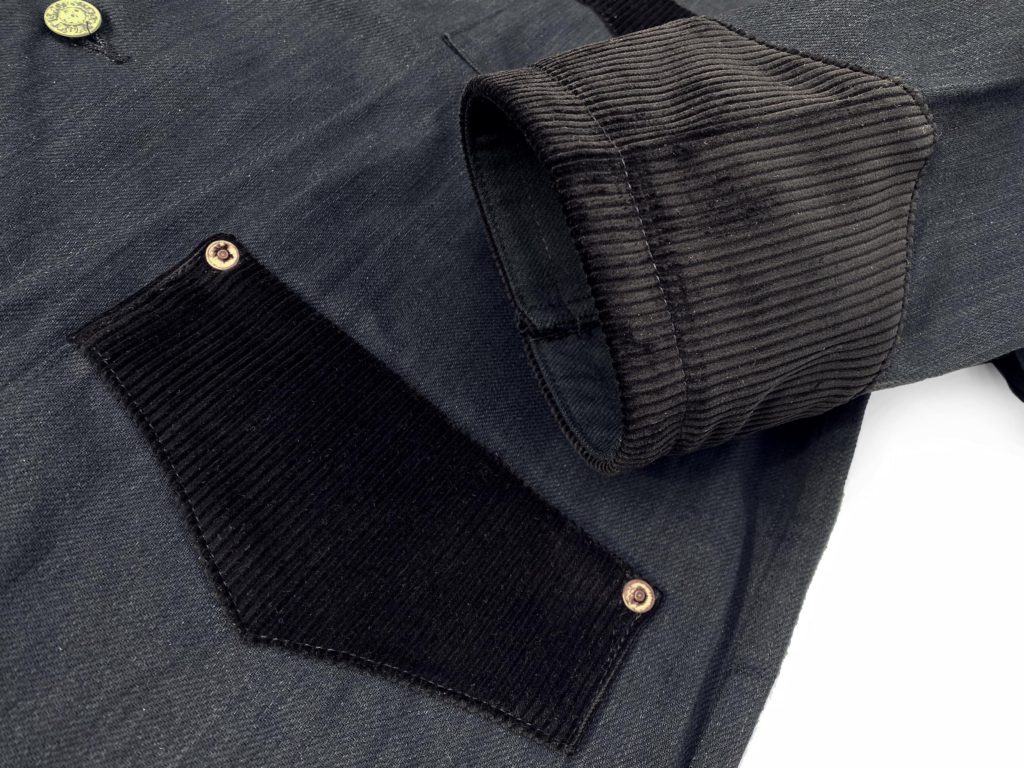 Mister Freedom® DESPERADO Brush Coat, 13 Oz. black sulfur-dyed selvedge denim.
mfsc FW2021 SPORTSMAN catalog.
Made in USA.
Hot on the trail of the recently-released Californian "Outlaw" and Ranch Blouse, in matching black sulfur-dyed selvedge denim, comes the Mister Freedom® DESPERADO Brush Coat.
The pattern of this latest addition to our made-in-USA Sportsman catalog was inspired by a blend of vague childhood memories of western-wear from screen characters (maybe James Stewart in "The Far Country" 1954, or Robert Fuller on "Laramie"?), visuals from old Marlboro ads, and vintage duck canvas chore coats I've come across through my rag-picking years.
After some detective work Texas Rangers-style, I realized that "South Texas Brush Jacket" is how this short and boxy unlined canvas coat style is often referred-to. A favorite amongst horsemen in thorny Brush Country terrain, the style became a staple piece of gear for Texas buckaroos and ranch hands, and was largely adopted by the gritty vaqueros from Northern Mexico such as the kineños, the OG cow-boys hired to work on King Ranch in the mid 1800s.
Early models may have been made from tin cloth, and it's unclear of when the style actually originated (1920's-30's?)… On the theme of western fashion's origins, short fascinating read here.
Some brush jacket specimen are featured on this 1949 "Vanishing Cowboy" LIFE Magazine shoot, as recently spotted by our friend, style acrobat and collector extraordinaire Enoch Bayrd.
Below is a collage of some old 1930s-70s photos published in a "Vaqueros of South Texas" public FB group, some of the vaqueros sporting Brush Jackets.
The typical "Brush Jacket" as we know it was often cut from brown duck or, less-commonly, from bone white canvas, and readily available from saddle shops, dry goods stores and ranch supplies COOPs. Brands like FINESILVER Mfg. Co, a now-defunct workwear and military uniform maker, produced them for years in its downtown San Antonio factory in Texas. Carhartt probably had its own version, along with the brand's iconic ¾ length barn coat classic and other duck canvas models.
Besides the signature cropped length of original Brush Jackets, one striking feature is the characteristic contrast corduroy trimming (collar, pocket openings and cuffs). It is said that the corduroy-lined collar was initially-intended to be easier on one's sunburned neck… An old-school vaquero also mentions dipping his Brush Jacket in the horse trough in the hot summer days, and wearing it wet as a cooling layer.
Comes in our DESPERADO…
If the saddle length of the originals makes sense if your job description involves a horse, we figured we'd adapt the bolero-style cut to better serve the aesthetics of contemporary city dwellers, less likely to go roping stray cattle in the South Texas mesquite brush. The "cropped look" is an acquired taste, and not easy to pull-of for most.
Because we didn't have a vintage specimen in our archives for pattern inspiration, we decided to merge our military dungaree FROGMAN jacket A-line style with traditional western-wear brush jacket specifics. A scribbled Post-it®, a rough pocket prototype, and some notes from the MF® Design Dept (we didn't even have photos of originals at the time) were all it took for our friend Fukutomi San at Toyo Enterprises to draft an original pattern. The DESPERADO was born.
The keen eye will note that we added a slight curve to the arcuate on the corduroy pocket trimming, on the patch pocket bottom shape, and on the cuff piecing. This is in contrast with the common straight lines typical of purified utilitarian fashion, intended to be easier and faster to cut & sew. This subtle tweak, along with the single needle pocket construction add an elegant early workwear touch to the jacket.
For the fabric, we opted for the same fancy twill featured on our CALIFORNIAN Lot.64 "Outlaw" and its matching RANCH BLOUSE: a premium mid-weight 13 Oz. selvedge denim combining a black sulfur-dyed warp yarn (fabric face) with a black sulfur-dyed weft (fabric reverse), produced on traditional shuttle looms by vintage textile experts in Japan.
Why DESPERADO? Partly because of  Townes Van Zandt's "Pancho & lefty", a fine classic tune about a bandit and his partner (we are working on some MF® Spotify playlists for your listening pleasure btw, Pancho & Lefty is on Truck Stop Jukebox), and also because this is our friend Tom "Sugar Cane" Tanaka's favorite Eagles' album!
The MF® DESPERADO Brush Jacket in black sulfur-dyed selvedge denim is designed in California by Mister Freedom®, and manufactured in USA in collaboration with Sugar Cane Co, from denim fabric milled in Japan.
SPECS:
FABRIC:
Mid-weight 13 Oz. solid black denim twill, sulfur-dyed warp x sulfur-dyed weft, selvedge (white with red line ID), 100% cotton, milled in Japan on traditional shuttle looms.
Trims: 100% cotton corduroy.
DETAILS:
* An original Mister Freedom® twist on the traditional western-wear "Brush Jacket", barn coats, and military utility jackets.
* Three front patch pocket, one inside chest pocket.
* Tonal corduroy trimming for collar/pocket openings/cuffs.
* Curved arcuate trims and bottom pocket pattern.
* Metal button front closure, original Mister Freedom® mfsc cast silver tack buttons.
* Unmarked copper rivets pocket reinforcement.
* Split back featuring the fabric selvedge.
* Selvedge button front panel folded facing.
* All flat-felled seams chainstitch construction.
* 100% cotton tonal stitching.
* Original mfsc printed "Buckaroo" cloth label.
* Made in USA
SIZING:
The MF® DESPERADO Brush Jacket sulfur-dyed black denim twill comes unwashed and is cut so that the measurements match the labeling AFTER an initial cold soak/line dry. We recommend this usual protocol before wear:
Cold soak for about 30-40mn with occasional hand agitation.

Washing machine spin dry cycle.

Line dry. (No heat dryer)
The DESPERADO is considered true-to-size. I opted for a 38 (Medium) for a comfortable fit (5.7'' / approx. 150 lbs). The 36 (Small) felt too tight for the silhouette I was going for, although I had opted for a 36 in the navy HBT Frogman jacket.
As with all denim twills, minor back and forth shrinkage/stretching will occur for a while and will depend on the wearer's body, activities and initial fit.
DENIM CARE:
Treat this black sulfur-dyed denim twill as you would premium indigo-dyed denim.
Wash sporadically, only when needed. Machine wash inside out to avoid marbling. Cold water, gentle cycle, eco-friendly mild detergent and line dry. Wash separately from light-colored garments.
Patina will develop according to activities and frequency of wear.
Available from www.misterfreedom.com, our Los Angeles red brick HQ, and fine retailers around the World.
Email sales@misterfreedom.com or call 323-653-2014 with any questions unanswered above.
Thank you for your support,
Christophe Loiron
Mister Freedom®
©2021
Comments
comments