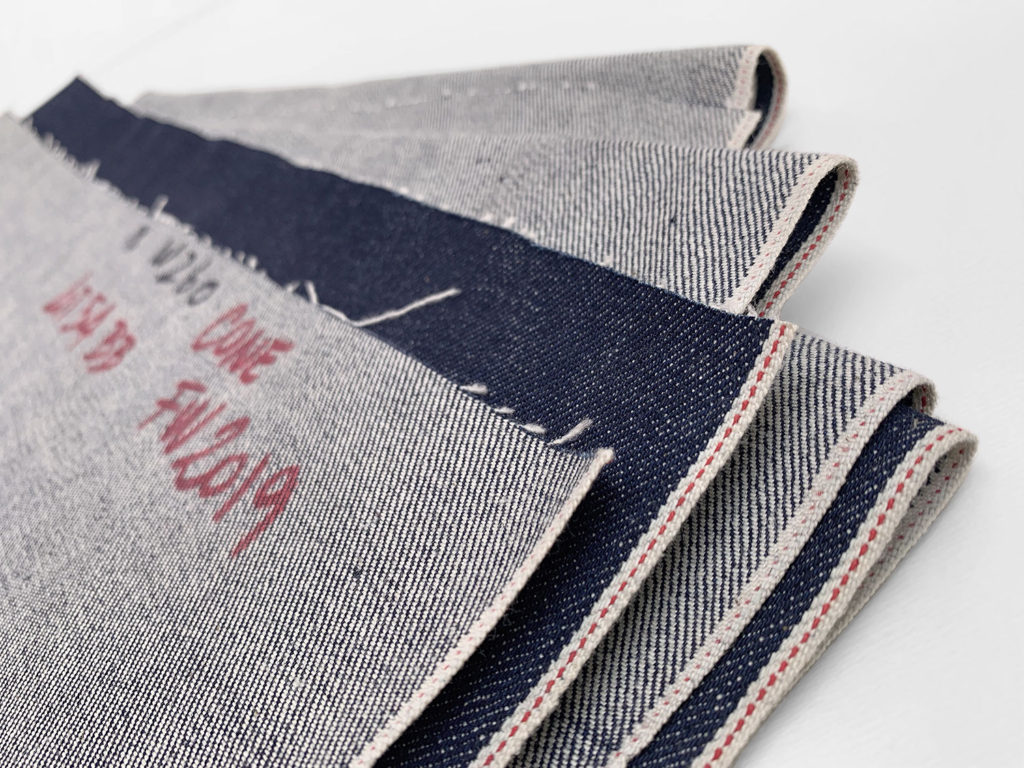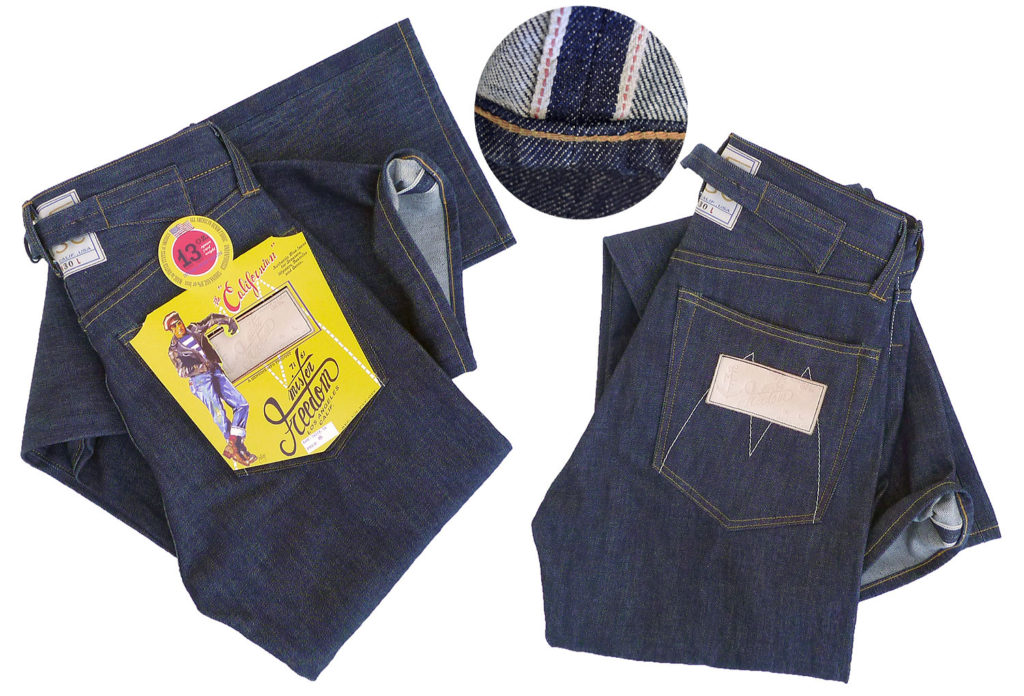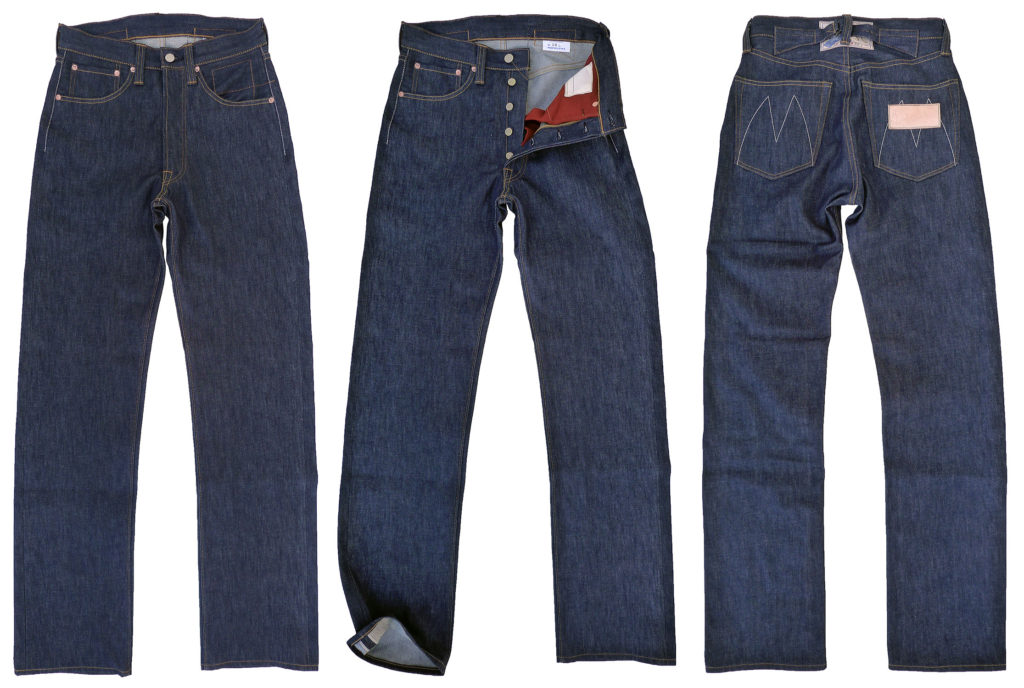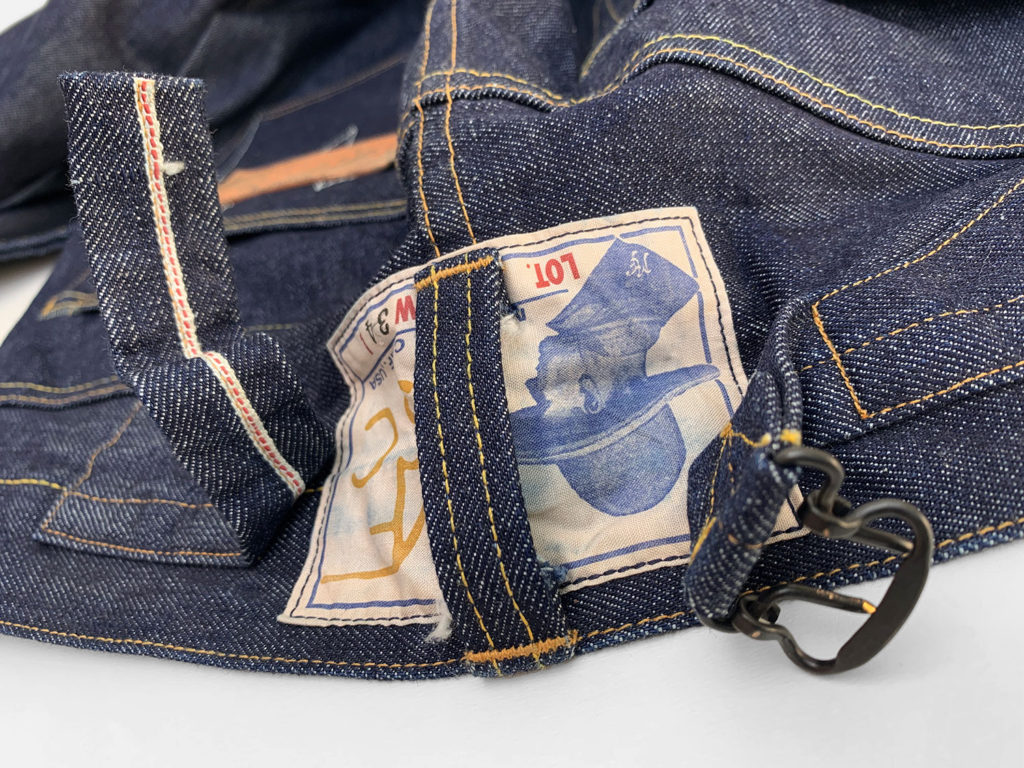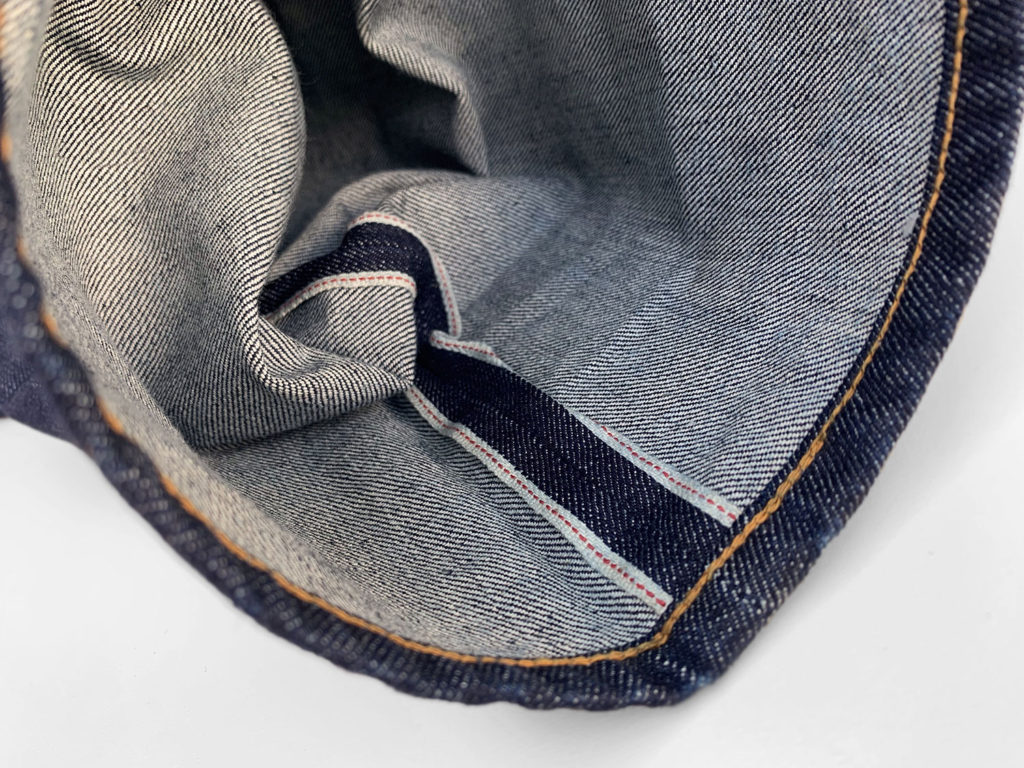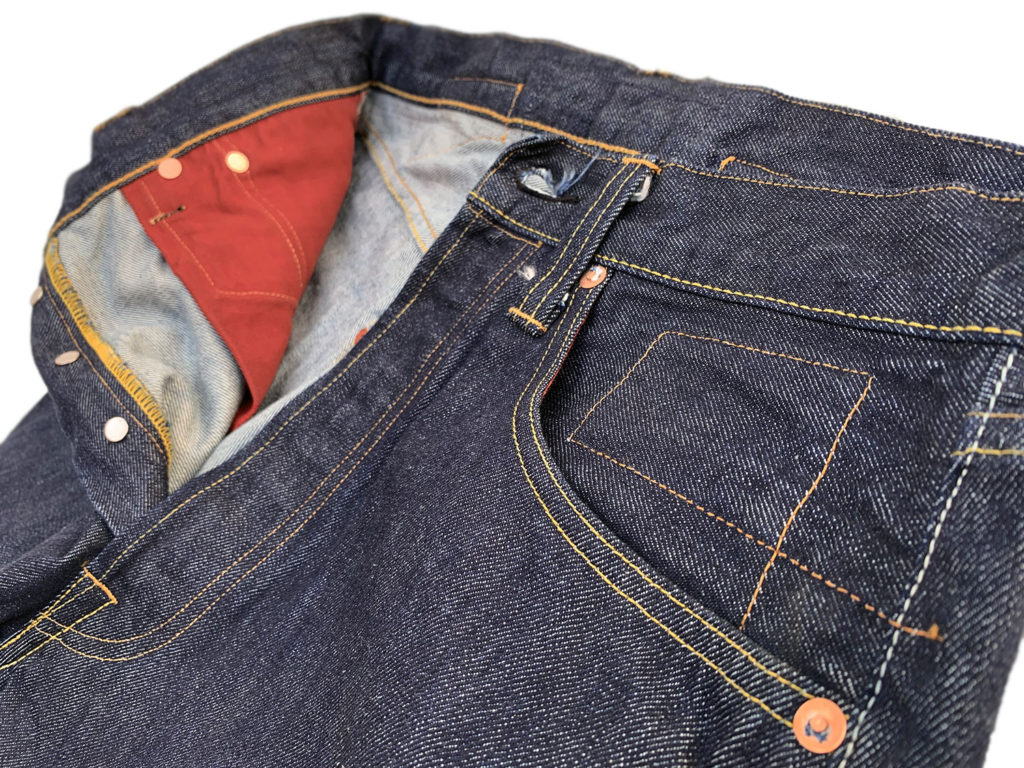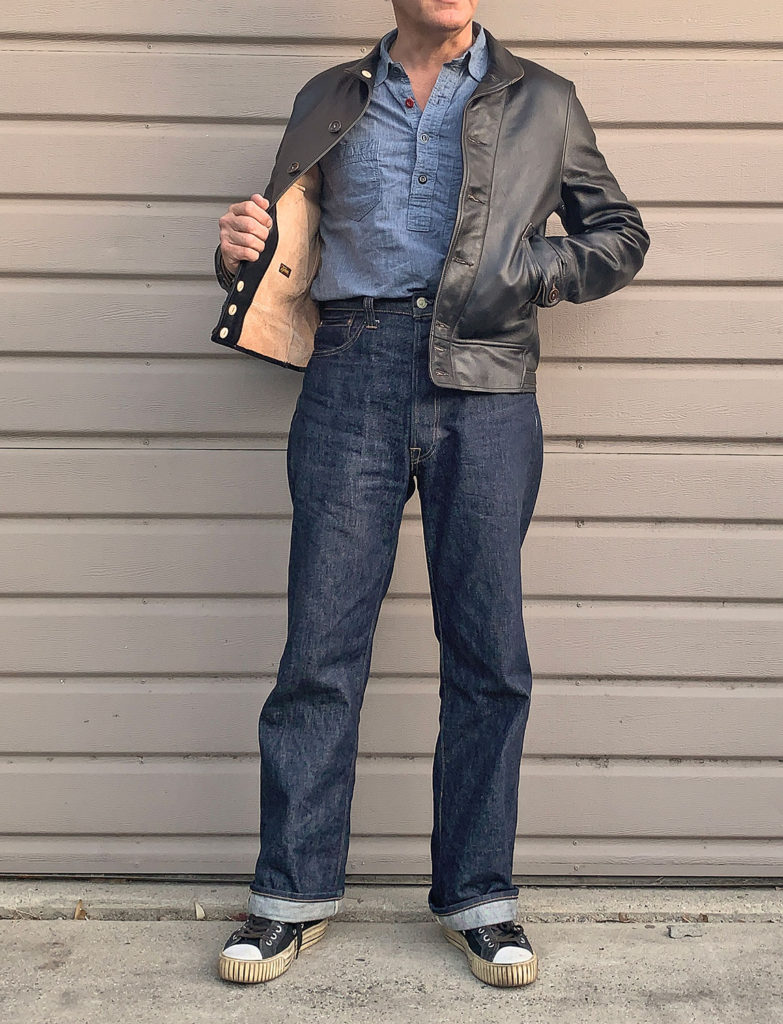 Mister Freedom® Californian LOT.54BB
NOS Cone Mills 13 Oz. Selvedge Denim.
mfsc Sportman catalog FW2019.
Made in USA.
Sometime in 2010, we released our first-born "Californian" into the wild. This was the MF® Californian LOT.54 blue jeans, all made in USA, cut from a New Old Stock Cone Mills 12 Oz. selvedge denim. If our initial contribution to the crowded world of the classic five-pocket jeans had absolutely zero impact on the Xintang denim industry, it is always a treat for us to spot one of our "M" and pocket patch in a crowd. Many thanks to everyone who adopted the "Californian" over the years, we know there are many options out there.
After the LOT.54's success, followed a "spectacular plethora" (dixit our friend Daniel) of releases and fits, in a timeline outlined here.
For Fall 2019, we dusted-off that old LOT.54 pattern and paired it with another NOS Cone Mills goodie, a handsome 13Oz. denim twill with an old-school indigo blue hue warp, and a white/red line selvedge ID.
We borrowed the buckle-back cinch of the LOT.44, slapped it on there, and are calling this release the LOT.54BB. We tricked-out the rear by incorporating our classic Buckaroos printed cloth patch under the back cinch strap, traditionally stitching the label on top of the waistband/back-yoke but under the center belt loop.
Another cosmetic detail is the addition of an inside blank "name tag" attached to the pocket bag, opposite of the traditional coin pocket, for no other reason than finding the outside display of yellow/orange/white contrast stitching quite attractive. We're vain like that.
The pocket bags of this 2019 edition are cut from a sturdy NOS cotton canvas, in a complementing warm rusty red color.
The fit of the Californian LOT.54BB is similar to the original LOT.54, with a roomy leg, generous waist and high rise, for those into a fuller 40's-50's period silhouette. If after a slimmer leg, but still with a vintage vibe, please see our more tapered Californians LOT.64, LOT.74 and LOT.674.
The Mister Freedom® Californian LOT.54BB are designed and manufactured in California by Mister Freedom®, in collaboration with Sugar Cane Co.
SPECS:
FABRIC:
New Old Stock Cone Mills (Greensboro, N.C., USA) 13 Oz. indigo twill denim, white/red line selvedge ID, with a traditional indigo blue hue warp.
Pocket Bags: NOS 100% cotton canvas, rusty red color.
DETAILS:
* Classic vintage five-pocket pattern.
* Button fly.
* Traditional selvedge leg outseam.
* Buckle-back cinch strap, with concealed denim selvedge.
* New Old Stock cotton canvas pocket bags, rusty red color.
* MF® original white "M" stitch design on rear pockets.
* Hand-debossed natural veg-tan cowhide leather MF® patch on rear pocket.
* "Buckaroos" printed cloth label stitched under cinch and rear belt loop.
* Inside "name tag" cloth label.
* Twelve types of 100% cotton threads (gauge and color combination) used for construction. Main colors are yellow and orange, with white accents.
* Selvedge button hole fly placket.
* Hidden back pocket reinforcement rivets, with top pocket reinforcement zig-zag stitching.
* Unlined rear pockets.
* Original silver-color 'oxidized' MF® metal cast waist/fly shank buttons.
* Unmarked copper riveting for pocket opening reinforcement.
* Original MF® yellow paper pocket flasher.
* Made in USA
SIZING/FIT:
The Californian LOT.54BB comes UN-WASHED and is cut so that the measurements match the labeling AFTER an initial cold soak/line dry. For instance, a tagged W32 x L34 will shrink to approximately 32 inches x 34 inches after a soak/dry process.
We recommend the usual protocol before wearing:
* Cold soak for about 30-40mn, with occasional hand agitation.
* Spin dry and line dry.
* Wear briefly before fully-dry to set creases, then hang until fully dry.
This specific 13 Oz. Cone Mills denim twill is considered sanforized (= pre-shrunk at the milling stage), so our usual recommended pre-soak procedure will not have much impact on the jeans other than a bit of puckering and roping due to the all-cotton stitching, the soaking also revealing a slightly more vibrant blue denim color.
The LOT.54BB pattern features a high rise and a full leg, with somewhat of a vintage 40's-50's period silhouette. For slimmer legs, please see our more tapered Californians LOT.64, LOT.74 and LOT.674.
On the boys-band fit photo, left to right, Peter is sporting a pristine original 2010 edition LOT.54 (Waist 32), Daniel is looking spectacular in his 2013 edition LOT.64 (Waist 30), and I'm breaking-in a fully cinched LOT.54BB early sample (W32, will probably size down to W31 with production.)
Please refer to sizing chart for approximate raw/soaked measurements.(Soaked = 30-40mn cold soak, spin dry and line dry.)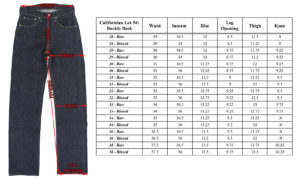 CARE:
Wash your jeans when needed and necessary. Before washing, turn the jeans inside-out to avoid indigo color marbling. Machine wash in cold water, gentle cycle, eco-friendly mild detergent. Line dry.
Patina will develop according to activities and frequency of wear.
Available RAW/unwashed ONLY.
Sizes
W28 x L32
W29 x L32
W30 x L32
W31 x L32
W32 x L34
W33 x L34
W34 x L34
W36 x L36
W38 x L36
Available from our Los Angeles brick & mortar HQ, from www.misterfreedom.com, and fine retailers around the World.
Email sales@misterfreedom.com or call 323-653-2014 with any questions unanswered above.
Thank you for your support,
Christophe Loiron
Mister Freedom®
©2019
Comments
comments