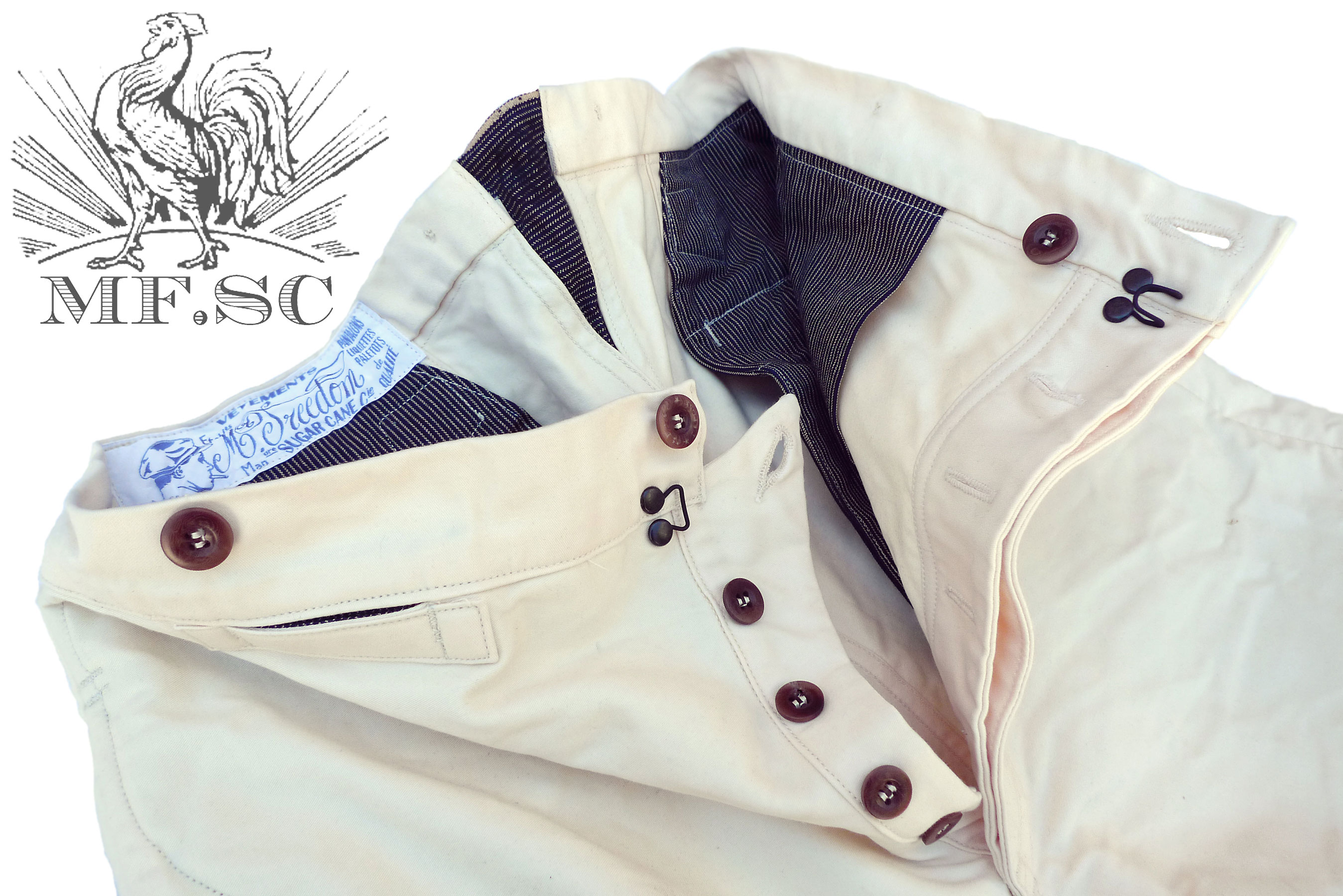 It's been an avalanche of goodies lately. Our second installment of Fall 2011 Apaches Collection just arrived from Japan… Following the arrival of our Gilet Métisse, here are some britches to go with it. The Pantalon Peau de Diable, our first cotton moleskine trousers.
The pattern is very similar to our Spring 2011 Pantalon Ouvrier,  inspired by late 1800's/early 1900's French military bourgerons pants, early work trousers and fine tailored European britches. The silhouette is reminiscent of turn of the Century imagery, slimmer type "pantaloon" fit, narrower legs and slightly higher rise.
The french term Peau de Diable (Devil's Skin) is a reference to an old label found on a vintage moleskine garment, manufactured in the 1920's in Villefranche, France. Doesn't get any better than that!
SPECS:
PATTERN: All original MFSC pattern and fit.
FABRIC: Heavy 100% cotton moleskine, the French choice of workwear and outdoor washable fabric since the 1800's. Moleskine is a tightly woven twill, with a napped surface. The close weave makes this fabric almost windproof, warm, insulating and very durable. It performs much better than denim does, but is very expensive to mill. It is still used in France for specific workwear garments, but is now almost only available in cotton/polyester (I said the P word…)
Our 100% cotton moleskine is milled in Japan, to the specs of a 1900s swatch from our archives.
COLOUR: Two options, BLACK and CREAM
BUTTONS: Original MFSC Corozo natural wood buttons. (aka "vegetable ivory", corozo buttons where an hi-end option for suiting from the 1900′s to 1940′s). "MFSC déposé" engraved buttons combination.
SUSPENDERS: The trousers come with matching fabric removable suspenders, inspired by overalls straps. (Suspenders are not pictured)
HARDWARE: NOS original French sharp prong buckle back.
POCKETING: Two front slash pockets, one watch pocket, two back slash pockets secured by button 'dart flap'.
Pocket lining is sturdy indigo stripe selvedge ticking, same fabric we used for our Pantalon Ouvrier Indigo Rayure
BACK GUSSET: Contrast indigo stripe selvedge ticking.
CONSTRUCTION: 100 % cotton tonal thread, high count stitching. No overlock/open seams.
PACKAGING: The garment comes in an individual old school chipboard box, exclusive to MF.
The original oil painting was masterfully executed by Mr. PATRICK SEGUI of RIVETED blog fame, and a paper print of his artwork is featured on the Apache Collection box tops.
Please recycle those boxes, they can be used for home storage of small items.
WASHING: Our trousers come RAW/unwashed, and will shrink lightly with washing/drying.
For the BLACK version, it is important to wash this garment INSIDE OUT, gentle cycle, to avoid unnatural marbling effect. We recommend an initial cold pre-soak and hang dry.
SIZING & SHRINKAGE: The trousers are labeled and marked in French.
We measured the trousers with the back gusset fully open. A fully close gusset (with maximun back strap cinching) reduces the waist by about 1 and half inch all around. (I am usually between a w31~32, but i am wearing a W30 in those)
Sizing Chart Coming soon.
LIMITED EDITION. Garment designed in California by MISTER FREEDOM® and manufactured in Japan by Sugar Cane Co.
Available RAW (unwashed)
Sizes 28, 30, 32, 34, 36, 38
Retail $599.95
Call John or Jordan at (323) 653-2014 or Email john@misterfreedom.com or  jordan@misterfreedom.com  to get yours while they last. We ship internationally. Thank you for your renewed support 😉
Comments
comments