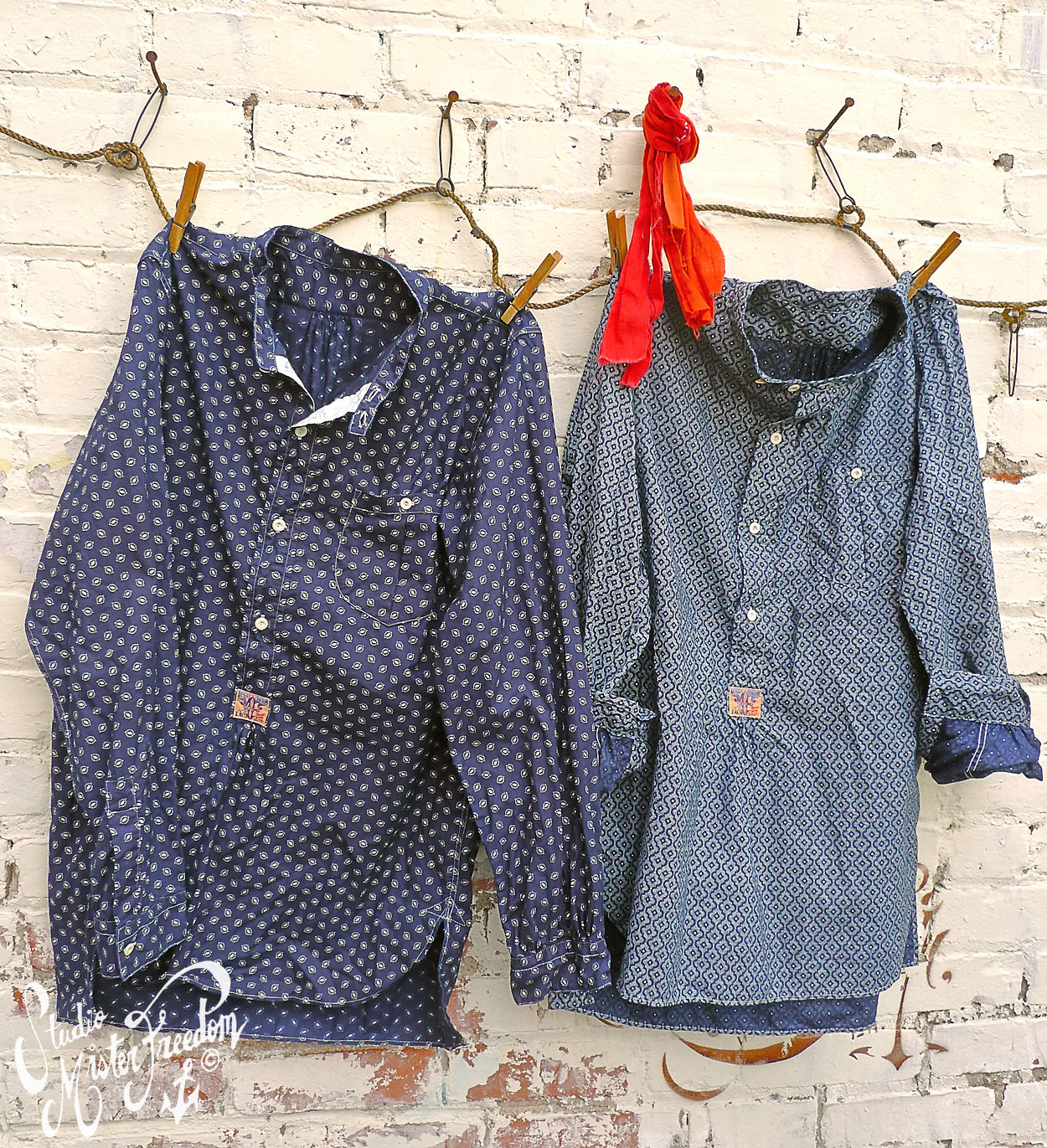 Mister Freedom® x Sugar Cane MFSC Spring 2012 "Men of the Frontier": Calico Trade Shirt
You have a second? Let's look into the amazing A.C. Wroman photograph annotated "Volz's store. Oraibi, 1901" posted last week. The store featured was located in the center of the largest Moki village of that reservation.
Mr. Volz, trader and guide, had also opened one about thirty miles away from the railway (and the UPS dude thinks he has it tough now).
As seen in that scene, a large variety of fancy calico printed fabric was available by the yard in trading posts and dry goods stores. Even in the most remote location, locals (or, more accurately in this photograph, "relocated" individuals) could come and pick a few yards of bold color cotton calico to make the family clothes. The young woman with her son is considering a large flower printed cloth, under the shopkeepers' enigmatic stares.
Bartering jewelry, blankets, pottery or baskets for those ready-made fabrics was an alternative to relying on the traditional century old tasks of hand spinning yarns and hand weaving to clothe one-self. The traders would in turn sell the Natives' crafts to travelers or collectors.
According to period photographs of the early 1900's, it appears that calico printed 'homemade' shirts were a well spread non-traditional garment for many Native Indians. Since the 1800's those fabrics had been imported from Europe and widely used and reused by the pioneers and homesteaders (see "Calico Chronicles", Betty J. Mills, 1985.)
One can speculate that adopting some "white man's" textiles was a small step towards reluctant integration amongst some Indian Natives… This other Wroman photograph, annotated "Hopi Towns, men of Sichimovi, 1901", shows Hopi men wearing a wide variety of homemade shirts made from assorted imported shirting fabrics, calico and stripes.
All this rambling, of course, stays my subjective interpretation of what really happened a century ago.
On a much lighter note, these are the background premises of our MFSC "Calico Trade Shirt" this spring. From our collected archives of many dozens of early American calico swatches and garments, we have selected two that we freely called "Apache" and "Pueblo".
Our shirting fabric base is an Indigo dyed 4.5 Oz fine all cotton broadcloth and we used a discharge print technique. These fabrics were exclusively milled and printed in Japan for this MFSC collection. The shirts are a European pull-over type, collar less with chin strap extension. We used rare and authentic 1920's New Old Stock ox bone buttons we happily found, in limited quantities, buttons of Portuguese origin.
I am not a big fan of untucked shirts, as a personal preference, but those look also good that way, notably for our lady friends. I am, however, a huge fan of early indigo calico fabrics and finding an actual 1900's surviving men's shirt shares it's odds with the discovery of a hen's tooth, in a hay stack.
So, in or out, I'm now happy wearing mine.
Some folks might think that a "polka dot" shirt is not "manly" enough in 2012, but it sure was in 1912. And, in years to come, I wouldn't be surprised seeing calico shirts as popular amongst discerning gents as blue work chambrays have become. I'm just sayin'
And now, the…
SPECS:
PATTERN: An original MFSC pattern, inspired by 1900′s~30′s pull-over shirting, with its origins in Europe before becoming a popular Old West garb feature.
FABRIC: 100% Cotton broadcloth, 4.5 Oz., dark Indigo dyed and discharge printed. Milled, dyed and printed in Japan. Two options: "Apache" calico print (tiny sun looking prints) and "pueblo" calico print (reminiscent of pueblos architecture)
This is NOT a cheap navy blue print on a white fabric. By the time a Trade Shirt reaches us, many people have been involved in its making, none of them residing in China:
* Our natural broadcloth was dipped many times in an indigo vat to reach the desired shade of dark indigo.
* A special paste wasapplied to the dyed fabric with a screen of the Apache or pueblo print.
* The discharge process is finalized by way of steaming, the paste 'bleaches out' the fabric. The face of the fabric looks different than the inside because of the inconsistency of the 'bleed through' effect.
* Then the shirts go to the long and tedious cut/sew production period…
* After some airborne time, we get them delivered here, caught red handed killing time playing Nintendo (I actually mispelled this last word originaly, Nitendo…)
DETAILS:
* Early homesteader, reminiscent of early non-traditional Indian Native style/silhouette
* Stand collar with chin strap
* Back panel and cuffs shearing.
* Real 1920's ox bone NOS buttons.
* Button placket facing with contrast white all cotton muslin fabric.
* Original rayon woven MFSC labeling on bottom of the button placket, reminiscent of early European Henley type undershirt label placement.
* Flat felled chain-stitch seams and single needle machine construction.
* Side gussets, European construction.
* 100% cotton ivory color high count stitching.
PACKAGING: For the USA, the blouse comes in an old school cardboard box with original artwork. This sturdy box can be used for storage of small items, please re-use.
SHRINKAGE/SIZING: The trade shirt comes RAW, unwashed, and will shrink very minimally with cold wash and hang dry (the indigo dying process has technically taken care of the shrinkage)
I recommend minimal detergent (such as Woolite for dark or equivalent), in order to keep the rich indigo color longer.
See chart below for raw and rinsed/line dry measurements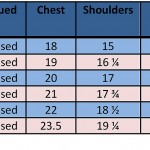 DISCLAIMER: As with ALL indigo dyed garments, color bleeding and rubbing is expected and unavoidable. Arms and body or white undershirts and skivvies WILL turn blue (no Smurf panic here, it all washes off easily). Wearing a white tuxedo jacket with the trade shirt WOULD leave the jacket lining and underarms with indigo color rubbing. But you know better than to wear a white tux with it anyhow.
The color rubbing will minimize after several washing/wearing cycles, until it eventually stops.
Designed in California by Mister Freedom® and crafted in Japan by Sugar Cane Co.
Limited edition.
Available RAW/Unwashed
Sizes:
14 ½ (Small)
15 ½ (Medium)
16 ½ (Large)
17 ½ (X-Large)
18 ½ (XX-Large)
Retail: $ 359.95
Call John or Jordan at (323) 653-2014 or mail sales@misterfreedom.com to get yours while they last. We ship internationally. Much obliged for your support, pardners 😉
Comments
comments