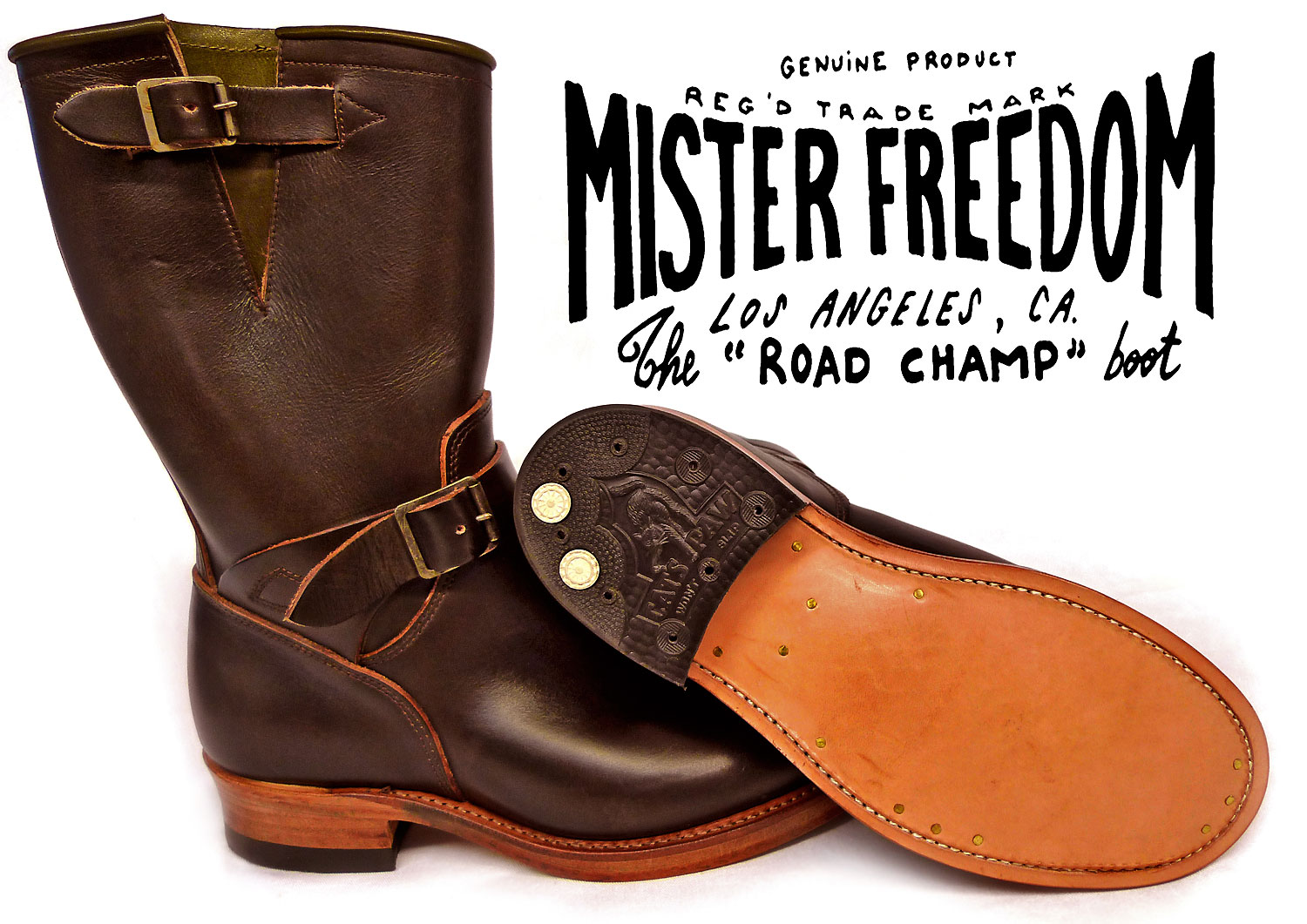 Here they finally are… The long awaited for all original Mister Freedom® "ROAD CHAMP" Motor-Cycle Boots.
They are the result of over 2 1/2 years of painstaking research and development, from hide selection and dyeing, last carving…to the final sole tacks and polishing.
An all original MF® pattern inspired by 1930's to 1950's American engineer and work boots.
SPECS:
* These boots are the result of 2 1/2 years of R&D at Mister Freedom®.
* Inspired by 1930′s to 1950s American engineer and work boots. This type of boots were a favorite amongst motor-cyclists/servicemen/workers, as seen on many period photographs.
* All MF® original panels pattern and hand carved last. Low toe profile.
* Vegetable tan cow hides, carefully selected from a reputable American tannery.
* Exclusive leather treatment and coloring process. Hides are not dip-dyed but "painted". Flesh side is natural, skin side treated with 3 colours coating. The MF® Road Champ only come in one color option, a rich dark brown. We just call it BLACK to simplify.
* Guaranteed to age and beautify with wear. The leather will fade with tones of reddish brown/chocolate/olive/black… according to the wear, and personal choice of oil treatment and conditioning. We like Pecard Leather Dressing.
* Olive color inside roll top band and top strap gusset.
* Hard to find steel buckles hardware. A fully functioning strap holds the boot secure at the ankle.
* All solid leather double sole, made of high quality dense and sturdy leather.
* Each pair is cobbler made by hand in the USA, in a small shoemaker work shop established in the 1960′s.
* Authentic New Old Stock "Cat's Paw" rubber heels.
* Mid rise welt (about 10 1/2 inches)
* Approx 1 3/4 inch heel height
* All made in USA by a skilled cobbler team.
* They are sized to allow wearing thick socks for winter and inner leather insole for warmer weather. (Don't size up!) The grab around inset/heel/ankle is controlled by adjusting the strap.
* We are now packaging the MF Road Champ® in an original selvedge denim draw string bag, with original hand silk screened artwork.
Check out these web posts, here and here, for updates on evolution and' saga' of my perso pair of Road Champs©. Again, the evolution of your boots will vary according to how they are worn, how often, and depending on your preferred way of conditioning and treating them.
For knowledgeable information on vintage engineer boots and other options out there, check out John's Vintage Engineer Boots blog. Consistently updated with expert advice, new finds and fine  custom leather crafts, it is a great source of facts for those wanting to know what is what in the engineer boots world.
(New in bag,  Sizes from US7 to US12, Retail $ 949.95) 
Call (323) 653-2014 or mail sales@misterfreedom.com for inquiries and availability. We ship world wide.
(The boots featured on the last photo are my personal, heavily worn for about 30 days. All natural 'ageing'. NFS. Production boots come in NEW condition.)
Comments
comments