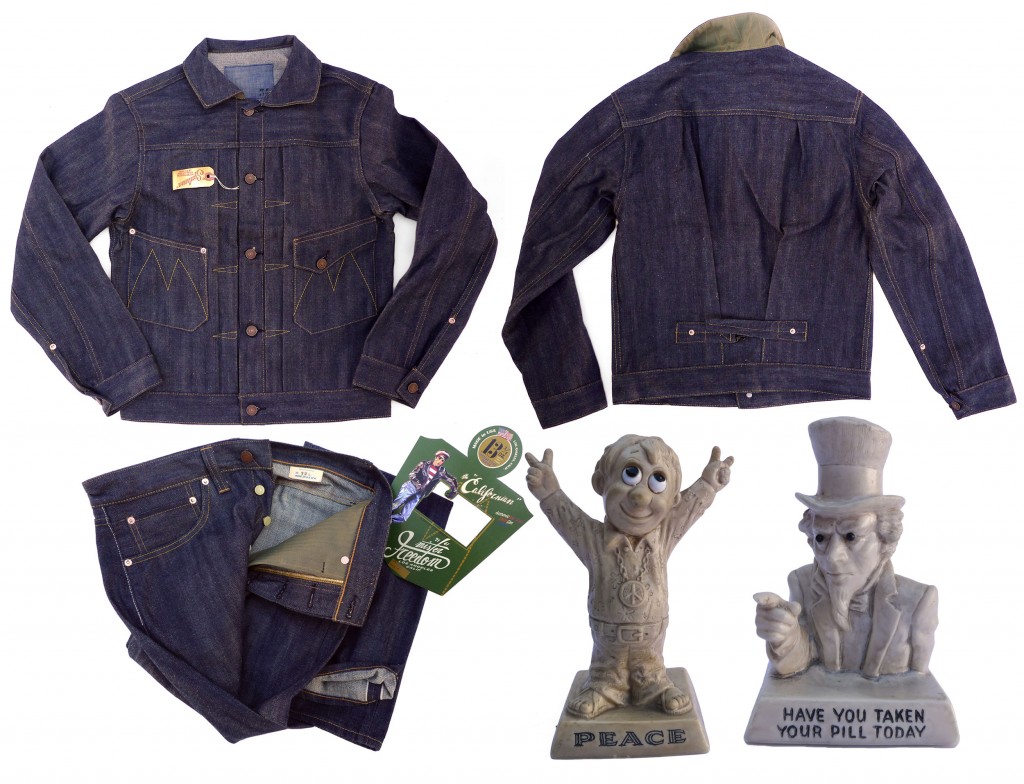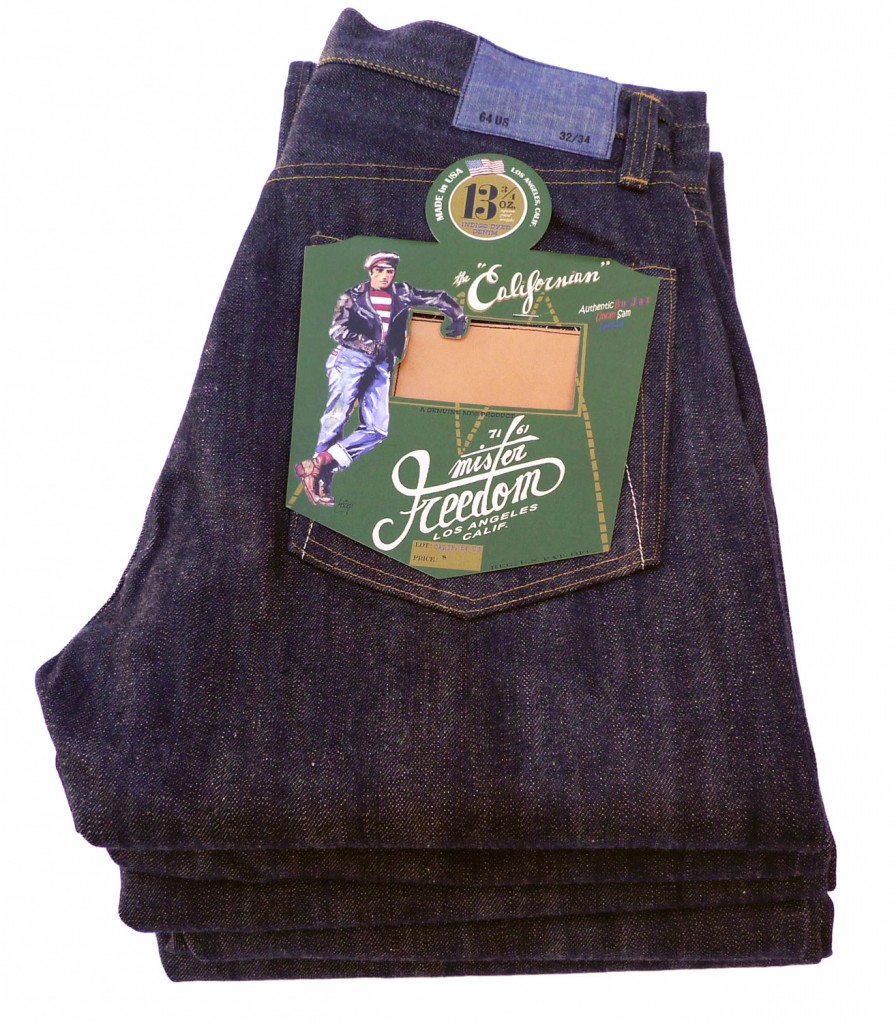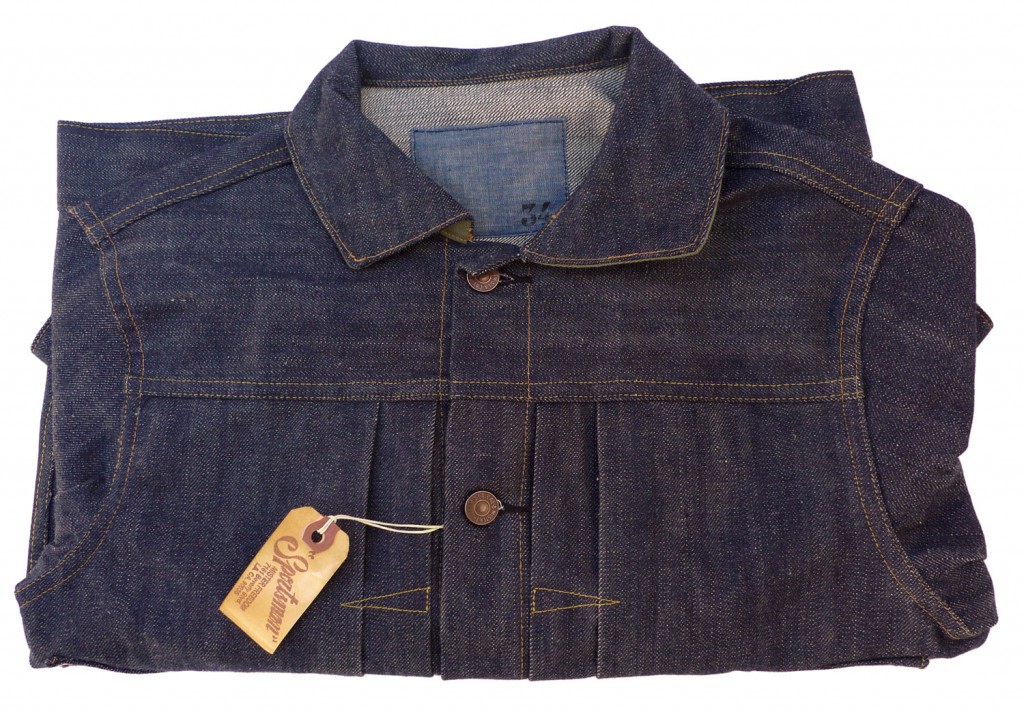 Lot.64US (Uncle Sam) issue, Ranch Blouse and Californian blue jeans
Spring 2014 'The Sportsman' Catalog
For Spring 2014, additions to the Mister Freedom® 'Sportsman' catalog have a bit of a 60's Endless-Summer-meets-Uncle-Sam vibe. We are releasing a small batch of modified Lot.64 Ranch Blouse and Californian, a special 'Uncle Sam' issue of two MF® classics we will refer to as Lot.64US.
You're saying " Son… whadaya mean classics?!? Ya barely been around the block. Cheeeeses crust…"
Not untrue, good point.
Anyways, as I was saying, before getting rudely interrupted by my imaginary friend here, think old Army/Navy surplus, GI stuff, piles of blues and greens gathering dust on shelves… and the oversized grenade on the counter saying "Complaints Dept, Take a Number".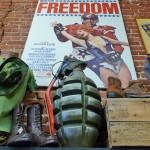 For our Lot.64US jeans and jacket, the main fabric/style/fit/shrinkage/pattern remain the same as Lot.64, but with a few detail changes.
Emulating an imaginary but plausible Government contract/war effort/requisitions affecting a 1960's jeans manufacturing factory, we are using mil spec fabrics for pocket bags/lining/labeling: 1940's fatigues USMC type herringbone twill (HBT) lining and WW2 type USN chambray for patches, minimal branding.
We are also introducing another small detail this season, an embossed MF® brass button, replacing our previous 'silver' type. Just thought we would alert the media.
Both of these riveted button designs were obviously 'freely' inspired by vintage denim hardware, in other words lifted from old Levi's.
I believe that, for back in the days Levi's, the silver type buttons were used on shrink-to-fit denim fabric, while the brass type buttons went on sanforized fabrics or as waist buttons of zip-fly jeans? As always, don't quote me on that, ask an expert, unless you you want to make a fool of yourself on the interwebs…
For Spring 2014, the Californian Lot.64 "Uncle Sam" issue features a solid natural leather patch on the rear pocket, a (selvedge) blue chambray waist patch (minimal Lot/Size marking), olive green HBT USMC type pocket bags, brass waist rivet button.
The Ranch Blouse Lot.64 "US" issue features a newly-shaped collar, olive green HBT collar facing and pocket flap facing, brass buttons and a generically-stamped blue chambray inside patch.
Cosmetic details you say. Maybe.
But in 2525, a savvy denim collector stumbling across a beat up pair of blue jeans with a chambray patch might want to bore his girlfriend to death with all of this, as they glide off to Kepler-62-e for breakfast.
Designed and made in California by Mister Freedom®, in a collaboration with Sugar Cane Co.
Please note that the photo montage of the worn Lot.64 is for reference ONLY, it is a different model but made of the same denim. Production of the Lot.64US comes UNWASHED.
RANCH BLOUSE Lot.64US SPECS
PATTERN: An original mfsc pattern, influenced by early denim 'trucker' type jackets.
FABRIC: 13 3/4 Oz selvedge indigo denim. Right hand twill. White/pink selvedge ID. Milled on shuttle looms in Japan. Aka SC1966.
Under collar and under pocket flap lining: 100% cotton OD Herringbone Twill, 1940's USMC type, mil specs.
DETAILS:
* Modified collar pattern.
* 'Vintage' boxy but fit silhouette.
* Original MF® lower chest pocketing, yellow "M" stitching.
* Pleated front with MF® original 'dart' stitching.
* Selvedge front panel fold.
* Olive Drab HBT collar/pocket flap facing.
* Brass cast MF® branded buttons.
* Buckle back, concealed selvedge strap, adjustable, riveted.
* Copper rivet reinforced, unmarked, leather washer.
* Combination yellow/orange 100% cotton stitching.
* USN type chambray patch (courtesy Buzz Rickson's), minimal branding.
* Made in USA
SIZING/WASHING:
We recommend an original 30mn cold soak with hand agitation, spin dry and hang dry. Please note 'spin dry' refers to a spinning cycle in the WASHING machine, NOT the dryer.
You can briefly put the jacket on when damp, to give it (your) body, then hang to dry. Once fully dry the denim will be quite stiff from the starch,  which is a good thing as this 'sets' some creases. You're on your way to a pleasing patina after repeat wear.
Those who have an issue with stiff denim should reconsider, as demand for 'soft denim' lead to the plague of stone washed garments, and acid wash in the 80's.
The Sportsman "Ranch Blouse" comes UN-WASHED and "oversized" (ie. will 'shrink to fit') so that the measurements match the labeling AFTER an original cold soak/line dry.
I wear a 38 in the Ranch Blouse, and it has the old school fit I like after the original cold soak.
Refer to chart for raw/rinsed measurements (please note that, although really not recommended, more shrinkage is to be expected if you 'boil' your jacket and machine dry it.)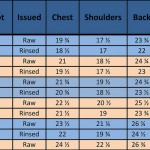 Please note that we did our best to hide this chart in our fancy webstore, and you need a recon patrol to find it. It is there however, for each item, under the "Add to Cart" yellow button. It is labelled "Size Chart:" and it will pop up if you click on it.
Available Raw (unwashed) ONLY
Sizes
34 X-small
36 Small
38 Medium
40 Large
42 X-Large
44 XX-Large
Retail $369.95
CALIFORNIAN blue jeans Lot.64US SPECS
PATTERN
Original Mister Freedom® pattern, inspired by traditional 1950′s era blue jeans with a 1960′s twist. Silhouette inspired by vintage fits and old photography, BRMC meets Beatniks.
Like the previous Lot.64, the Lot.64US features a traditional mid-rise with straight slightly tapered leg.
FABRIC
13 3/4 Oz. selvedge Right Hand Twill indigo denim. White/pink selvedge ID. Milled on shuttle looms in Japan. (aka SC1966)
POCKETING
100% cotton OD Herringbone Twill, 1940's USMC type, mil specs.
DETAILS
* Five pocket, button fly, selvedge leg seams,…
* Original "M" stitch design and solid un-branded cowhide leather patch.
* Blue (selvedge) chambray patch on waist band, minimal stamping.
* Hidden back pocket rivets with top pocket reinforcement zig-zag stitching.
* Pocket bags and back pocket lining: OD HBT.
* Coin pocket with concealed selvedge.
* Twelve types of all cotton threads (gauge and color combination) used for construction. Main colors are yellow and orange.
* Selvedge button hole flap (yes, it's under the overlock, we're vicious.)
* Original MF® metal cast waist/fly buttons.
*Unmarked copper riveting for reinforcement.
* Made in USA
SIZING/WASHING
The Californian Lot.64US comes UN-WASHED and is cut so that the measurements match the labeling AFTER an original cold soak/line dry. A tagged W32 x L34 "Californian" actually measures about 34" x 36½" before wash.  It will shrink to approx. 32" x 34" after rinse/dry.
Which size works for you depends on how you like your jeans to fit. I wear a comfortable tagged waist 32 in the Lot.64
We recommend getting your usual waist size, although proper fit is a subjective matter and everyone has their own idea of what looks good.
As with all denim twill, shrinkage and stretching will occur for a while and will depend on the wearer's body, activities and initial fit.
Although some like to wear their jeans raw, a more practical option is the cold rinse/line dry route.
Please refer to sizing chart for approximate raw/rinsed measurements. Please note that in our case, 'rinsed' means a 30mn cold soak, spin dry and line dry (ie minimal shrinkage).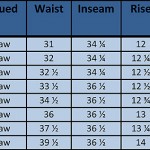 Available RAW/unwashed/Un-sanforized
Sizes
W29 x L32
W30 x L32
W31 x L32
W32 x L34
W33 x L34
W34 x L34
W36 x L34
W38 x L34
Retail $329.95
Available soon from www.misterfreedom.com
Please email sales@misterfreedom.com with any questions not addressed above.
Thank you for your support
Comments
comments