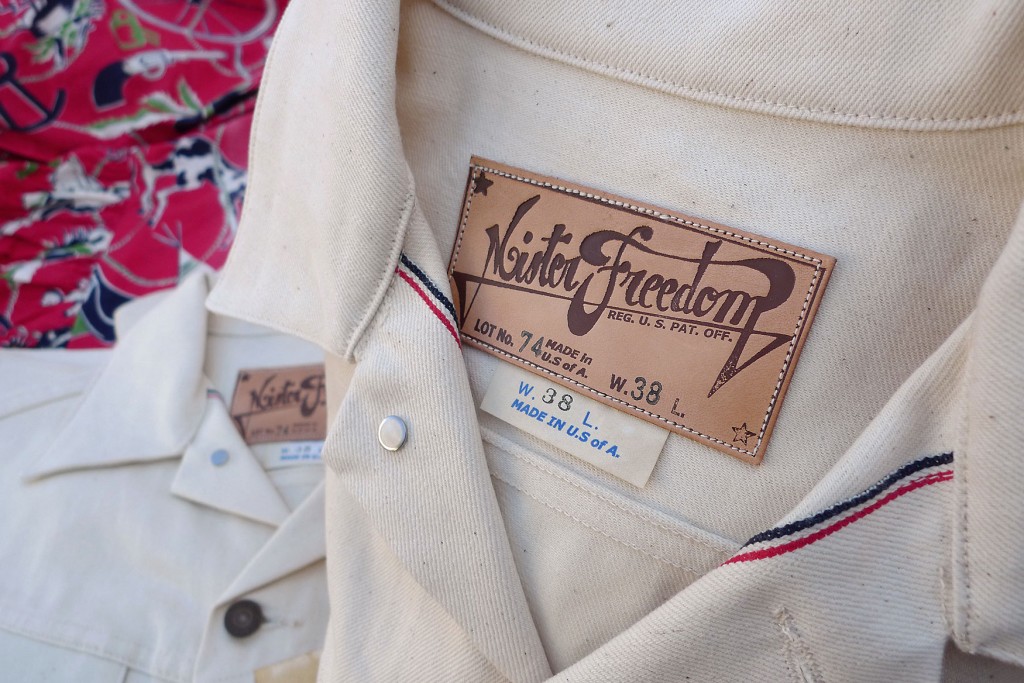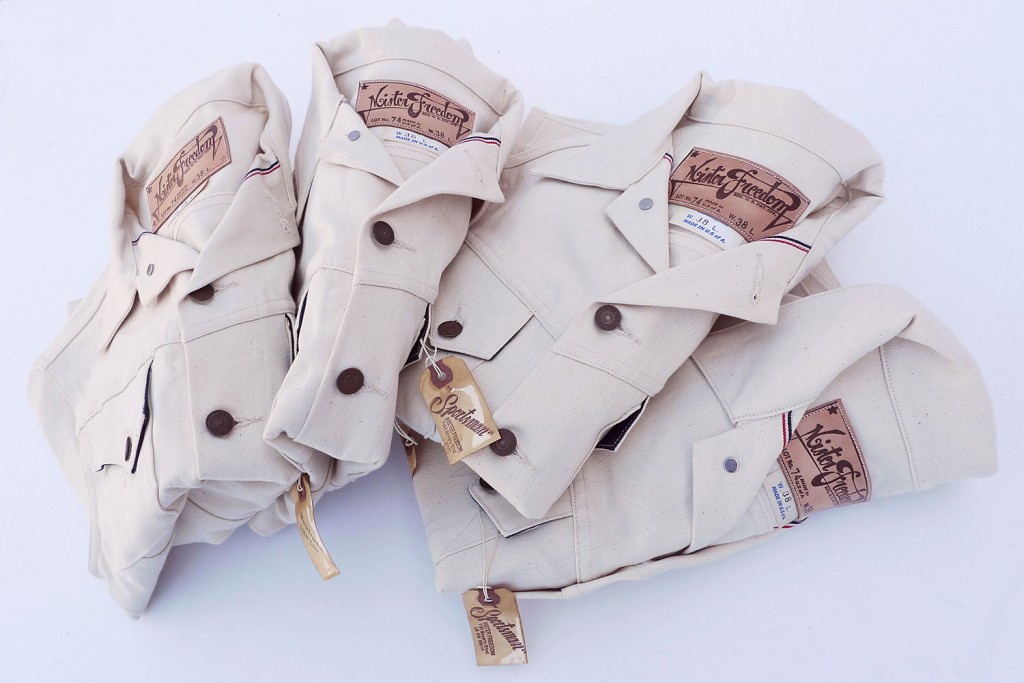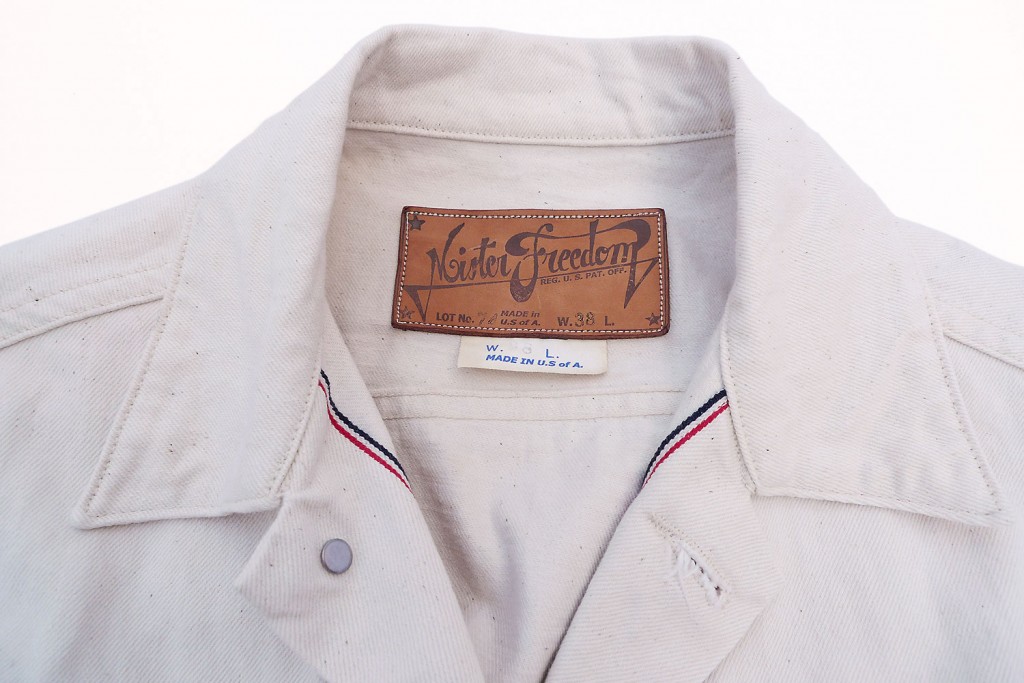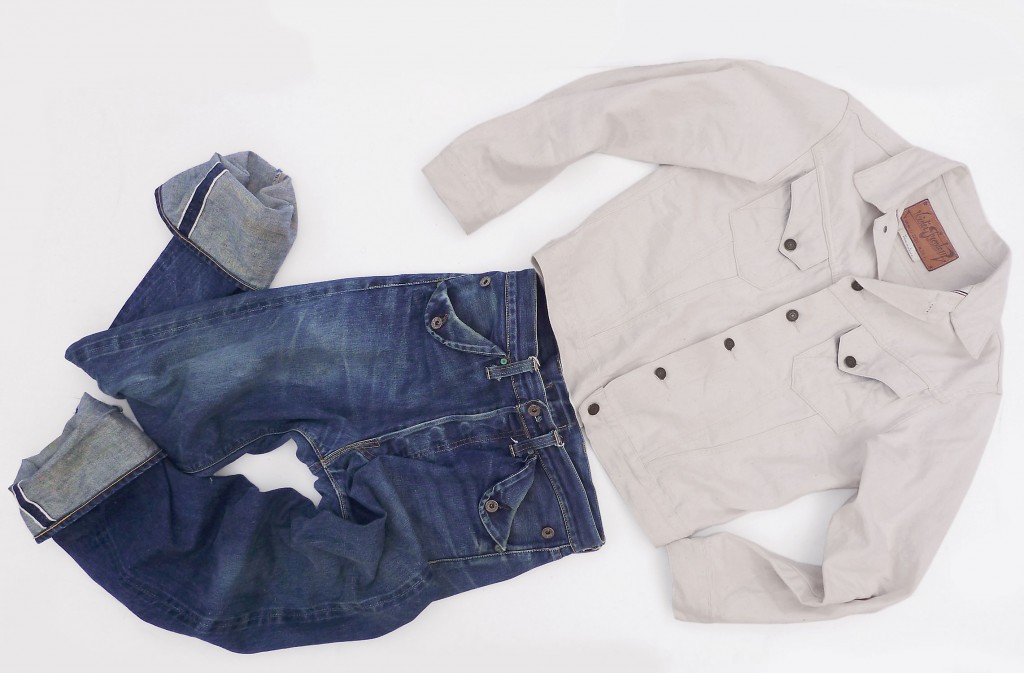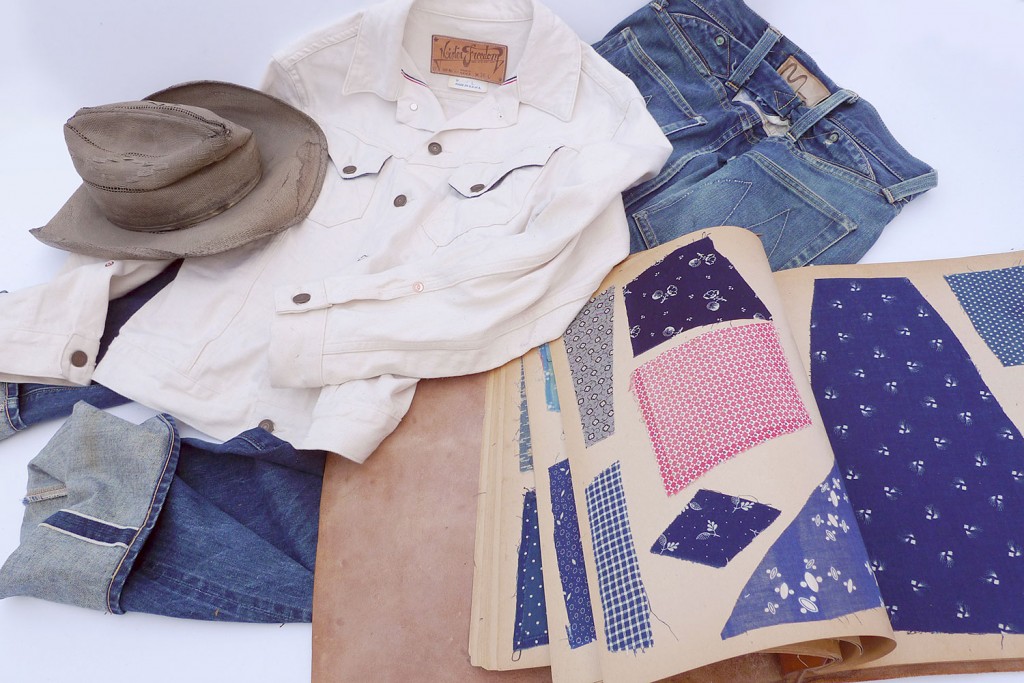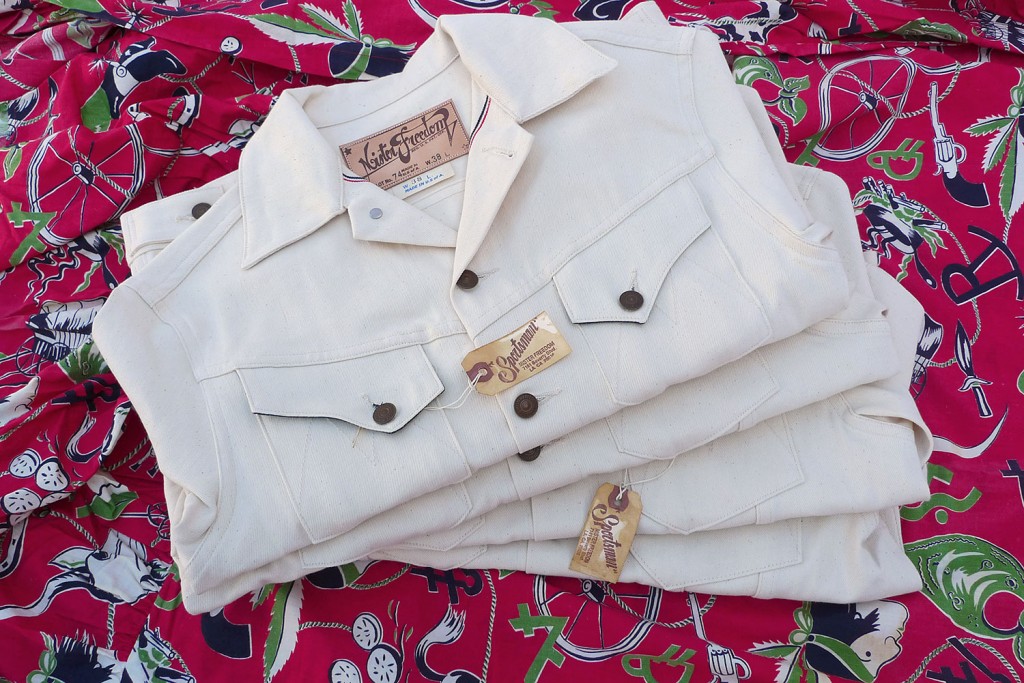 MF® Cowboy Jacket, NOS wheat denim, made in USA
Sportsman Fall 2015
Introducing another finer than frog hair treat for the International Man of Action à la Derek Flint, a sensational bucking number, runway winner, the playboy's choice and bruiser's favorite, the much-anticipated Mister Freedom® Cowboy Jacket!
Kick it in wheat!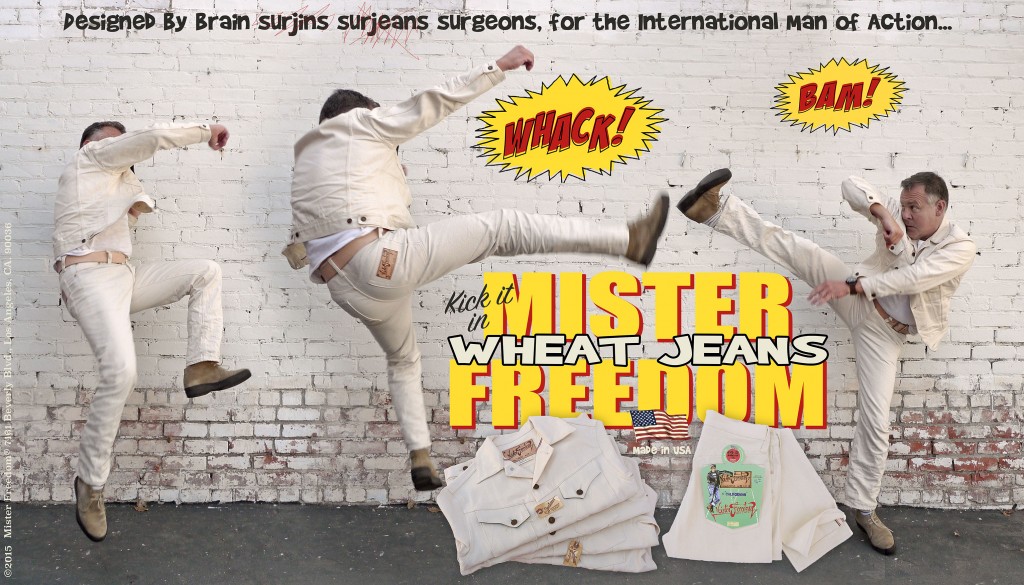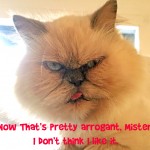 Relentlessly keeping our fingers on the pulse of the World of Fashion, you know us, we are quite ecstatic about adding a new denim jacket pattern to our Sportsman catalog this Fall. The Ranch Blouse now has a pardner.
With Labor Day long gone in the rear view mirror, we are doubling the euphoria by releasing a WHEAT denim version of this Cowboy Jacket, cut from a limited yardage of New Old Stock natural-colored selvedge denim.
A prevalent concern since 1894, sporting white garments in public between the first Monday of September and the last Monday of May has been deemed a style faux pas by the enlighten chosen few of the Fashion Taliban elite. This sounded like yet another mission for Mister Freedom®, so we teamed-up with an assembly of brain surjins surgeons to cook up a piece of accoutrement so adorable it is bound to muzzle that obsolete style diktat for at least an entire week.
Hear ye, hear ye, hello MF® wheat Cowboy Jacket, goodbye First World closet dilemmas.
Pushing the envelop even further, for a desirable Boogaloo Tuxedo effect, a nod to our talented and stylish friend CW Stoneking, may we recommend pairing your wheat Cowboy Jacket with a matching pair of wheat Californian Lot.74? May we? Mais oui, Johnny!
For the unconvinced, detailed tutorial on how to publicly embarrass your family is available here.
Style-wise, our denim Cowboy Jacket is no stop-the-press type revolution, as it freely borrows from the familiar trucker-type denim jacket family of its legendary predecessors. Our specific pattern combines influences of several vintage iconic models, without doing a full literal cut/paste out of respect for the original long-established brands. The slanted yoke and chest pockets are a take on our Appaloosa Shirt, in turn influenced by 1950's Sears & Roebuck denim ranchwear. The pocket flaps are adapted from our 'classic' denim Ranch Blouse. The cinch back strap was removed and replaced by buttoned cinch-waist tabs. The silhouette was trimmed for a more 60's vibe.
The MF® Cowboy Jacket is designed and manufactured in California by Mister Freedom®, in collaboration with Sugar Cane Co.
SPECS:
PATTERN:
Inspired by traditional trucker-type denim jackets, aka third-type jackets.
FABRIC:
Limited New Old Stock Cone Mills natural colored denim, 12.5 Oz., white/red line selvedge ID, sanforized. Milled in the USA.
DETAILS:
* Fairly trim silhouette, sixties vibe.
* Fabric selvedge displayed on inside front panels.
* Original MF® slanted flap chest pockets.
* Original brass cast MF® branded buttons.
* MF® yellow "M" stitching on pockets.
* Orange and yellow stitch combination.
* Blue 2×1 denim pocket flap lining.
* All cotton thread chainstitch construction.
* Buttoned cinch-waist tabs.
* Copper rivet backed by leather washers for pockets and sleeve placket reinforcements.
* Debossed leather MF® original patch.
* Made in USA.
SIZING/FIT
The wheat denim Cowboy Jacket comes UN-WASHED and cut so that the measurements match the labeling AFTER an initial cold soak/line dry. This specific denim is sanforized, and very minimal shrinkage is to be expected.
I opted to size down from the Medium (38) I usually wear in msfc garments, and went for a Small (36) after deliberating a bit. The soaked/dry 36 fits tight and barely closes but i preferred it over the more roomy 38. What works is subjective and will depend on what silhouette one is comfortable and familiar with, as much as with the wearer's body type.

Please refer to sizing chart for approximate raw/soaked measurements. Soaked = 30mn cold soak, spin dry and line dry.
CARE:
Wash when hygiene dictates and common sense prevails.
Machine wash with cold water, gentle cycle, eco-friendly mild detergent and line dry. Please note that the debossed graphic on the leather patch will naturally 'flatten out' when soaked in water. As devastating as it is, this is normal.
DISCLAIMER: Some color transfer from the the leather patch and pocket flap blue denim lining to the wheat denim might occur after laundry. This will recede with subsequent washing cycles, as light-colored garments require frequent cleaning. DO NOT use hot water as this will increase chances of color transfer.
Available RAW/unwashed
SIZES:
X-Small (34)
Small (36)
Medium (38)
Large (40)
X-Large (42)
XX-Large (44)
Soon available from www.misterfreedom.com, fine retailers around the World, and our Los Angeles ol' pile o' rags.
Email sales@misterfreedom.com or call 323-653-2014 with any questions unanswered above.
Thank you for your support,
Christophe Loiron
Mister Freedom®
©2015
Comments
comments