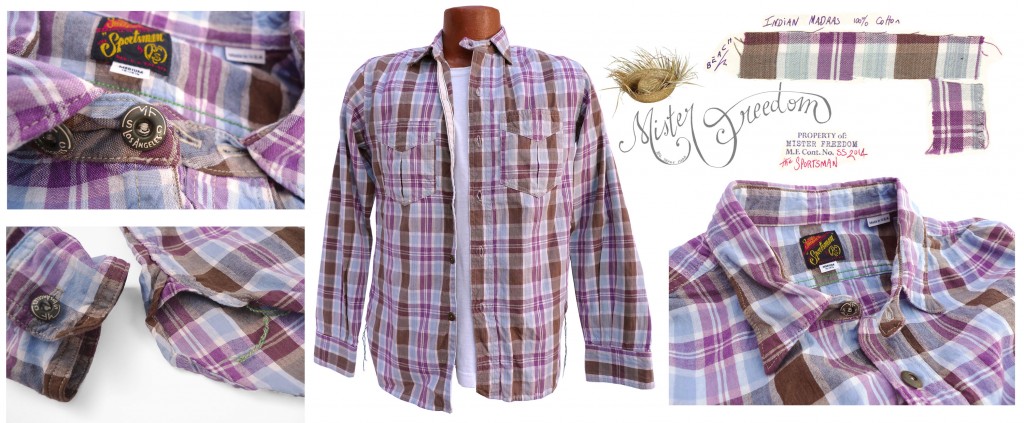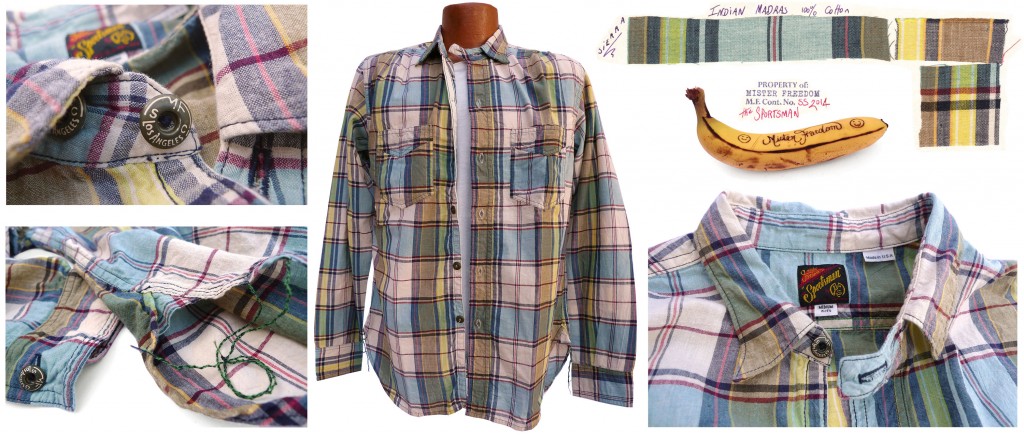 Indian Madras Sportsman Shirt
"The Sportsman" Catalog Spring 2014
Originally a plain cotton muslin of loose weave, madras textiles were lightweight and breathable fabrics, a perfect fit for the hot climate of the Madras (now Chennai) region, Southeast India.
In the 1800's (I know, at least I left out the early Dutch settlers stories), the area many weavers were also producing 'Madrasi checks', a local interpretation of the Scottish tartans some occupiers were sporting. Out of some 200 weaving villages came out countless patterns of hand loomed plaids, in bold vegetable dyed colors…
The typical and desirable slubby aspect of a madras type fabric is due to the fact that the yarn is carded and not combed, resulting in variations of thickness and fluctuating texture. That slub is something close to impossible to duplicate for modern factories instructed to emulate random 'imperfections'. In Chennai, they had it…
For those interested in historical anecdotes, here is a quite interesting twist of event. How a croaking problem turned into a oh-so-desirable effect, thanks to a last minute marketing strategy concocted to liquidate defective stocks of non color-fast madras fabrics.
One of the version of the "Guaranteed To Bleed" story goes like this. It dates back to sometime in 1958 or 1956 (according to the source) when…
"…  the leading textile importer William Jacobson embarked on a trip from the U.S. to Bombay in the hopes to return with this exotic fabric from India.
Upon his arrival, the local textile Commissioner Mr. Swaminathan directed him to Captain C.P.Krishnan Nair the proprietor of Leela Scottish Lace Ltd, a textile exporting company from Chennai ( modern day Madras) who presented Jacobson with a fabric that he fell for right away. It was a Madras plaid fabric with a strong smell of vegetable dyes and sesame oils that was dyed in vivid colors that was originally made for export to South Africa. Mr. Nair was delighted to supply Mr. Jacobson with the Madras fabric at $1 per yard, warning him that the fabric required utmost care when laundering because the color would run out if it wasn't gently washed in cold water.
The American exporter sold ( 10,000 yards ) of the same fabric to Brooks Brothers who manufactured trousers and jackets (which sold for $50) . However Jacobson failed to fully explain the properties of the fabric and did not issue washing instructions to Brooks Brothers.
Customers were furious when they saw the colors run that ruined their expensive summer apparel. Jacobson was likewise furious and summoned Mr. Nair to the United States where his attorneys threatened to sue Mr. Nair and the Leela Scottish Lace Ltd.
Instead of fighting each other they came up with solution that was sheer marketing genius! One of the attorneys arranged an interview for Mr. Nair with the editor of Seventeen Magazine in which he created a story about this miracle Madras fabric from India that was exclusively made for Brooks Brothers in New York. In the following issue, the editor ran a seven-page article about fabric titled "Bleeding Madras — the miracle handwoven fabric from India". And since pictures say more than 1,000 words, they added beautiful photographs with the caption "guaranteed to bleed".
Within a days of the magazine hitting the newsstands, Brooks Brothers was flooded with thousands of requests for the Madras items and it became an overnight success. Both, Mr. Jacobson and Mr. Nair made a fortune from the sale and paved the way for future Indian fabric exports of millions of yards of Madras cloth."
Of the power of a few photos and chosen words in a magazine, eh?
If only the Fashion media would put that magic formula to good use more often… But, paying sponsors are about moving more widgets, not about doing less damage. So we might never see the end of factory distressed garment ads…
Randomly fast forwarding to the summer of '65, direction the preppy side of Southern California. If you owned two shirts on Campus, chances are one of them was a short sleeved cotton Madras plaid shirt. For many preps, and even a few tambor beating beatniks, these were the go-to shirts. 'Inland' surfers wore madras plaid regatta shirts. Golfers figured madras plaid pants were a great idea. Greasers couldn't be bothered…
For Spring 2014, we were fortunate to get our hands on two limited runs of genuine Indian Madras.
Although the lots we secure were not hand loomed by Anakaputhur villagers in the summer of 1912 and of a fairly recent manufacture, the fabrics are reminiscent of vintage Madras. Loose weave, light weight, breathy, slubby… These two specifically caught my eyes as I originally flipped through a few thousands swatches of available madras stock last year. There was, what I thought of, a cool sixties vibe to both, a non-contemporary feel.
In the 1990's, I was lucky to be schooled on vintage madras shirting by my good buddy Kenny Thomas, then a designer for Ralph Lauren, constantly looking for inspirational plaids to adorn the little guy on a horse with. Kenny is now both the talented front man and designer behind the Grayers brand. Yes, he also takes photos and makes timeless comments on Instagram…
Back to our horses here, please note that our madras are not 'bleeding madras', as non color-fast dyes have proven too challenging for the average customer through the years, and have slowly disappeared from garment manufacturing.
Our Sportsman Madras Shirts will just fade like regular garments do when washed and worn repeatedly.
We arbitrarily called our two madras fabric options 'Beach' and 'Sierra', however tempting Padmanabh (One With Lotus In His Navel) and Gajanan (One With Elephant Face) were. We decided to go with simple on this one.
For the pattern, we used our 'classic' Sportsman shirt specs, featuring some MF® 'signature' details such as original pocketing, shoulder expansion pleats, inside green chain-stitch, metal cast buttons, side gussets, two arms…
Style wise, the unlikely pairing of a 60's plaid madras vibe with workwear type shirting sounding like a big no-no, we immediately went for it.
The result is a simple, casual looking long sleeved cotton plaid shirt. It's easy to match with denim, chinos, wheat jeans, pleather bikinis… Although not shirtjak (ie. cropped by contemporary streetwear standards), this shirt can be worn tucked-in or out.
For more exquisite pairing inspiration, the interweb abounds in illuminated suggestions. And so do, at times, vintage ads…
Our Indian Madras Sportsman Shirt is designed and made in California by Mister Freedom®, in collaboration with Sugar Cane Co. Made from genuine imported Indian Madras.
SPECS:
PATTERN: An original MFSC pattern, inspired by our usual vintage influences.
FABRIC:
Two options:
a) Madras 'Beach': 100% cotton woven plaid muslin, with dominant brown/sky blue/washed-out-plum, woven in India.
b) Madras 'Sierra': 100% cotton woven plaid muslin, with dominant turquoise/white/brown/yellow, woven in India.
DETAILS:
* Relaxed silhouette and fit.
* Original chest inverted box-pleat double pockets.
* Slim chin strap.
* Full button front.
* MF® original olive green painted embossed metal buttons, combination solid and MFSC branding.
* White cotton popeline button facing strip.
* Double front & back expansion pleats on shoulder yoke.
* One piece cuff gusset.
* 100% cotton thread, high stitch count.
* Flat felled seams, with inside green chain-stitch MF® signature.
* Side gussets with self fabric.
* Original "The SPORTSMAN" woven rayon label.
* Limited run.
* Made in California, USA.
SIZING/WASHING:
The Sportsman Madras shirt is pretty low maintenance. Wash and wear type stuff.
Due to the loose weave of the fabric however, we recommend to wash on delicate cycle, to avoid snagging.
Cotton madras looks and feels also better after laundry than when raw. When dry, the wrinkled aspect is desirable with this type of textiles. I am not a big fan of perfectly ironed shirts anyways, personal preference. My socks however…
Both fabric options will shrink to close-call same measurements, according to who takes them and how much pulling and attention is applied.
Our sample in-house rinse tests were done with cold water/gentle cycle/machine dry.
If you are usually a medium in MFSC Sportsman shirting, wear a medium in the Madras.
Shirts will shrink to tagged size. Please refer to chart below for measurements:
Available RAW/unwashed.
SIZES:
14½ (Small)
15½ (Medium)
16½ (Large)
17½ (X-Large)
18½ (XX-Large)
Retail $289.95
Soon available on www.misterfreedom.com
Please call 323-653-2014 or email sales@misterfreedom.com with any questions not answered above, such as the name of our fruit sponsor etc…
Thank you for reading and the continuing support 🙂
Comments
comments