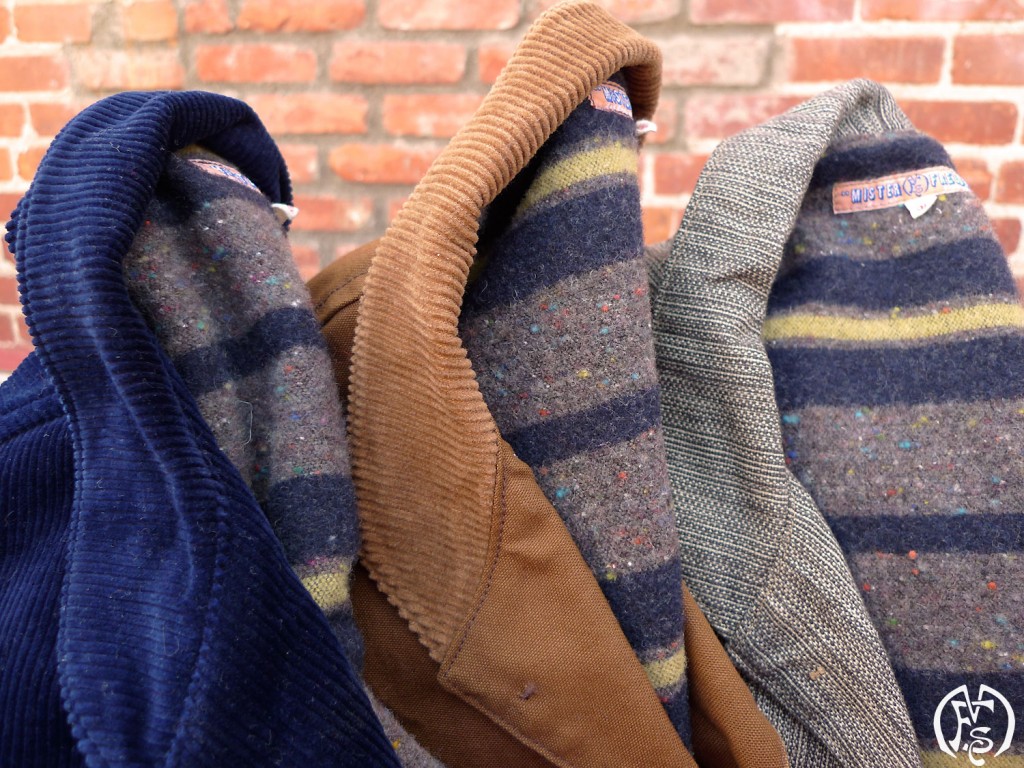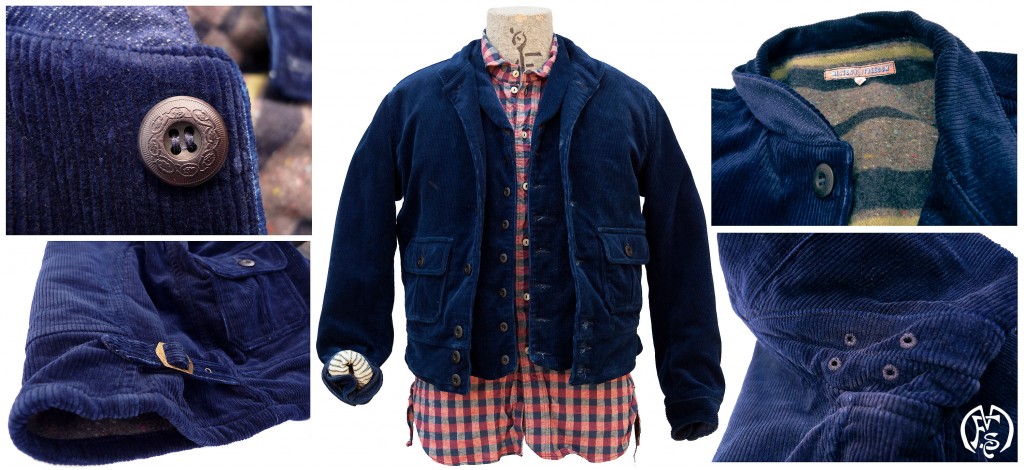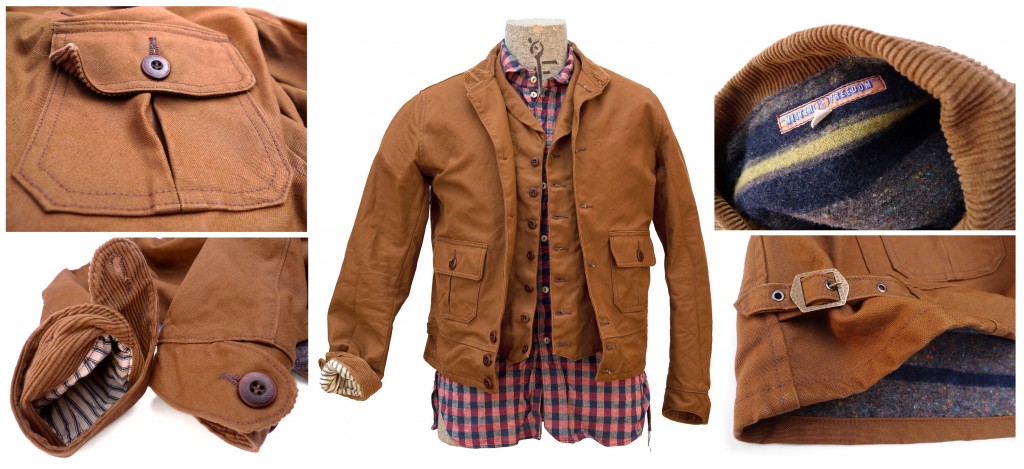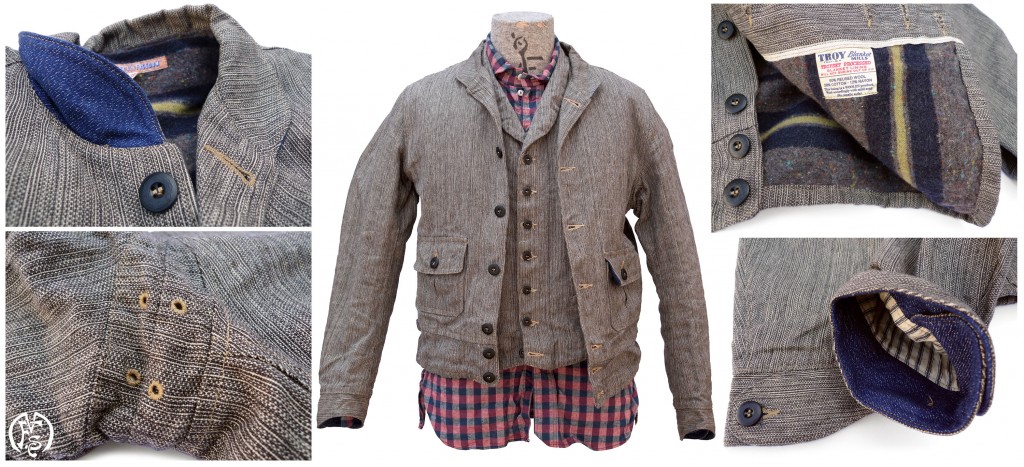 "Blouson El Americano"
Fall 2013 'Viva la Revolución' mfsc Collection
Let's assume you have not yet forgotten our filibuster friend "El Americano", introduced in the Fall 2013 chapter of mfsc "Viva la Revolución" collection…
Well, if he impressed many of his compañeros with his swag from the start, this had no little to do with that blusón he was wearing when he rode into Ensenada, one fine day of 1918. An elegant lone rider, clad in gringo attire and followed by nothing but a dust cloud… That day, El Americano was sporting a waist length soft leather jacket, button front and rounded collar, a casual yet stylish style not yet all the rage it was to become with American youth in the 1930's.
Passing in front of a small store front just off La Calle Primera, he was hailed by François, a recently immigrated Frenchman, tailor by trade. François, you guessed it, was smoking outside his shop.
But of course. The rest is stuff of legends…
"Nice blouson Monsieur. I see you are quite the homme de goût … I just received some bolts of fabrics you might like to have zis coat made from?"
After almost permanently silencing François because El Americano didn't appreciate being diagnosed with gout by a stranger, the horseman agreed to dismount and enter the shop. He liked what he saw, rich but rugged fabrics, freshly imported from the Orient.
Few words were subsequently exchanged, as El Americano was a res non verba kinda fella, and the appeal of small talk eluded him.
Forty-eight hours later, a manila string wrapped a brown craft paper bundle. A calligraphed 'Blouson, El Americano' red and white gum label was affixed to it. A few Pancho Villa pesos bills changed hands.
A set of waistcoats and trousers were also ordered the same week.
El Americano was now 'dressed to kill', for Land and Liberty…
Now you know this is a dated tale since there is no way in the world a Frenchman would do all that work in 48h. So, back to reality.
Our 'Blouson' is inspired by several short-type vintage jackets. 1920's-30's suede leather jackets, casual western coats, cotton work jackets…
The flared shape of the cuffs is inspired by a detail seen on a museum photo of a 1800's chinaco (warriors, expert horsemen not belonging to the Mexican upper-class, War of Reform) suede 'bolero' jacket.
Additionally the 1920's-30's period typical low chest pocket position (below rib cage) is so that you can  fill up both your shirt and jacket pockets without causing discomfort nor excessive bulging.
As always the 'Blouson El Americano' is not an exact replica of an existing jacket, rather a new garment that kinda looks old, a la MF®.
As a matter of personal preferences, we tend to not make our clothes look vintage by distressing them artificially with harsh chemicals/sanding treatments from industrial wash houses. We instead use old tricks and details to make our clothes look like they've been around for some time.
To some, these "Blouson El Americano" look like they are off a dusty bygone menswear store shelf… In days of disposable fashion, we don't think that is a bad thing either.
We have developed 3 entirely different fabrics for this jacket, all milled/dyed in Japan exclusively for mfsc. These options are:
a) Indigo vat dyed Corduroy.
b) Brown Duck Canvas.
c) Grey Covert Stripe.
The 'Blouson El Americano' is fully lined with 'Troy Blanket' for the body, and cotton stripe ticking for the arms.
Designed in California by Mister Freedom® and manufactured in small ethically run factories in Japan by Sugar Cane Co.
SPECS:
PATTERN
An original mfsc pattern, inspired by 1920's-30's short-type vintage jackets.
FABRICS
a) Brown Duck : selvedge 100% cotton canvas, 13 Oz.
The inside part of the yarn being lighter in color than the outside of the yarn (same as that of the 1930′s hunting jacket with its amazing patina that inspired it) this fabric will age nicely with repeat wear. Milled in Japan.
b) Grey Covert Stripe: selvedge 60% cotton and 40% linen heavy canvas with a random stripe pattern. The random repeat makes this fabric look halfway between a covert (salt & pepper) and stripe type textile. Technically 12 Oz. it feels heavier because of the yarn gauge. It takes an entire day to mill about 17 meters of that fabric, on old shuttle looms. The factory was thrilled… Milled in Japan.
Fabric inspired by a vintage 1943 bag from the Swiss military.
c) Indigo Corduroy: Mid wale 100% cotton corduroy. 14.5 Oz. Indigo vat dyed. Milled and dyed in Japan.
DETAILS
* A-1 type collar pattern (Brown Duck version has a corduroy collar. Grey Covert has self fabric collar)
* Corozo wood buttons, aka ivory nut. Tonal color
* Adjustable side cinch straps
* Original flared wrist cuffs, 'chinaco' style.
* Low chest pockets, inverted box-pleats.
* Collar/cuff/pocket flap facing  lined with cotton indigo covert fabric.
* Fully lined: soft hand woven striped "Troy" blanked body lining (60% reused wool, 28% cotton, 12% Rayon) and stripe cotton ticking arms lining.
* Under arm gussets with venting eyelets.
* Made in Japan
SIZING/WASHING
All fabrics will shrink to approximately the same tagged size after an original cold soak and hang dry.
The reason for the original cold soak/dry is purely aesthetic. I like the natural torque/twisting of the fabric that gets rid of that fresh-off-the-shelf look.
For the Indigo corduroy "Blouson El Americano", some crocking is to be expected when pairing with light colored garments. Indigo 'stains' from rubbing wash off eventually.
I am usually a 38/medium and wear a 38 "Blouson El Americano".
True to size but refer to chart for rinsed/hang dry measurements.
Do not use hot water or machine dryer as this might result in excessive shrinkage and color loss.
Available raw/unwashed
Sizes
36 small
38 medium
40 large
42 Xlarge
44 XXlarge
Retail:
a) Indigo Corduroy $689.95
b) Brown Duck Canvas $669.95
c)  Grey Covert Stripe $669.95
Available soon from www.misterfreedom.com
Call the store at 323-653-2014 with any questions not answered above, or mail sales@misterfreedom.com
Thank you for your support.
Comments
comments