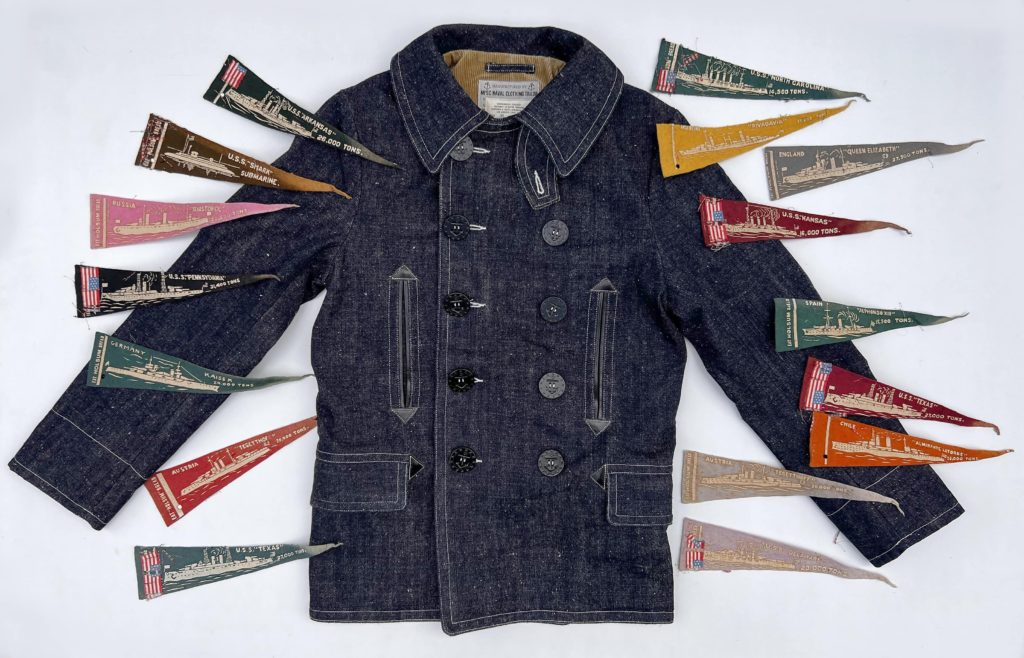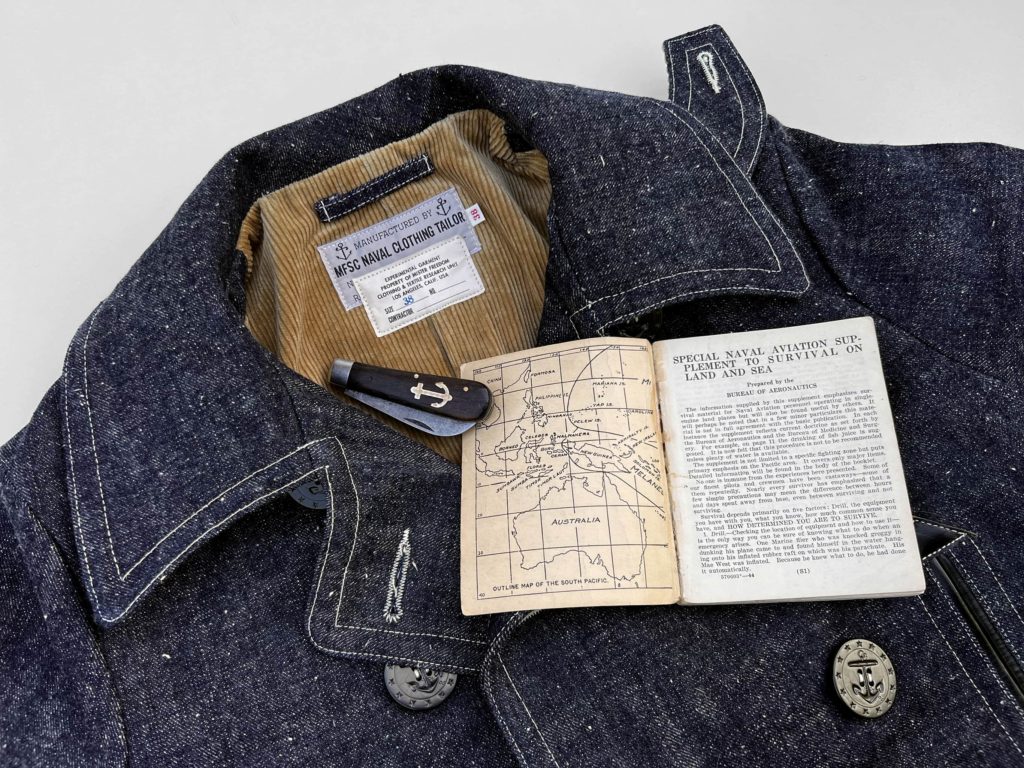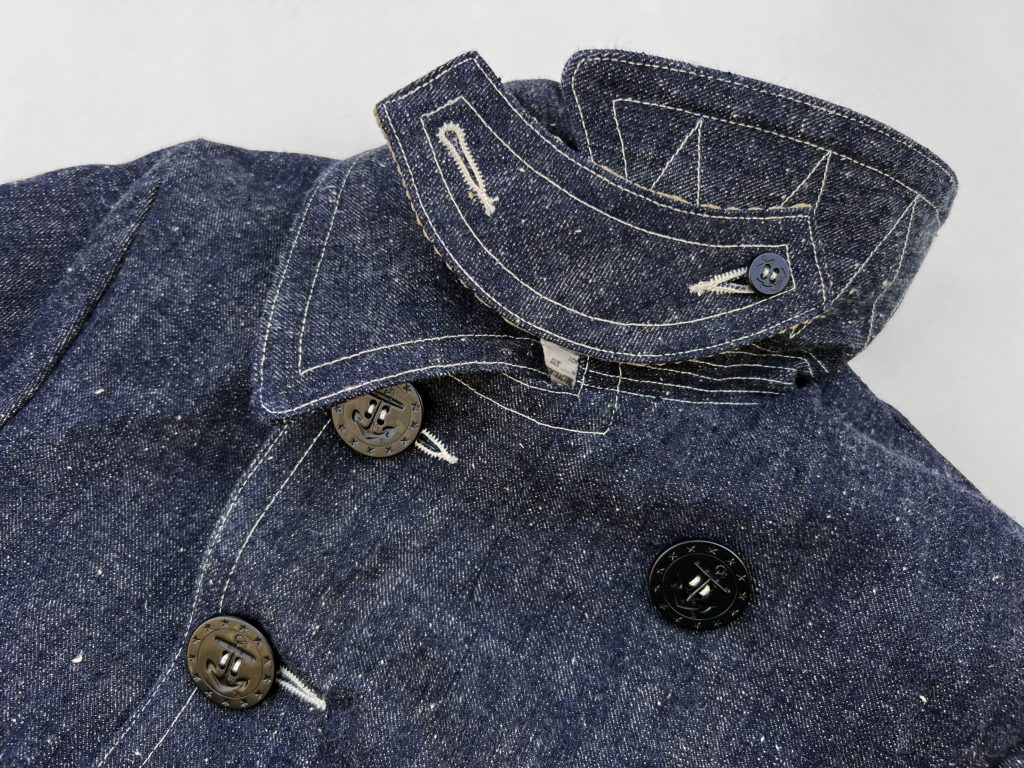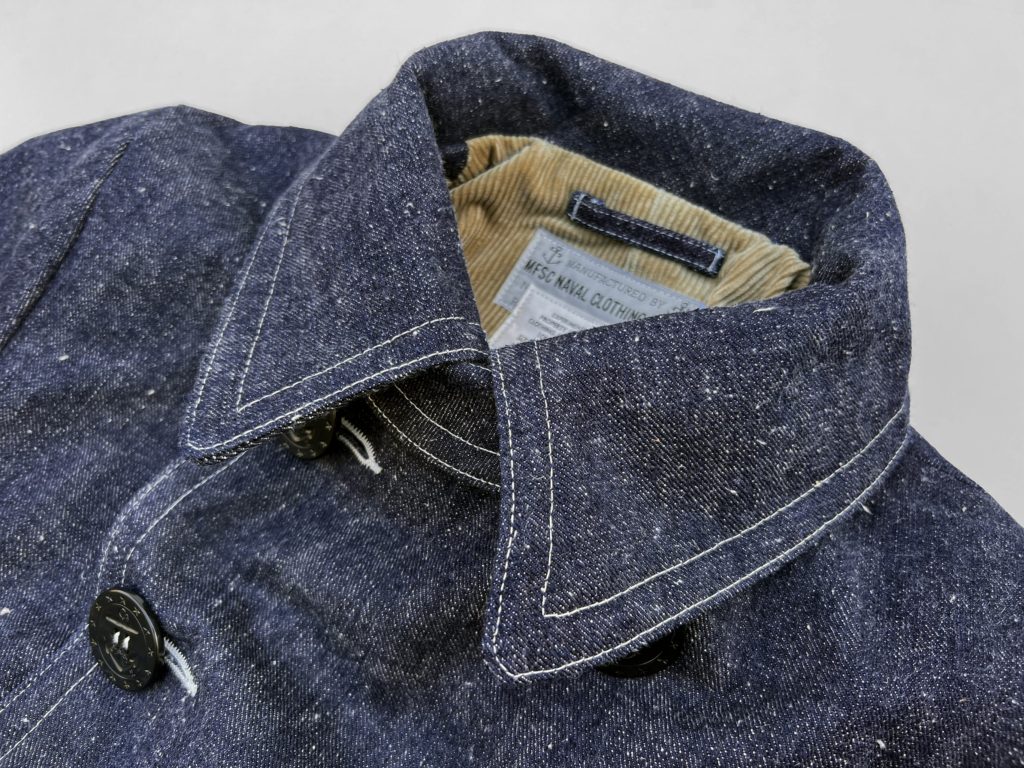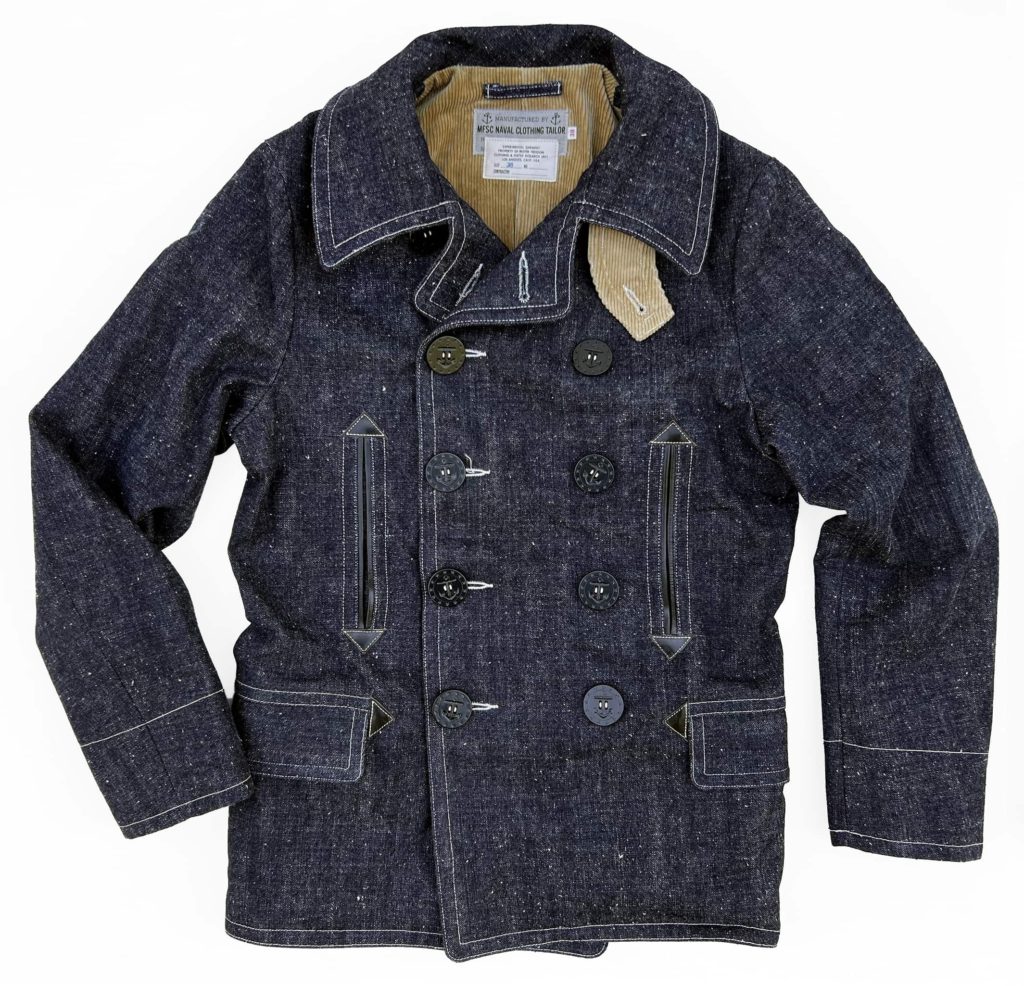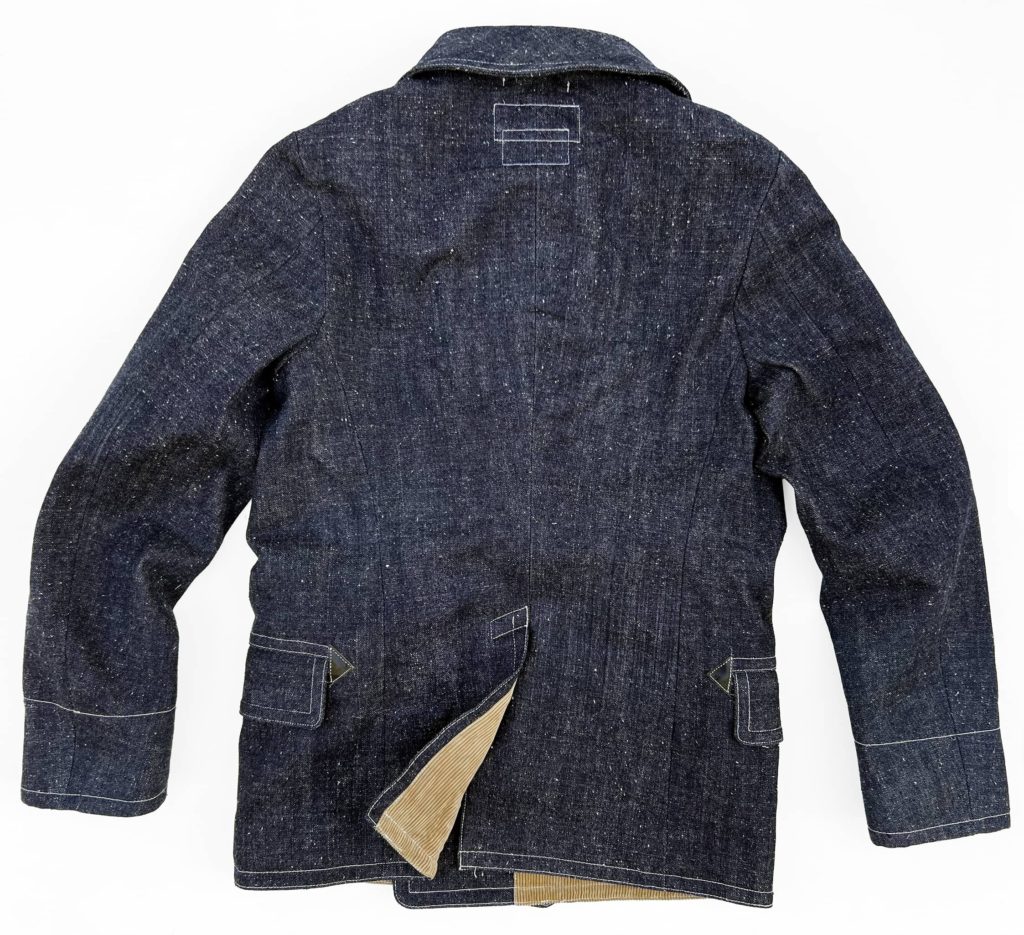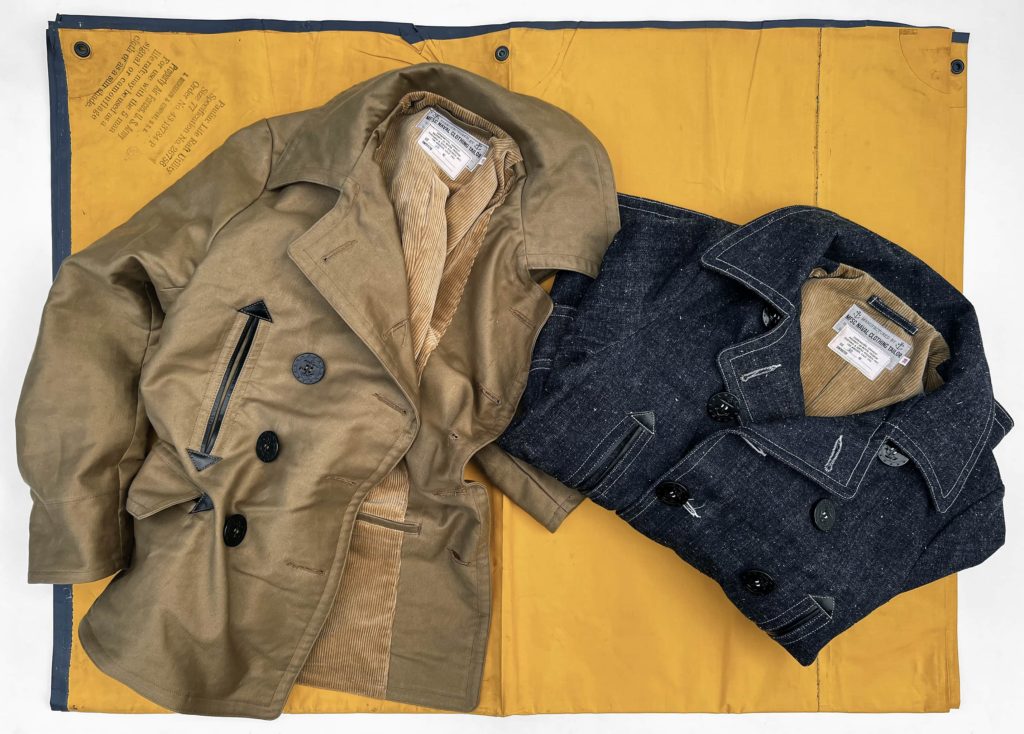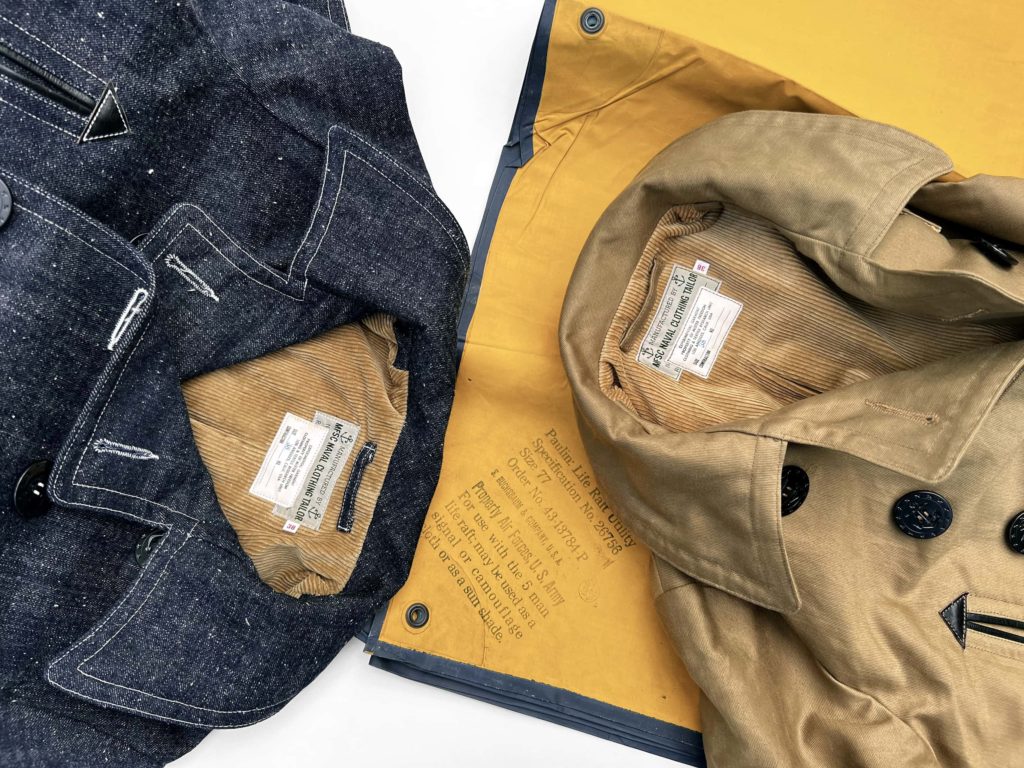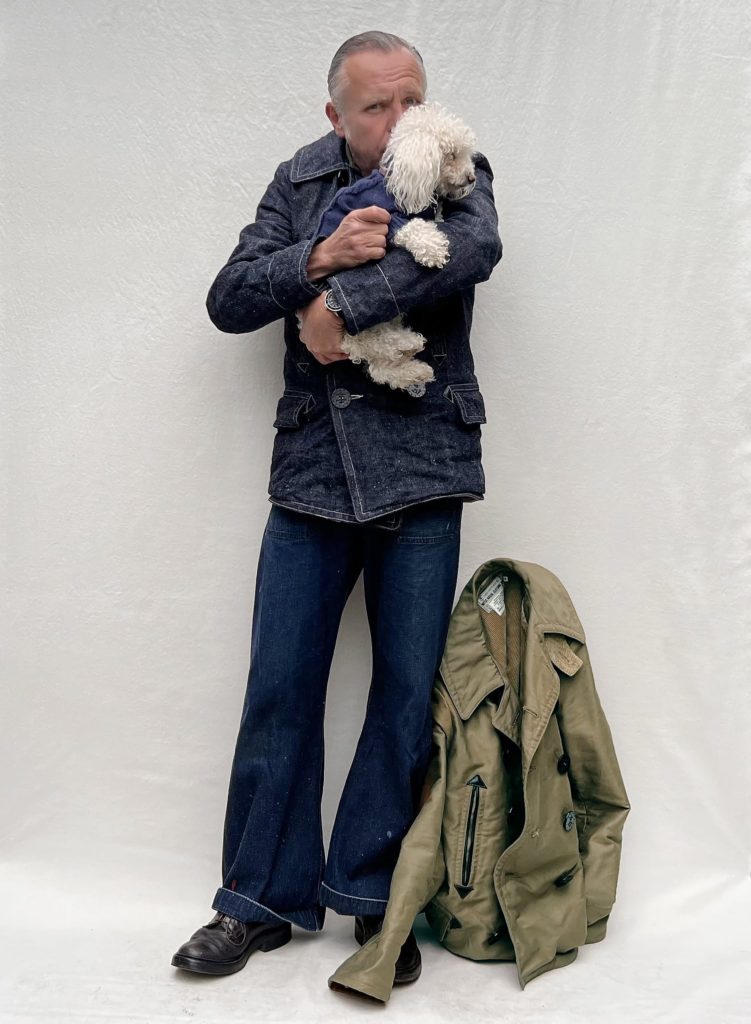 Mister Freedom® x Sugar Cane Co "Naval Clothing Tailor" Denim PEACOAT, "301 Okinawa" fiber denim edition.
FW2023 mfsc "Survival School"
Made in Japan.
Our initial take on classic US Navy 10-button peacoats was the "Naval Clothing Tailor" denim Peacoat (aka mfsc 6284 Coat, Deck, Utility), released back in the sunny Spring of 2008.
The original pattern was adapted from a vintage US Coast Guard (USCG) 1920s melton wool peacoat from our archives. That first issue featured a sugarcane fiber denim shell (14 ½ Oz. "SC301 Okinawa" denim), paired with an indigo/white striped cotton ticking lining. Mine, pictured above, sadly got stollen from a display years ago.
Using the same classic pattern, we thought of going MF® OG this season, back to the early days of "Heritage Fashion"… So, please welcome the anticipated latest addition to our naval-inspired jacket family, the Grandson of our 2008 Grandpa, the FW2023 MF® "Okinawa" Denim Peacoat!
True to its ancestor, the shell fabric of the 2023 "Naval Clothing Tailor" Denim PEACOAT is made of Sugar Cane Co's proprietary "SC301 Okinawa" denim, a dark indigo selvedge denim blend of 50/50 recycled sugarcane fibers and cotton fibers (the ratio has evolved through seasons of production, according to raw material availability), a neppy and dry 14 Oz. thing of beauty with rewarding fading potential.
For the body lining, matching our recent Barnstormer SPECS, we opted for an all-cotton golden brown mid-wale corduroy — a reference to the hand warmer pocket bags on vintage 30s-50s USN peacoats, before the Quartermaster decided on the cheaper pocketing fabric option of an unbleached-white cotton twill.
The sleeve lining is cut from Mil-Specs OG-107 cotton-back sateen material, also an expensive and fancy fabric milled in Japan, just because we like to keep the bling on the inside sometimes.
The choice of black leather accents for pocket welt/stops is borrowed from vintage civilian 1930s "Duck Hunting Coats" out of the Montgomery Ward, Sears Roebuck or LL Bean catalogs. More on that background here. With natural wear and a few nautical miles on this NCT Peacoat, the patina and attractive color/texture contrast between the indigo denim and the black horsehide trims should get interesting on Fridays.
The "modified" double labeling — recurring branding for our msfc "Survival School" collection — is a reference to period US military experimental clothing, and a respectful nod to the little-known Quartermaster Research Facility (aka Natick Army Labs), a US Department of Defense organization located in Natick, Massachusetts. The "CLOTHING & TEXTILE RESEARCH UNIT" has been tasked with designing and developing anything from new uniforms/gear/fabrics/camo patterns/etc for the US military since 1952.
The MF® 2023 "Naval Clothing Tailor" Denim PEACOAT in "SC301 Okinawa" fiber denim is designed in California, USA, by Mister Freedom®, and made in Japan in collaboration with Sugar Cane Co.
SPECS:
PATTERN:
An original MFSC pattern, freely inspired by 1910s-30s early US Navy/US Coast Guard wool peacoats.
FABRIC:
Shell: Sugar Cane Co's proprietary "SC301 Okinawa" denim, 14 Oz. dark indigo selvedge denim blend of 50/50 recycled sugarcane fibers and cotton, neppy, dry and prickly, white with green line selvedge ID, milled in Japan.
Body lining: Soft 100% cotton mid-wale corduroy, golden brown shade, milled in Japan.
Sleeve lining: 100% cotton OG-107 sateen, milled in Japan.
DETAILS:
* Classic 1910s~1930s US Navy & US Coast Guards melton wool peacoat pattern and construction.
* Ten-button front closure.
* Early USN type '13 stars' fouled anchor design buttons.
* Four outside pockets: two 'hand warmer' slash pockets and two flap closure hip pockets, all lined with golden brown corduroy.
* Inside chest pocket and traditional 'cigarette' pocket (resized to fit an average smartphone, so that you keep it tucked while you drive.)
* Leather arrowhead pocket stops/pocket welt reinforcements, black tea-core horsehide.
* Detachable chin strap (displaying either fabric if left dangling, or concealed if buttoned under the collar.)
* Traditional zig-zag pattern under-collar reinforcement stitching.
* "Modified" double labeling, original MF® and mfsc woven/printed labels.
* Cotton-wrap poly thread tonal stitching.
* Mister Freedom® woven rayon "MFSC NAVAL CLOTHING TAILOR" label topped with "EXPERIMENTAL RESEARCH UNIT" collection-specific printed label.
* Made in Japan.
SIZING/FIT:
The MF® 2023 "Naval Clothing Tailor" Denim PEACOAT ships raw/unwashed, and will shrink to intended/tagged size after the following initial process:
Cold soak for about 30-40mn, with occasional hand agitation.
Wear briefly before fully-dry to set creases, then hang until fully dry.
We recommend getting your usual size in mfsc jackets/coats. Do not size down as the arm hole opening may become an issue. The FW2023 "Okinawa" Denim Peacoat feels a bit tighter in the chest than its Barnstormer companion.
I'm ~5'7 – 140 lbs and went for a 38 in this "301 Okinawa" denim peacoat model, even though I tend to navigate between 36 (Small) and 38 (Medium) lately.
Please check out our measurement chart and compare with a similar garment you own that fits you well. To dial in your size, also consider your layering preferences.
MF® crew sizing recs:
CL (5'7 ~ 140 lbs): I opted for a 38 (MEDIUM), trim fit with tight arm holes.
John (6' ~ 170 lbs): 40 (LARGE)
Ivan (5'9 ~ 160 lbs): 38 (MEDIUM)
Enoch (6' ~ 153 lbs): 38 (MEDIUM)
CARE:
DO NOT MACHINE WASH.
This garment is too heavy and voluminous for a regular home washer, even one boasting "Heavy Duty" settings. A machine wash cycle will either ruin the jacket, the machine, or both.
Hand wash highly recommended: Fill a tub with cold water, add a minimal dose of eco-friendly detergent, immerge the garment fully, let soak for about 30mn, and delicately rub. Rinse, hang to dry.
Spot cleaning with a wet rag will usually work for minor stains.
Professional eco-friendly dry-cleaning is also an option, but may alter the indigo color.
Available from www.misterfreedom.com, our Los Angeles brick & mortar store, and fine retailers around the World.
Email sales@misterfreedom.com or call 323-653-2014 with any questions unanswered above.
Thank you for your support,
Christophe Loiron
Mister Freedom®
©2023